Dahl, Story lead Rockies' next rising stars
With Tulowitzki gone, Colorado anticipating next crop of bats to arrive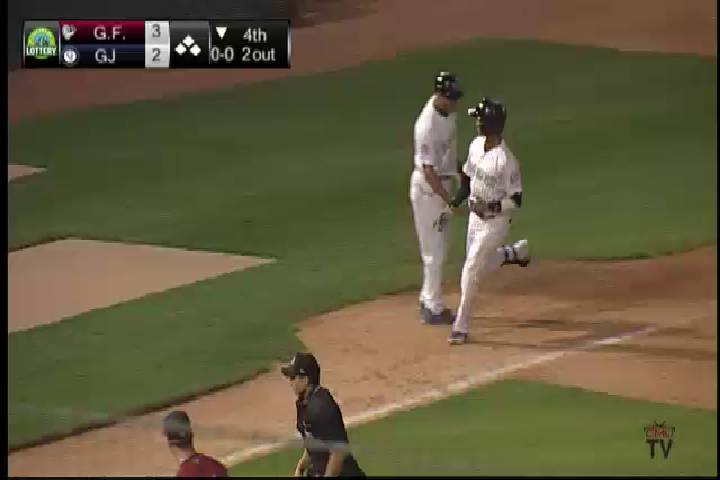 By Tyler Maun / MiLB.com | October 21, 2015 10:00 AM
This offseason, MiLB.com will be honoring the players -- regardless of age or prospect status -- who had the best seasons in their organizations. We're taking a look at each team to determine the outstanding seasons in Minor League baseball.
With a new general manager at the helm for the first time since 1999, cautious optimism reigned for Rockies fans ahead of 2015. Though Colorado slumped to another last-place finish in the National League West during Jeff Bridich's first year in charge, the promise of a farm system now teeming with talented arms is keeping hope very much alive.
Bridich made his first big splash in July, shipping longtime franchise cornerstone Troy Tulowitzki to the Blue Jays in exchange for three highly touted flamethrowers. The trio of Jeff Hoffman, Miguel Castro and Jesus Tinoco, when added to existing prospects like Jon Gray and Kyle Freeland, give the Rockies an arsenal of power arms rising through the ranks. Putting together a glut of top young arms is the latest venture in Colorado's continuing quest to find a winning formula on the mound to solve Coors Field.
Though Class A Asheville came up just short in its quest for a third South Atlantic League title in four years, individual performances carried the year throughout the system like Antonio Senzatela's historic season in the California League, David Dahl's return from injury and the Major League and professional debuts, respectively, of top prospects Gray and Brendan Rodgers.
Rockies Organization All-Stars
Catcher -- Dom Nunez, Asheville (104 games): The former middle infielder's evolution continued in 2015 as a team leader and prospect finding his place at the plate as well as behind it.
"He had a terrible first half of the year; if you ask him, he'll say it was awful," Asheville manager Warren Schaeffer said. "But starting in the second half of the year, something clicked on for him."
Nunez registered an anemic .216/.280/.251 slash line in 48 games before the All-Star Break, then busted out with a .335/.444/.607 line after it. He also handled a staff that posted a 3.69 ERA in the South Atlantic League's most hitter-friendly park.
"Every part of his game [improved] -- the game-calling, defense, defensive awareness, offense -- he had 13 home runs the second half, zero in the first," Schaeffer said. "Leadership -- he took off the second half as the team leader, no doubt about it. He was the man."
First baseman -- Collin Ferguson, Grand Junction (51 games), Boise (six games): The Rockies nabbed Ferguson in the 17th round out of St. Mary's College of California, and the 22-year-old had little trouble adapting to pro ball.
"It didn't surprise us," Rockies senior director of player development Zach Wilson said. "I think our scouts did a fantastic job as they always do in identifying what this guy was all about, not only his ability as a baseball player but who he was as a person and as a leader."
After debuting with a .350 average in July, his first full professional month, Ferguson's mark dipped to .297 in 21 August games before he surged to the finish line by batting .452 in eight September contests.
Second baseman -- Forrest Wall, Asheville (99 games), Boise (four games): Wall also took some lumps in the first half before finishing strong. The 19-year-old posted a .722 OPS in 65 first-half games and returned from a dislocated left shoulder suffered in June to put up a .912 mark in 34 games after the break.
"I'll tell you what -- towards the end of the year he really turned it on," Schaeffer said. "He works hard. He wants it."
Wall's continued defensive refinement impressed his first-year manager. Despite arm strength questioned due to a high school surgery and the rushed rehab process that followed, Schaeffer came away with glowing reviews of Wall's work in the field.
"To be honest with you, it only showed up maybe once or twice all year on relay throws, and it wasn't even that bad," Schaeffer said. "Around the bag, turning double plays, he has plenty of arm strength to get the job done with his quick hands."
Shortstop -- Trevor Story, New Britain (69 games), Albuquerque (61 games): The nod here could've gone to Rodgers, the Rockies' top pick in June and No. 1 prospect, but Story's continued ascension is one of Colorado's biggest storylines heading toward 2016.
"I think it would've been easy for him, particularly after the Tulo trade, to get off-track and think about other things outside of what he's going to do that day to make himself a better player," Wilson said. "To his credit, he was able to remain focused."
Story returned to Double-A to start the year and batted .281/.373/.523 with 10 homers and 40 RBI for New Britain, earning a Futures Game selection and a promotion. In his first taste of Triple-A, he matched his homer and RBI totals while hitting .277/.324/.504. He also flashed improved range in the field and made a host of highlight reel plays after his promotion.
"Toward the end of [2014] and certainly into the [Arizona] Fall League, he was able to embrace the type of hitter that he is and the type of approach that he needs to have to have an impact at the Major League level," Wilson said. "He started off the year that way and obviously showed that he was ready for the next challenge, which was Triple-A.
"There's impact on both sides of the ball there. That's why we're so excited about him."
Third baseman -- Kevin Padlo, Boise (70 games), Asheville (27 games): Like the shortstop position, third base was a toss-up with Sally League batting champion Shane Hoelscher proffering a strong case. Colorado challenged Padlo with an aggressive assignment to Asheville to start the season. After OPSing just .550 in 27 games, however, the Rockies sent him to Boise where he flourished with a .294/.404/.502 line. The 2014 fifth-rounder also played the Northwest League's best defense at the hot corner with a .948 fielding percentage in 59 games.
"He embraced the challenge of going back down, and I think very quickly he understood that that move had his best interest in mind and this organization's best interest in mind," Wilson said. "He handled it the absolute best way that you can as a young player."
His former Tourists skipper agreed.
"It's tough to send a 19-year-old kid down and then get as much out of him immediately as you got out of Kevin Padlo there," Schaeffer said. "That showed a lot of his character. I was just with him out in instructs for the past three weeks, and I'm telling you -- that's a new guy. He looks like that situation this year really lit a fire under him."
Outfielders
David Dahl, New Britain (73 games), Boise (six games): Few prospects have had as frightening a stretch as Dahl did this summer. The Rockies' 2012 first-round pick suffered a lacerated spleen during a violent on-field collision May 28 and underwent emergency surgery to save the organ. It looked as if Dahl would miss the rest of the season before he elected to have a second surgery to remove his spleen in order to return to the field as quickly as possible.
"The toughest part of this year, from my perspective, was he was really starting to turn a corner in Double-A when the injury hit," Wilson said. "He fought through it. He showed toughness. He worked his tail off to get to a point where he could return this season. He was able to do that and was still able to compete at a very tough level."
---
• More from Wilson and Schaeffer on Rockies prospects
---
Dahl returned to Double-A in mid-July and batted .292/.318/.481 sans-spleen.
"The hope is what's coming in 2016 is between 140 and 162 games-plus of health where he can get out there and get more experience and more at-bats and more playing time under his belt to continue to get better," Wilson said.
Raimel Tapia, Modesto (131 games): Tapia earned his third straight Organization All-Star selection by doing in 2015 what he always does: hit.
"It doesn't matter who's pitching," Wilson said. "He always steps up to the plate with no fear. He thinks he's going to beat you."
Tapia raked at a .305/.333/.467 rate with a career-best 12 homers in 2015 and was named to the Futures Game and Arizona Fall League for the first time.
"He has a pure love and plays the game with joy," Wilson said. "You've got to have fun to play this game, and he certainly does that every day he steps on the field."
Jordan Patterson: Modesto (77 games), New Britain (48 games): In a system with a wealth of talented outfielders, Patterson flies comparatively under the radar. With more seasons like 2015, he won't for long. Patterson's .907 OPS across two levels was 127 points higher than the mark he posted with Class A Asheville in 2014.
Utility player -- Jonathan Piron, Grand Junction (56 games): In his first season stateside after two with the Dominican Summer League Rockies, Piron thrived in the Pioneer League. His .312/.335/.545 slash line, 11 homers and 40 RBIs were all career bests by far, and the 20-year-old compiled his monster offensive year while splitting time playing effective second base and shortstop.
Right-handed starter -- Antonio Senzatela, Modesto (26 games/26 starts): Similarly to the way Tapia hits, Senzatela pitches. The 20-year-old captured the California League ERA title with a 2.51 mark, the best in the circuit in more than a decade. Senzatela added a slider and electrified his strikeout numbers, fanning a career-best 143 in 154 innings.
"It doesn't matter where he's pitching," Wilson said. "It doesn't matter who's in the box. He's coming at you, and he's coming at you to win."
Left-handed starter -- Sam Howard, Asheville (25 games/25 starts): Just like Senzatela's slider gave him a knockout pitch in California, Howard's did the same to a South Atlantic League-leading 122 K's in North Carolina. With an 11-9 record and 3.43 ERA, Howard also faced the fourth-fewest baserunners per nine innings at 11.15.
Relief pitcher -- Jason Gurka, New Britain (14 games), Albuquerque (21 games/1 start), Colorado (nine games): After spending seven seasons in Baltimore's system, Gurka landed with Colorado in 2015 and seized his opportunity, climbing to the Majors for the first time. The 27-year-old started his year in New Britain but pitched his way to Albuquerque after going 3-0 with a 2.31 ERA for New Britain. Following 21 Triple-A appearances, he made his Major League debut Aug. 29.
Tyler Maun is a contributor to MiLB.com. Follow him on Twitter @TylerMaun. This story was not subject to the approval of the National Association of Professional Baseball Leagues or its clubs.
View More