Dash's Coats makes Mudcats see purple
White Sox prospect blasts two homers, plates five runs in 8-7 victory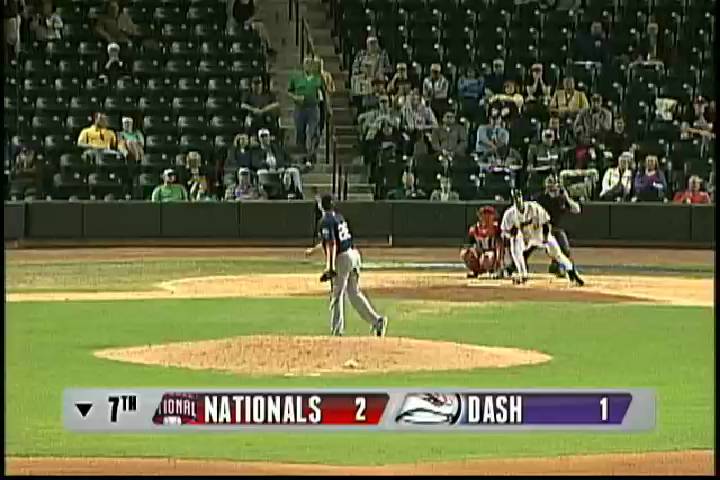 By Mark Emery / MiLB.com | June 8, 2014 8:59 PM ET
If purple is the color of royalty, Jason Coats was a king on Sunday.
The Class A Advanced Winston-Salem outfielder matched career highs by going deep twice and collecting five RBIs in the Dash's rain-delayed, come-from-behind 8-7 win over visiting Carolina. He extended his hitting streak to 10 games.
"It was a good day," Coats said. "I felt good at the plate, was seeing balls well and I just made some good contact today. That's all it was."
The White Sox prospect's three-run blast in the first inning gave the Dash an early lead, but the Mudcats led, 7-4, entering the fifth. That's when Winston-Salem surged ahead with four more runs, two on an additional home run by Coats.
"The first at-bat, I worked it to a full count," he said. "[Adam Plutko] was making some good pitches. And then, it was 3-2 and he left a slider right over the middle of the plate and up, and I got ahold of it, and it got out.
"And then the second home run, I was just looking for a fastball. It was first pitch, and I got one right over the heart of the plate and I just put a good swing on it and it went again."
If Coats appears to be comfortable wearing the Dash's purple, that's because he is. The Texas Christian University product also donned the color while competing for the Horned Frogs.
"It's nice to be at Winston right now and get to be back in purple again," he said. "I certainly have a lot of purple in my wardrobe."
The 2012 29th-round pick previously drove in five on April 28 against Salem and left the yard twice last June 28 while with Class A Kannapolis.
His recent tear extends beyond the last 10 games. In 22 contests since May 28, Coats is batting .289 (24-for-83) with eight home runs and 26 RBIs.
"I've just been going up there and trying to stay within myself, looking for my pitch to hit," the Texas native said. "Earlier on and for the following month, I was kind of being a little too aggressive and chasing pitchers' pitches and kind of getting myself out.
"Now, I'm trying to be a little bit more disciplined and waiting for a pitch to come in a spot where I can hit it. I think that's the biggest thing. The swing hasn't changed. I'm just being a little bit more patient and swinging at better pitches."
In 58 games this season, Coats is hitting .266/.322/.467 with 10 home runs and 36 RBIs. His long ball total is tied for second in the Carolina League, while his RBI amount is tied for fifth.
"I just went into the year hoping to kind of duplicate what I did last year in low-A and trying to improve a little bit on my power numbers," the 24-year-old said. "So I feel like I've been making some good strides, and I just want to keep it going.
Tim Anderson, Chicago's No. 2 prospect, also homered Sunday. The leadoff hitter smacked his fourth dinger of the season and a double. He walked, stole a base and scored three times.
Relievers Brad Goldberg (2-4) and Braulio Ortiz combined on 5 1/3 scoreless innings. Ortiz picked up his second save.
For Carolina, Yandy Diaz had a career-high 5-for-5 day while Anthony Gallas and Alex Monsalve both homered.
Mark Emery is a contributor to MiLB.com. Follow him on Twitter @Mark_Emery. This story was not subject to the approval of the National Association of Professional Baseball Leagues or its clubs.
View More