De Jong twirls two-hit shutout for Tulsa
Dodgers' No. 18 prospect strikes out seven in seven-inning victory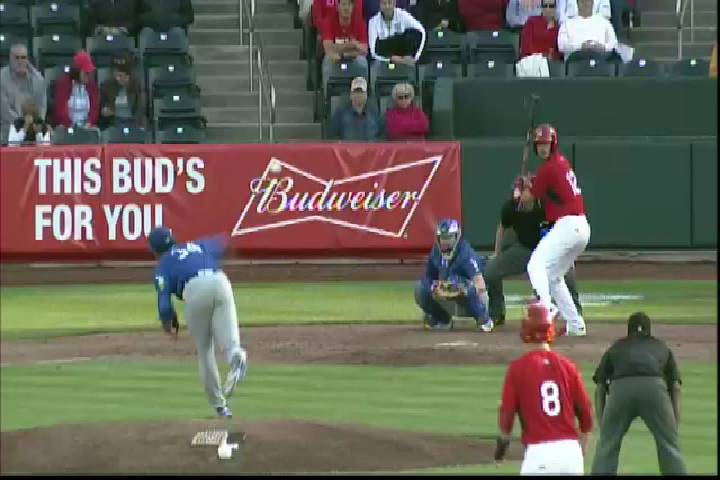 By Robert Emrich / MiLB.com | May 18, 2016 9:44 PM ET
Chase De Jong's abilities at predicting the future were only second to his abilities on the mound Wednesday.
The Dodgers' No. 18 prospect tossed a seven-inning two-hitter in the opening game of a doubleheader as Double-A Tulsa defeated Springfield, 3-0. In the nightcap, Kurt Heyer turned the tables with five perfect innings in the Cardinals' 3-0 win over the Drillers.
De Jong (3-4) limited the Cardinals to two singles and two walks, retiring the first 13 batters in order before walking Paul DeJong with one out in the fifth inning. Carson Kelly ended the no-hit bid two batters later with a single before the 22-year-old right-hander got C.J. McElroy to ground out to second base to extinguish the threat. De Jong recorded seven strikeouts while throwing 58 of 88 pitches for strikes.
"Going into the game, [pitching coach] Billy Simas and I, along with [catcher] Paul Hoenecke, we kind of sat down and had a game plan," De Jong said. "It was all working off of me establishing my fastball for strikes. Quality strikes down in the zone. Locating my fastball down and away to righties, and down and away to lefties. It helps me get to my other pitches much more efficiently.
"It's rhythmic. You can really get into a groove and establish what you want to establish and make the hitters take defensive swings. After the first two pitches, you want to be ahead or even. That's the golden rule of pitching. Tonight, I did that pretty frequently."
Wednesday marked the third complete game and first shutout of De Jong's career, having last gone the distance on June 18, 2015 for Class A Lansing while with the Blue Jays organization. The seven strikeouts represented his second-highest total of the season and moved him into third place in the Texas League in that category with 43.
"I threw my curveball a little bit more than I usually do," the California native said. "Located some sliders down and I even had two or three of those punchouts on elevated fastballs where we were trying to go letter-high and up and get swings-and-misses and we did. That's what my outing was today. I didn't have my best stuff, but I located everything that I had today really well."
De Jong, who is fourth in the league with a 1.02 WHIP and eighth with a 3.14 ERA, was coming off a tough outing after giving up two earned runs on three hits and a season-high four walks over four innings on May 10 against Springfield.
"I walked four guys last game and I'm not very happy that I walked two today," he said. "I got through four innings and it was only two runs, but I was wild that game and that's not who I am. Today, I kind of said to myself, 'I don't care what the velo is or if everything is going to be nasty, but we're going to go up there and spot.' That's what's going to get us through this game. I knew that I couldn't have a repeat outing like my last one because we were a couple of guys down in the bullpen today. I really wanted to give those guys innings because they deserve it."
Dodgers' No. 6 prospect Alex Verdugo and No. 5 Cody Bellinger went back-to-back with solo homers in the seventh to provide insurance for De Jong.
"Anytime you can have those guys give you more run support, you're gonna take it," De Jong said. "I actually called the back-to-back shot after Verdugo hit his. I leaned over to our hitting coach, Terrmel Sledge, and said, 'They're so going to go back-to-back here.'
"Anytime you can go into the final half inning of a game with a three-run cushion instead of a one-run cushion, I don't know any pitcher alive that wouldn't take that. It was great to go into that last inning with that run support and that momentum."
Springfield starter Trey Nielsen (4-3) didn't allow a hit through four innings, ultimately giving up a run on two hits while striking out four and walking one over six innings.
In the nightcap, Heyer (2-2) set the first 15 Drillers down in order before giving way to the bullpen. The right-hander needed just 59 pitches to complete his five innings. Tulsa's Lars Anderson doubled off reliever Chris Perry to open the sixth and Josh Lucas allowed another hit in the ninth while closing out the game for his third save.
Robert Emrich is a contributor to MiLB.com. Follow him on Twitter @RobertEmrich. This story was not subject to the approval of the National Association of Professional Baseball Leagues or its clubs.
View More