Drillers' Gray lets loose and finds form
Rockies top prospect adjusts after rough first inning and cruises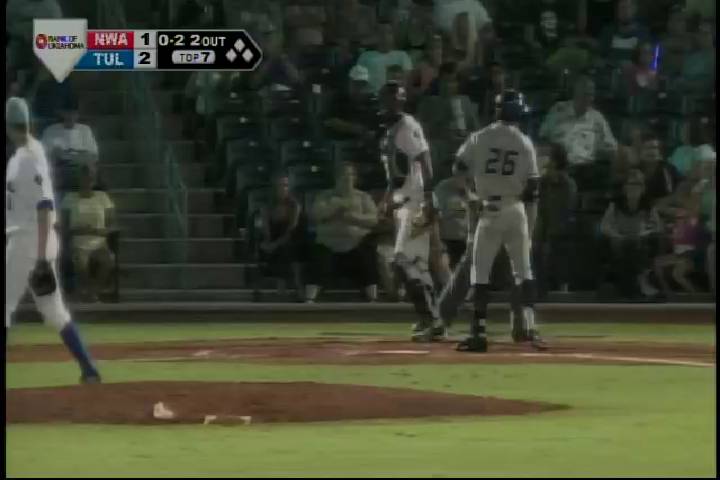 By Josh Jackson / MiLB.com | August 3, 2014 1:50 AM ET
There's not a thing wrong with Jon Gray's arm, and he proved it on Saturday night.
"After the last two outings, people were worried there was something wrong with my arm because my velocity was a little down, like 90 to 93," the Rockies' top prospect explained. "People were saying, 'Hey, are you OK?' I was like, 'I'm fine, I was just slowing it down a little.'"
After giving up nine runs over 11 innings in those two games and navigating a shaky first inning Saturday, he abandoned that plan and returned to form. Gray struck out six and walked three over seven innings of two-hit ball -- allowing only a single and a walk after the opening frame -- in Double-A Tulsa's 4-3 win over Northwest Arkansas.
"The last couple outings, the two before this, I slowed everything down and worked on making pitches, hitting spots and everything like that," Gray said. "This outing, I let go and let the ball fly. It's definitely a lot more fun letting it go. It's an awesome feeling."
Gray, MLB.com's No. 15 overall prospect, did not feel in control during his pregame bullpen session but wasn't concerned until he walked the first two batters he faced and 15th-ranked Royals prospect Cheslor Cuthbert singled in a run.
"I was kind of surprised. I really didn't think it was going to be that bad," said the 22-year-old right-hander.
"It was just a little bit of really not attacking the guys at first. I was picking around the zone a little bit and I pulled a couple balls outside. I had trouble finding my rhythm, really. I'm glad I adjusted when I did or it could have been a lot worse."
The adjustment Gray made was mental, but the results were physical.
"I just got away from any thoughts of mechanics and started to just get into a motion with a little bit of rhythm and I just let loose," he said. "I thought, 'I'm going to compete with this guy.' Every guy up, I just tried to find a way to compete with him."
The University of Oklahoma product retired nine straight, beginning with a sacrifice by Orlando Calixte. After walking Calixte to start the fourth, Gray retired Royals No. 4 prospect Hunter Dozier on a groundout and got Mark Threlkeld to line into a double play.
After a perfect fifth, Gray allowed a leadoff single in the sixth to Angel Franco, who was caught trying to steal second.
Gray worked a 1-2-3 seventh, striking out the last two batters he faced. Although he did not factor in Saturday's decision, he's 6-0 with 2.25 ERA against the Naturals this season.
"Maybe it's because I got my first win on them, so maybe that just gave me some confidence that I'm not thinking consciously about against them," he said. "Maybe I just match up well with their hitters. I don't really know."
Trevor Story, the Rockies' No. 11 prospect, homered to snap an eighth-inning tie and send the Drillers on the way to their second win in three games.
Nelson Gonzalez (5-3) got the win, despite allowing two runs -- one earned -- in the top of the eighth, and Cole White worked a perfect ninth to earn his 10th save.
Josh Jackson is a contributor to MiLB.com. This story was not subject to the approval of the National Association of Professional Baseball Leagues or its clubs.
View More