Eastern notes: Gonzalez catches on quickly
Sure-handed shortstop prospect thriving in return with RubberDucks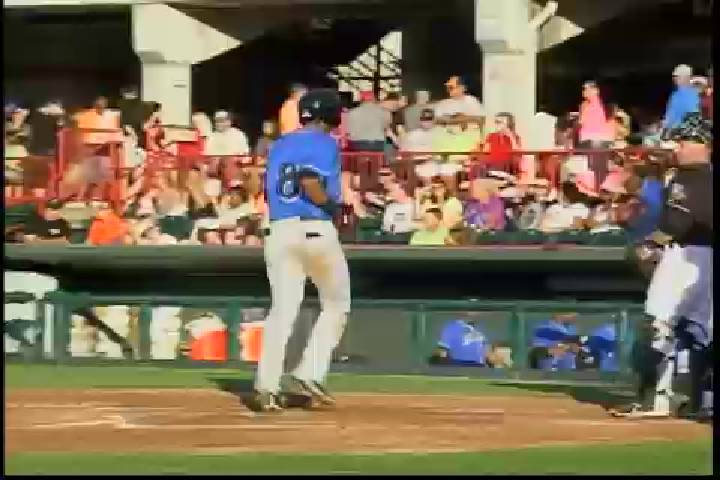 By Craig Forde / Special to MiLB.com | August 19, 2014 10:00 AM ET
A brief six-game call-up to Akron at the end of June was all Erik Gonzalez needed to hone in on what the game was like at the next level. When he returned to the RubberDucks 16 games later, he quickly displayed a readiness for Double-A ball, picking up where he left off.
"When they called me for that week, I tried to learn how to play in this league," said the Indians' No. 9 prospect. "When I went back to [Class A Advanced] Carolina, my mind was thinking about coming back to Akron. I was ready to go when I got back here."
When top Indians prospect Francisco Lindor went down after catching a ball off his face, Gonzalez popped up from Carolina to fill in, and despite going hitless in his first nine at-bats, he caught on quickly, collecting eight hits in the next four games before being sent back to the Mudcats.
Following a Lindor move again, this time a promotion to Triple-A Columbus, Gonzalez slid right back into place with Akron and rattled off a 13-game hitting streak upon returning.
In an organization stacked with middle-infield depth -- most notably Lindor, the No. 4 overall prospect in the game -- Gonzalez has kept the pace, and after playing seven positions in his prior four seasons, he's logged a full season of games back at his natural shortstop position.
In 22 games with the RubberDucks, the sure-handed Gonzalez has only one error in 83 chances.
"Two years ago I played a lot of positions," said Gonzalez. "Your mind isn't focused on just one thing. Now, when I'm playing just shortstop, I'm focused on just that one thing. You don't think too much of where you might be playing.
"My mind is 100 percent to compete. I feel comfortable playing shortstop every day and I feel like I can put all of my efforts in the game because I know I'm going there."
Being comfortable in that aspect of the game has allowed him to flourish at the plate, hitting .361 in Double-A and .306 overall this season in 97 games.
Now the six-foot 22-year-old from Puerto Plata, Domincan Republic, is looking forward to keeping the ball rolling a little bit longer on his season as he and the RubberDucks try to cinch up a postseason berth.
"I try to work hard and help the club get to the playoffs," said Gonzalez. "I'm feeling very good at the plate. I feel comfortable because I'm having a good season."
In brief
Moya the destroyer: With 61 extra-base hits, Erie's Steven Moya is just one off the club record set by Eric Munson in 2001. The Tigers' No. 7 prospect has 28 doubles, three triples and 30 home runs, accounting for 49 percent of his hits this season.
Rock solid: Virgil Vasquez was efficient in his seven-inning no-hitter Saturday, using just 69 pitches, 44 of which were for strikes. In his four prior starts for the Rock Cats, he had given up 35 hits over 22 2/3 innings. The no-no was the first thrown at home by a New Britain hurler.
Okert throws up zeros: Richmond reliever Steven Okert is 1-0 with a save in his last five appearances, allowing just a hit and two walks while striking out nine. The Giants' No. 10 prospect was promoted to Double-A in June, had a 4.50 ERA in nine July appearances and a 1.17 ERA in four outings this month.
Craig Forde is a contributor to MiLB.com. This story was not subject to the approval of the National Association of Professional Baseball Leagues or its clubs.
View More