EL notes: Phils' Biddle won't back down
Reading left-hander remains focused on pitching deep into games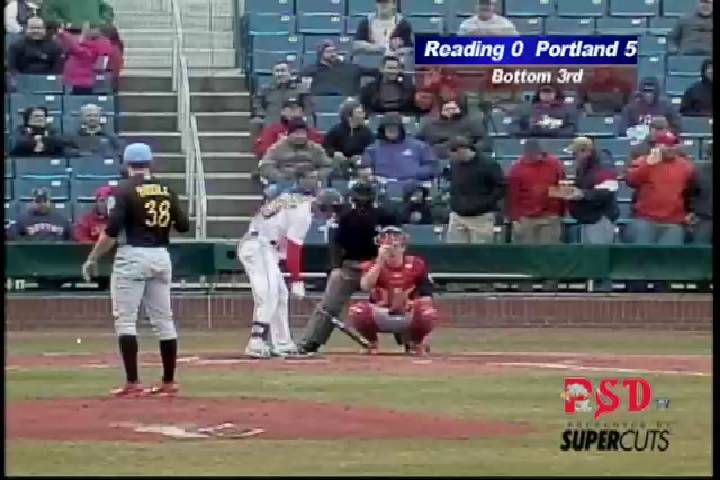 By Craig Forde / Special to MiLB.com | June 24, 2014 10:00 AM ET
Every time Reading's Jesse Biddle hits the bump for a start, he's thinking about nothing more than throwing seven or more solid innings to put his team in a position to win.
In the top of the seventh against Akron on June 18, after walking the leadoff batter, Biddle retired the next two on strikes and, with the runner going on the second strikeout, finished the frame with a double play and a big pump of the fist.
"I think throwing seven innings is the minimum for a starter," said Biddle, the Phillies' No. 2 prospect. "Five, six innings doesn't feel like you've done everything you could for your team. It doesn't feel like you went deep enough."
Given Biddle's two prior starts, there was reason to rejoice a bit more against the RubberDucks.
On June 6 he had his shortest outing of the season against Richmond, lasting only 2 1/3 innings after serving up seven runs on six hits, two of which were home runs.
Biddle was unable to rebound his next start, running into a red-hot New Britain club that patiently drew six walks from the lefty over 3 1/3 frames.
"This year the walks have been a little bit of an issue," said Reading pitching coach David Lundquist. "Right now, where we're at is to stop thinking so much about what you're doing on the mound, focus 60 feet away and let your natural ability and natural talent take over.
"I think he's headed in the right direction."
By Biddle's own estimation, things weren't going well, since he had not made it through seven innings in six straight starts in a roller-coaster of a second season in the Eastern League.
"I've had some good [starts], I've had some success this year," said Biddle. "Then, I've had a couple of pretty bad ones. That's kind of how pitching goes in a lot of ways. The important thing is to not lose confidence in yourself and your ability."
The natural maturation process has helped the 22-year-old as he works through tough times and continues to develop his arsenal, which has included a lot of development on his slider and changeup this season.
"We're still working on and developing the slider," said Lundquist. "He has a good feel for a changeup when he uses it. The thing that makes him a notch above a lot of other people is his competitive nature in everything he does."
In the face of a 3-8 record, a 4.04 ERA and even his own home fans booing him, Biddle's competitive nature is what carries him from one start to the next.
He knows that, even if he has a bad start, there will be chance for redemption soon enough, and nothing that can be said will stop him from hitting that mound and trying for seven or more innings of the best that he's got.
"I don't quit," said Biddle. "Even when things are really not going my way, I may be struggling, I still don't quit and I'm never going to give up on this game.
"I don't feel complete until I'm out there."
In brief
Rock and roll: New Britain's 5-2 victory over Reading on Saturday was a franchise-best 10th straight win. The Cats upped their streak to 11 by sweeping the Fightin Phils' on Sunday. It's the longest winning run of any team in the league this season.
Attack on track: After getting saddled with three straight losses, Bowie starter Zach Davies put together the two best outings of his career in back-to-back dominating performances. The Orioles' No. 12 prospect went 2-0, throwing 13 scoreless innings in which he allowed just three hits and four walks. The only hit Davies allowed versus Binghamton on Sunday was a leadoff double by Kyle Johnson.
Powering up: With his second-inning home run Sunday, Erie's Steven Moya has, for the fourth time this season, gone yard in back-to-back games. Through 69 games, the Tigers' No. 20 prospect has already achieved career highs in home runs (16) and stolen bases (12) and is just five RBIs shy of a career best.
Craig Forde is a contributor to MiLB.com. This story was not subject to the approval of the National Association of Professional Baseball Leagues or its clubs.
View More