EL notes: Tigers' Travis returning to form
Erie second baseman finds his stroke after first stint on disabled list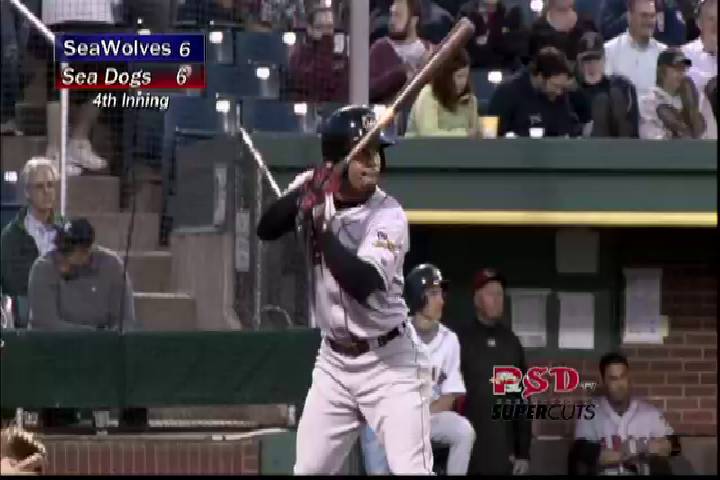 By Craig Forde / Special to MiLB.com | June 10, 2014 10:00 AM ET
In just his fourth game of the season, Devon Travis took a cut on a sinker from Binghamton's Matthew Bowman and instantly knew something was wrong. The Erie SeaWolves second baseman felt a tug in his right side, but thinking it was just a muscle spasm, he continued to play, hoping the feeling would just go away.
It did not.
"I didn't even know what to tell the trainer," said Travis, the Tigers' No. 2 prospect. "If it was a just a muscle spasm or not, I was just hoping it would go away the next day, but it didn't go away for a little while."
He awoke the next day in pain, but decided to keep it to himself, playing what he called the "tough guy card."
Three pitches into batting practice, Travis could no longer hide that something was wrong, and for the first time in his career he was placed on the disabled list, nursing an oblique strain that would keep him out more than a month.
Benefitting from the warm weather at the Tigers facilities in Lakeland, Florida, he rehabbed his way back to Erie on May 19, excited to head back north.
"I'm thankful I had the opportunity to go down in the warm weather and get healthy again," said Travis. "[I'm] back to feeling 100 percent again. It's good that I get to wake up and not be in Lakeland anymore. It can get a little depressing down there."
Having only had four Double-A games under his belt, Travis was slow to get back into form, hitting just .125 in his first seven games after returning to the SeaWolves lineup.
He felt lost with his swing and his approach, growing mentally frustrated with each bad at-bat, but with the assistance of hitting coach Gerald Perry, the 23-year-old has gotten on track, rounding back into his breakout form of a year ago.
"All the credit goes to [Perry]," said Travis. "I was literally lost. It's tough when the pitching is good and in your head you feel lost. It's hard enough to hit when you're feeling confident. About a week and a half ago, I started feeling good again."
With a slight adjustment to his balance, shifting more weight onto his heals, Travis has become one of the league's hottest hitters.
The evidence is in his current 13-game hitting streak, during which he has 24 hits -- 11 for extra bases -- and has only struck out four times in 58 plate appearances.
After experiencing the first injury and consequent struggles of his career, Travis seems to have come out on the other end stronger and wiser.
"The biggest thing in this game is staying mentally strong and trying to stay confident even through the tough times," said Travis. "It's tough when you're struggling. You just have to try to stay within yourself and keep believing in the process."
In brief
Signs of life: After a rough May in which he batted just .180, Trenton outfielder Mason Williams is starting to come around in June. The Yankees' No. 2 prospect has nine hits in seven June games. including a 3-for-6 effort with four RBIs against Richmond. However, Williams still has seven strikeouts without a walk in the month.
Still on top: After a 7-0 start Portland pitcher Keith Couch suffered his first loss of the season Friday versus Bowie. The right-hander has recorded a decision in nine of his 12 appearances, working a four-inning save back in May. His seven wins are tied for most in the Eastern League, while his 2.49 ERA sits seventh.
Scurrying squirrels: The Richmond Flying Squirrels lead the league with 97 stolen bases, 20 more than they had all of last season. They are on pace to swipe 226 bases, which would be the most since the B-Mets stole 215 bags in 2002. Richmond has only been caught on 14 attempts thus far.
Craig Forde is a contributor to MiLB.com. This story was not subject to the approval of the National Association of Professional Baseball Leagues or its clubs.
View More