From celluloid to infield with the Isotopes
Dodgers affiliate continues to thrive on 'Simpsons' connection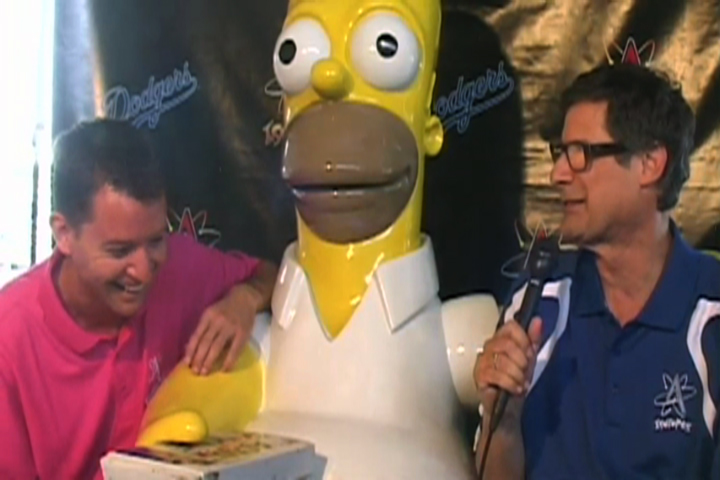 By Benjamin Hill / MiLB.com | April 30, 2014 1:34 PM
Albuquerque Isotopes general manager John Traub is sitting at his desk on Monday, the early-evening sun illuminating the undulating visages of the bobbleheads that surround him. It's about a half-hour before game time, and he's telling a New York City interloper -- me -- a story that he's certainly told many times before.
"It's funny -- the cultural significance of The Simpsons is what put us on the map," says Traub. "To this day, people from all over the world want hats and T-shirts with our name on it."
Sure, the Isotopes name is an apt homage to the role that nuclear science has played in Albuquerque's past and present, but that heritage is secondary to what truly inspired the team's quirky moniker. The Isotopes' does indeed come from The Simpsons -- in particular, the episode in which Homer's beloved Springfield Isotopes threaten to move to the city of Albuquerque. This 2001 episode aired at a fortuitous time as a deal was then in the works to relocate the Calgary Cannons to Albuquerque.
"After that [Simpsons] episode aired, the daily paper at the time did a 'Name the Team' contest and the choices were Dukes, Atoms, 66ers, Roadrunners and Isotopes," said Traub, the only general manager in the team's history. "There were 150,000 votes in the contest, and 57 percent of them were for the Isotopes. ... I was like, 'Are you kidding me? What's an Isotope?'"
Both the name and the team were an immediate hit, and more than a decade into their existence the Isotopes remain one of the top attendance draws in Triple-A.
"This turned out to be a splash of marketing genius. [Team president] Ken [Young], he likes to have fun with names, and this turned out to be the combination of the right name and the right logo," said Traub. "With Isotopes, the connotation is that we're something fun and different, and that's what we are -- fun and different."
Simpsons statues embiggen the fan experience
When Isotopes Park opened in 2003, the Isotopes front office wanted to enhance the fan experience by installing life-size statues of Springfield's most famous family. "It was on the wish list," says Traub, and for the first seven seasons of the team's existence this is where it remained. After all, Simpsons statues aren't exactly an easily obtainable item.
But dream became reality during the 2009-10 offseason, and in quite improbable fashion. This, too, is a story that Traub enjoys telling.
"In October of 2009 my family and I were in Los Angeles to see the Dodgers-Cardinals playoff series, and one day we were driving down La Brea Avenue looking for Pink's Hot Dogs," said Traub. "My wife says, 'Look, there's Homer Simpson!' I didn't know what she was talking about, but I made a U-turn and there he was, right outside of the building we had just passed."
That building was Nick Metropolis Collectible Furniture, a sprawling, overstuffed and supremely kitschy establishment that Traub described as a "jazzed-up Sanford and Son."
Nick Metropolis wasn't on the premises at the time, but one of the store's employees told Traub that the statues -- there was one of Marge as well -- were not for sale. Traub wasn't about to be dissuaded, however.
"I finally got Nick on the phone and he said, 'No, I can't sell those statues -- those are my eye-catchers.' But while he said that they weren't for sale, I had the sense that everything at that store was for sale."
Traub stayed on the case, and later that month he and Isotopes president Ken Young made a return visit. The haggling began and eventually a deal was struck.
"The week before Thanksgiving, I went back to Los Angeles to get the statues and rented a mini-van to bring them back to Albuquerque," said Traub. "But they didn't fit. Then we rented another vehicle and they still didn't fit, and I couldn't get a U-Haul on short notice. Eventually we got a Ford Expedition or Excursion -- whatever the bigger one is -- and brought them back in that."
The statues weren't in ballpark-ready condition, so Traub hired a guy at a local auto body shop to clean them up. The remote that Homer was holding was fashioned into an Isotopes ticket, and a peg protruding from Marge's lap that had once held Maggie was obscured with a giant box of popcorn (this was later swapped out for a jumbo-size cup of Coca-Cola after fans kept poking at the foam popcorn pieces protruding from the top of the box). The following season Bart and Lisa were added to the ballpark equation, again thanks to "The King of Collectible." Mr. Metropolis, using his vast junk-world connections, had obtained statues that had originally been used as promotional items for the 2007 Simpsons movie.
"People are taking pictures with those statues all of the time; it's unbelievable," said Traub. "Finally, we accomplished what we had wanted to accomplish."
Did you know?
The Simpsons' Minor League Baseball connection runs deeper than the Isotopes. "Dancin' Homer," the episode in which the Springfield Isotopes were first introduced, was written by former Norfolk Tides broadcaster Ken Levine. Levine drew on his experiences with the Tides in writing the episode, and Tides general manager Dave Rosenfield even makes a cameo (in name only) as the owner of the rival Capital City Capitals.
Benjamin Hill is a reporter for MiLB.com and writes Ben's Biz Blog. Follow Ben on Twitter @bensbiz. This story was not subject to the approval of the National Association of Professional Baseball Leagues or its clubs.
View More