FSL notes: Arcia flashes Major League talent
Like brother Oswaldo, Brewers' No. 4 prospect propelling quickly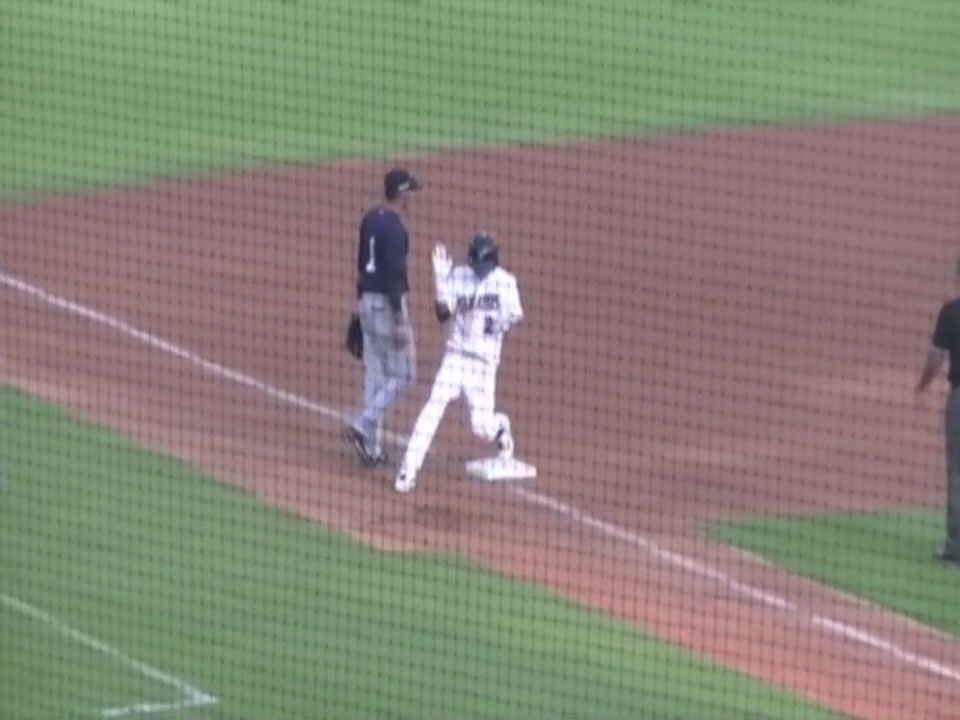 By Guy Curtright / Special to MiLB.com | July 9, 2014 10:00 AM ET
Oswaldo Arcia quickly slugged his way to the Major Leagues. Younger brother Orlando has a different calling card, but may be on the same fast track.
"He can play up there right now defensively," Brevard County manager Joe Ayrault said of the slick-fielding middle infielder.
The younger Arcia -- the Milwaukee Brewers' No. 4 prospect -- is still just 19 years old, though, and remains a work in progress offensively.
The results this season have certainly been encouraging, however.
Orlando may not swing the bat like his older brother, who made it to the Minnesota Twins early last season as a 21-year-old. But he is proving to be no easy out, either.
Arcia, who started the season as the Class A Advanced Florida State League's youngest player, had an 11-game hitting streak during April that featured a four-hit game. A few downtimes at the plate followed, but the right-handed hitter heated up in a big way during June.
Arcia had a pair of four-hit games over a three-day span early in the month, then was 5-for-5 with five RBIs in the best game of his young career on June 25.
"I feel more mentally and physically ready," he said through a translator. "At the start of the season, I was kind of nervous. But I feel very comfortable now."
For the month of June, he hit .337 (33-for-98) with 11 doubles, two triples, three homers and 23 RBIs.
Not bad for someone whose reputation is all about defense.
"His hand-eye coordination is off the charts," Ayrault said. "His big thing is learning his strike zone and not getting himself out. He can pretty much hit anything nose to toes. He's done a really good job this season of shrinking the strike zone and learning the pitches he can hit hard."
Arcia had only 41 strikeouts compared to 26 walks and a .335 on-base percentage to go with a .278 batting average through 80 games. He had 28 extra-base hits and 13 stolen bases.
Still, it is his defense that really draws the attention of scouts.
Arcia has seen time at second base as well as shortstop this season and excelled at both.
"He's the total package -- the arm, the range, the hands, plus the instincts," Ayrault said. "He's a very instinctive player, especially for his age."
That really isn't surprising when you consider Arcia's background. He has been following in his brother's footsteps since his early days on the diamond in Venezuela.
They each signed at 16, three years apart, and Oswaldo, a left-handed hitting outfielder, offered a blueprint of what was needed to succeed.
"Having a brother in the Major Leagues has definitely been a help for him," Ayrault said. "You can see that influence. He's very mature."
The brothers remain close, in-season and out.
"He talks to me a lot and tells me how to keep straight and not get too high or too low," Arcia said. "Just stay the same and confident."
Arcia broke his left ankle and missed the 2012 season, which was to be his first in the United States. He says he still isn't running with the confidence he had before the injury, but the Brewers certainly haven't slowed down his accelerated advancement.
Arcia held his own in the Class A Midwest League last year as an 18-year-old and excelled this season after making the step up to Brevard County.
"I've been very impressed with everything about him," Ayrault said. "He's definitely got the makeup and the talent to be a Major League shortstop."
In brief
Hit parade: Palm Beach center fielder Charlie Tilson had three consecutive two-hit games July 2-4, giving him six multi-hit outings in nine contests. The 21-year-old left-handed hitter was batting .373 in 17 second-half games with nine extra-base hits and 13 RBIs. Tilson, the St. Louis Cardinals' No. 10 prospect and a second-round pick in 2011, had a .317 overall average -- seventh in the Florida State League. His on-base percentage was .368 and he had scored 47 runs in 77 games.
Moving up: Left-hander Jose Berrios, tied for the Florida State League lead in victories, was promoted to Double-A New Britain by the Minnesota Twins. The 20-year-old from Puerto Rico was 9-3 with a 1.96 ERA and led the league with 109 strikeouts while walking just 23 in 96 1/3 innings. Berrios, the Twins' No. 5 prospect, twice allowed just one hit over seven innings and was 7-1 with a 1.36 ERA in his last 10 starts for the Miracle.
Hot in July: Charlotte first baseman Patrick Leonard, tied for second in the FSL with 12 homers, had back-to-back games with three hits July 1-2 and had five multi-hit outings over a six-game stretch. He was hitting .361 through the first 16 games of the second half, lifting his overall average to .296 with an OPS of .895 -- third in the league. Leonard, who had a .383 on-base percentage, was part of the trade that brought Wil Myers to Tampa Bay and sent James Shield to Kansas City.
Guy Curtright is a contributor to MiLB.com. This story was not subject to the approval of the National Association of Professional Baseball Leagues or its clubs.
View More