FSL notes: Jays' Norris finds his footing
Dunedin lefty growing more comfortable with revamped delivery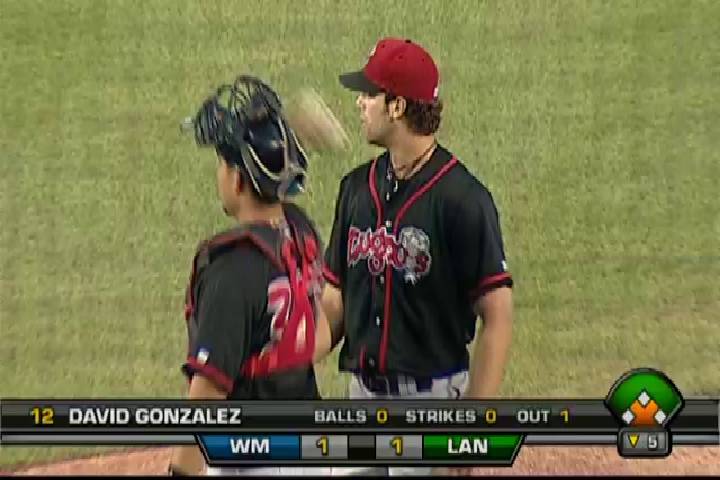 By Guy Curtright / Special to MiLB.com | May 14, 2014 10:00 AM ET
The Toronto Blue Jays gave Daniel Norris a $2 million signing bonus in 2011 and then almost immediately set out to change the left-hander's delivery.
Norris, who had passed up a scholarship to Clemson University to sign at the deadline, didn't fight it.
"I bought in," the Tennessee native said. "I knew I walked too many and that the change would help me."
That doesn't mean, though, that altering the way he had always thrown would be easy.
"My bullpens would be flawless," Norris said. "Then I'd get in a game, speed up too much and lose it. I know it must have been frustrating to the Blue Jays. It took me a long time to figure it out."
Now, Norris finally has.
Toronto's No. 4 prospect was 3-0 with a 0.81 ERA in his first seven starts this year for Dunedin of the Class A Advanced Florida State League and had 42 strikeouts to 10 walks in 33 1/3 innings.
How much of a different pitcher is Norris? In his first two seasons, he won just four games combined.
That was when the Blue Jays were still trying to wean their former second-round pick away from throwing across his body and landing with a stiff front leg. Now he has a consistent arm slot and better direction toward the plate.
"I'm finally able to repeat my delivery without having to think about it," Norris said.
Not only is Norris' muscle memory better but so is the body with which he is delivering his pitches.
Just 170 pounds when he signed out of high school in Johnson City, Tenn., the 6-foot-2 Norris was determined to put on weight. He thinks he put on too much, though.
Norris changed his diet, cooking most of his own healthy meals, and cut his body fat from 12.8 percent to 7.2 percent over the winter.
"I found that stronger doesn't always mean better for a pitcher," he said. "I'm more athletic now, and I think that's helped me. I feel like myself again."
Norris, a multi-sport standout, was considered the top high school left-hander in the 2011 Draft, but most teams were scared off by his commitment to Clemson.
Toronto, though, had seven of the first 78 picks and took a chance on Norris with their sixth pick, No. 74 overall.
First-round choice Tyler Beede didn't sign, and Norris ended up getting the most money of any of the Blue Jays' picks.
Norris and Beede had been texting back and forth before Toronto finally came in at the signing deadline with an offer. Norris grabbed it.
"It was a lot of money," he said. "Getting anything more would have been greedy."
Beede, a right-hander, didn't sign and went to Vanderbilt University, where he is one of the top pitchers in the Southeastern Conference.
"I was hoping the Blue Jays could sign both of us," Norris said.
He certainly has no regrets about his decision, despite a couple of tough years with little success.
"I knew I wanted to be a professional baseball player, so I thought it would help to get started," Norris said. "I think it's paid off."
In brief
Back on the DL: Fort Myers center fielder Byron Buxton, ranked No. 1 among MLB.com's Top 100 Prospects, went back on the disabled list May 11 after reinjuring his left wrist on a slide four days earlier. He was 3-for-20 with a homer and eight strikeouts in five games with the Miracle after spraining the wrist midway through Spring Training while attempting a diving catch. The 20-year-old Minnesota prospect had been slated to start the season with Double-A New Britain before the injury. Buxton, the No. 2 overall pick in the 2012 Draft, hit .326 in the second half of the 2013 season with Fort Myers after batting .341 with Class A Cedar Rapids.
Power void: Tampa lost half of the Florida State League's top power duo when catcher Peter O'Brien was promoted to Double-A Trenton. O'Brien's departure with 10 homers left Yankees third baseman Eric Jagielo tied with Palm Beach first baseman David Washington for the FSL lead among active players with seven homers. O'Brien, who was batting .323 with Tampa, hit three more homers in his first three games with Trenton. The second-round pick by New York in the 2012 Draft out of the University of Miami belted 22 homers between Class A Charleston and Tampa last year.
Red-hot return: Jupiter shortstop Terrence Dayleg didn't let a stint on the disabled list cool him down. Hitting .349 in 19 games before he went on the DL, Dayleg batted .419 in his first eight games back. His .372 average ranked second in the FSL to the .388 of St. Lucie's T.J. Rivera through May 12. A 26-year-old from Canada, Dayleg was a 22nd-round pick by the Marlins in the 2009 Draft out of Western Kentucky.
Guy Curtright is a contributor to MiLB.com. This story was not subject to the approval of the National Association of Professional Baseball Leagues or its clubs.
View More