Gallo delivers walk-off in Double-A debut
No. 4 Rangers prospect blasts three-run homer in RoughRiders bow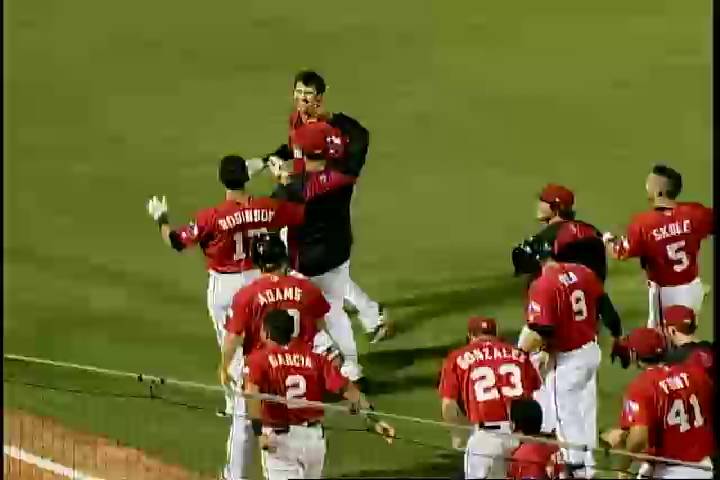 By Steve Hunt / Special to MiLB.com | June 10, 2014 1:44 AM ET
FRISCO, Texas -- Joey Gallo saved his best for last in his first Double-A action.
After going 0-for-4 in his first four plate appearances in his debut for Frisco, the Rangers' No. 4 prospect stepped to the plate in the bottom of the ninth inning with two outs and the game tied with Midland, 4-4.
Gallo was ahead in the count, 2-0, and later admitted he expected RockHounds reliever Seth Frankoff to throw a changeup. Gallo guessed right, drilling Frankoff's off-speed pitch out of Dr Pepper Ballpark to give the RoughRiders a 7-4 walk-off win.
"It's pretty huge," Gallo said. "I felt good at the plate and [Minor League field coordinator Jayce Tingler] was like, 'You going to do this, big boy? I was like, 'Yeah, I'm going to do it,' and I ended up having a good opening debut."
Prior to that game-winning homer, he had driven in a run on a groundout and struck out three times in his first four at-bats.
Gallo made his debut a day after being called up from Class A Advanced Myrtle Beach.
At the time of his promotion, he was leading the Carolina League in 10 offensive categories, including RBI (50), runs scored (53) and OPS (1.199).
Frisco manager Jason Wood put Gallo in the fifth spot and at his customary position of third base.
In the first inning, the 20-year-old saw four pitches from Midland starter Shawn Haviland before grounding out to RockHounds first baseman Max Muncy. But Jake Smolinski, who had walked earlier in the inning, scored from third base on the play.
Gallo's next plate appearance came in the second after Frisco sent nine men to the plate in the first for a 4-0 lead. With two runners on, Gallo struck out swinging on a curveball in the four-pitch at-bat.
After Haviland got behind him, 2-0, in the fifth, Gallo fanned on a changeup on the sixth pitch of the at-bat.
In the field, Gallo had two chances at third base the entire night and both came in the seventh. Gallo initially bobbled a shot by Jefry Marte to lead off the seventh, but threw him out in a close play at first.
Then Gallo perfectly played a chopper by Billy Burns and calmly fired the ball over to first for Midland's final out of the seventh.
In the home half of the seventh, Gallo stepped to the plate for a fourth time, this time against Midland reliever Frank Gailey. He faced seven pitches, but Gailey's nasty slider on the outside corner froze him for a called third strike.
Despite the fact he was 0-for-4, Gallo said he wasn't disappointed by his Texas League debut at that point.
"I know the results didn't come, but I felt pretty good," he said.
Then he played the changeup hunch on the fateful at-bat after Frankoff missed low with his first two pitches. The changeup was elevated, and Gallo did what he'd done 21 other times this season.
"I knew they were kind of pitching backwards a little bit. So I kind of went up there with 2-0 figuring that he might throw a changeup. He ended up kind of hanging it. I was able to strike it to left-center," Gallo said.
Since he got such short notice about his promotion, none of Gallo's relatives were able to make it from Las Vegas to witness his debut. He celebrated with teammates and fans instead, staying after the game to sign autographs down the left-field line after the victory.
Steve Hunt is a contributor to MiLB.com. This story was not subject to the approval of the National Association of Professional Baseball Leagues or its clubs.
View More