Gonzalez, Gallo haven't missed any beats
Texas prospects delivering with ball, bat at Double-A level with Frisco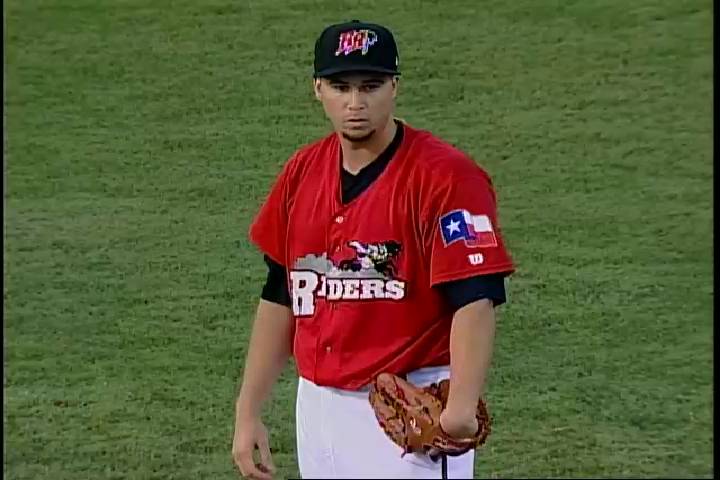 By Ashley Marshall / MiLB.com | June 11, 2014 12:25 AM ET
If runs are the currency of baseball and outs serve as units of time, it's no surprise that Frisco's two newest additions are quickly becoming fan favorites.
Alex Gonzalez allowed one hit while striking out six over five scoreless innings in his Texas League debut and fellow first-rounder Joey Gallo homered, doubled, plated two runs, and scored twice in his second Double-A outing as Double-A Frisco beat Midland, 7-2, on Tuesday.
Texas' No. 6 prospect Gonzalez set down the first 12 batters he faced before Josh Whitaker doubled to left field to begin the fifth frame. It was the only baserunner Gonzalez allowed all night, and he set down the next three RockHounds before exiting with a 6-0 lead.
"I think I did well," said Gonzalez, selected by the Rangers 23rd overall in last June's Draft. "The results paid off and things went my way from the first pitch to the last pitch. The biggest thing was that I kept the ball down ... because the ball travels in this park.
"I was throwing my four-seam and two-seam fastball, my changeup, my curveball and my slider. Most of the time I was using my slider as the secondary pitch. I was getting a good downward angle and every pitch was around the plate."
Gonzalez was 5-2 with a 2.62 ERA in 11 Carolina League starts for Class A Advanced Myrtle Beach before his promotion to Frisco on Sunday. He twice held his opponents scoreless -- against Frederick on May 3 and Winston-Salem on May 13, but his best performance was arguably the seven one-hit, one-run frames he delivered against the Keys on May 20.
"This start was a good one," said Gonzalez, who threw 38 of 61 pitches for strikes. "I'm not going to rank it on 1-10, but I felt great. Getting ahead of guys right away, I could use any weapon I had.
"When I came in [to the dugout, manager Jason] Wood gave me a handshake. I talked to him to see if I could go out for the sixth, but that was already decided before the game."
The 22-year-old right-hander arrived in Frisco on Sunday morning, played catch that afternoon and met with the coaches, staff and new teammates, many of whom he knew from Spring Training. The next day, Gallo made an immediate impression in his Texas League debut with a walk-off grand slam.
On Tuesday, Texas' No. 4 prospect laced an RBI double the opposite way to left field with two outs in the first inning and he pulled a solo dinger to right field in the third. It was the 20-year-old third baseman's 23rd homer of the year, which gave him sole possession of the Minors lead. Tennessee's Kris Bryant remained at 22 homers, while Trenton's Peter O'Brien went yard to catch up to the No. 2 Cubs prospect in second place.
Selected 39th in the 2012 Draft, Gallo leads the Minors with a .730 OPS, ranks second with 56 RBIs and fifth with a .457 on-base percentage. He walked and scored in the fifth and he drew another free pass to begin the seventh. He has been on base four times in a game six different times this season between two levels.
"It's awesome, I hope we follow each other the whole way through," Gonzalez said about playing alongside Gallo. "It was a little superstar finish [on Monday] and it just gave everyone confidence. ... It's great having a dude like that on the team.
"I think he's as good as people say he is. He's an All-Star guy."
Jon Edwards allowed a run on two hits over two innings of relief and Francisco Mendoza yielded a run on a solo homer while striking out three batters over the final two frames.
First baseman Jake Smolinski was 2-for-5 with an RBI double and a run scored and designated hitter Ryan Rua doubled home two runs.
Midland's Nate Long (6-2) surrendered six runs -- five earned -- on 10 hits and two walks while punching out four batters over 4 2/3 innings.
Ashley Marshall is a contributor to MiLB.com. Follow him on Twitter @AshMarshallMLB. This story was not subject to the approval of the National Association of Professional Baseball Leagues or its clubs.
View More