Gray works through discomfort in gem
Top Rockies prospect allows one hit over 5 2/3 innings for Drillers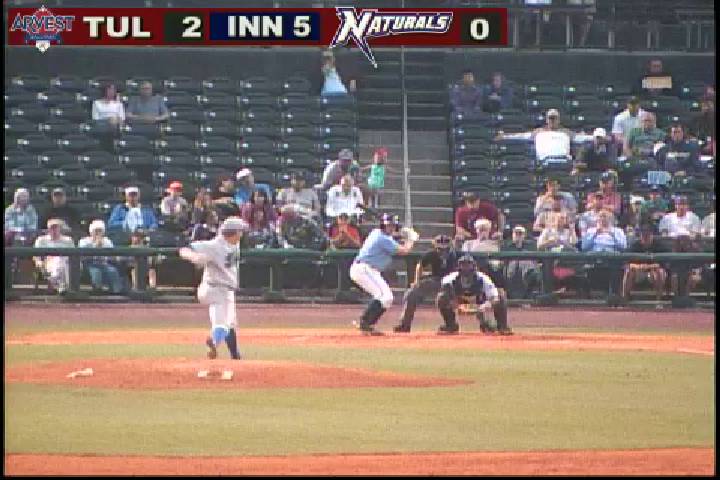 By Jake Seiner / MiLB.com | July 17, 2014 12:45 AM ET
The results have been better, but recently, it's been a grind for Rockies right-hander Jon Gray.
"It's really just not finding my groove," Gray said. "It took me three innings tonight until I was fine with my delivery."
On Wednesday, the Rockies' 2013 first-rounder (third overall) wrestled his mechanics back to form, salvaging an excellent start from his discomfort. Gray allowed just one hit over 5 2/3 scoreless frames, striking out seven and walking two, as Double-A Tulsa downed Northwest Arkansas, 2-0.
Colorado's top prospect threw 93 pitches -- 58 for strikes -- while picking up his Texas League-leading ninth win of the season. Six of those victories have come against Northwest Arkansas.
For the Naturals, Royals' No. 11 prospect Christian Binford scattered two earned runs on seven hits over seven innings. The 21-year-old struck out eight, slimming his ERA to 3.38 through three Texas League starts.
Gray expressed frustration after the game about his inability to find comfort in his delivery. He's struggled with it for much of the season, especially for a three-start stretch in June in which he allowed 12 earned runs in 13 1/3 innings.
His last two outings have been much better, as he's logged 11 1/2 frames without allowing an earned run. While he hasn't gotten any better with his early outing comfort, what's improved is his response to it.
"I just brought my composure and my competitive nature got me through the game," Gray said. "I got a little frustrated in the first two or three innings. My delivery, it just felt different today. I just had to battle."
Gray needed 18 pitches to get through the first inning, issuing a hit to Angel Franco and a walk to Jorge Bonifacio before ending the frame by picking Franco off second base. He threw 16 more pitches in the second while retiring the side in order.
He pieced together another 1-2-3 inning in the third, worked around a leadoff walk to Orlando Calixte in the fourth, then retired five straight between the fifth and sixth.
Earlier in the year, Gray said he was pleased with the improvements he made with his changeup, a pitch that was his third-best offering when Colorado selected him out of Oklahoma. Gray said the movement and change of speed was still good, though he had trouble locating the pitch.
"I didn't throw it in the zone enough," he said. "I threw a lot of swing-and-miss ones. The slider was good, that was going well with the fastball. I had everything working."
While the process has been frustrating, Gray is finding plenty of reason for optimism in his ability to produce positive results.
"I feel like everything's starting to come together," he said. "My delivery, a positive attitude. It's everything. I'm starting to get that comfort back.
"The last two starts have been a battle. It has been throughout the year really, but I think I'm coming out of it fine. When I've had a bad outing, I need to not let it affect me. Just focus on the next guy and get him out."
The Rockies' No. 9 prospect Trevor Story clubbed his first Double-A home run in the win. The shortstop went 2-for-4 to raise his average to .212 through 17 games.
Jake Seiner is a contributor to MiLB.com. Follow him on Twitter at @Jake_Seiner. This story was not subject to the approval of the National Association of Professional Baseball Leagues or its clubs.
View More