Hernandez's no-no stymied by Votto
PawSox lefty took bid into seventh inning before rehabber's single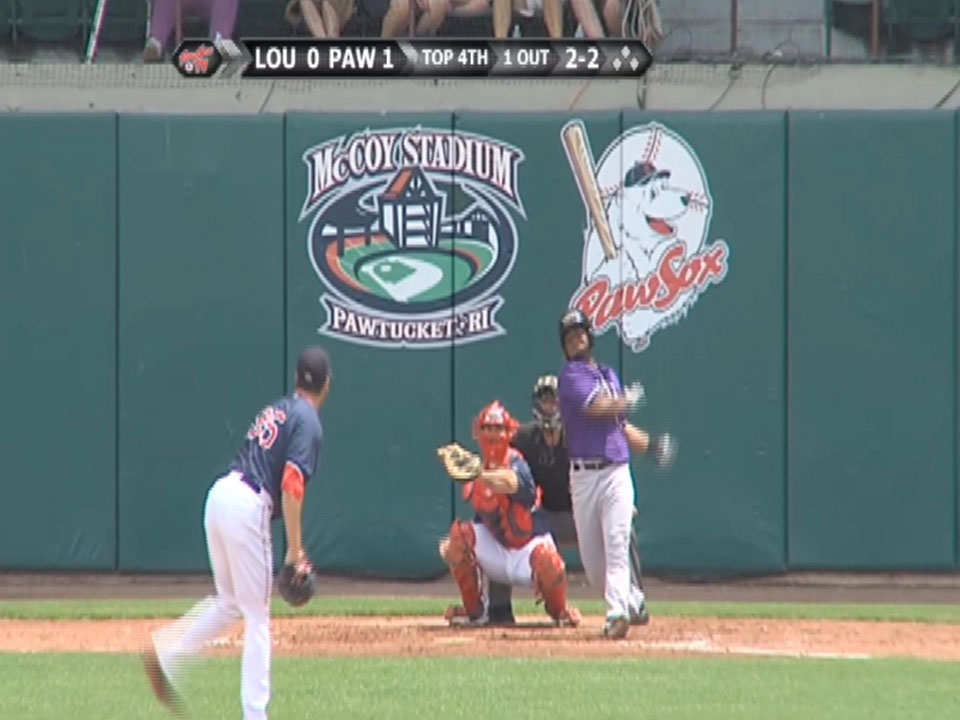 By Sam Dykstra / MiLB.com | June 8, 2014 8:18 PM ET
Chris Hernandez knows a thing or two about being overshadowed. Now in his third season with Triple-A Pawtucket, he's part of a pitching staff that has included big-time prospects Allen Webster, Rubby De La Rosa, Matt Barnes and Anthony Ranaudo.
On Sunday, he took the mound at McCoy Stadium with all the attention on rehabbing Reds slugger Joey Votto.
And Hernandez stole the spotlight. Until Votto kinda took it back.
The 25-year-old left-hander took a no-hitter into the seventh inning Sunday before departing with a career-high nine strikeouts and one run allowed on one hit and two walks in 7 2/3 innings in Pawtucket's 4-3 win over Louisville.
"There was a lot of life to his pitches," said Pawtucket manager Kevin Boles. "There was a lot of sink to his fastball. But the thing behind his success, I think, was his cutter. There was a lot of depth and tumble to it. It was a little bit different than what we've seen lately, and that's certainly encouraging."
Thanks to that mix of pitches, Hernandez was able to retire 18 of the first 19 Bats he faced. The lone hiccup came on a walk to Neftali Soto in the second inning. He struck out Votto looking in the first and got the four-time All-Star to fly out the other way to left in the fourth.
Playing in his first game since May 16 due to a strained left quad, Votto came up again to lead off the seventh, and after fouling off the first pitch, singled up the middle to end Hernandez's no-hit bid. He was taken out for pinch-runner Josh Smith upon reaching first.
"The stuff [Hernandez] showed, he would have pitched well even out of the stretch," Boles said. "You could tell [a no-hitter] was definitely a possibility. It was an exciting pitching performance. But then Votto got the single, and he got a very good reaction by the crowd. Everyone in our dugout was impressed by him.
"If you're going to lose a no-hitter, it's not too bad to lose it to a guy like Joey Votto."
Hernandez struck out Chris Nelson and then got Felix Perez to bounce into an inning-ending double play. He struck out Soto and walked Thomas Neal in the eighth before exiting after 102 pitches, 63 of which were for strikes.
The former University of Miami hurler improved to 3-6 with a 3.16 ERA in 51 1/3 innings so far this season. Of his 15 appearances with the PawSox, six -- including his last four -- have been as a starter, and it's in that role that he's proven to be significantly better. In his six starts, Hernandez owns a 2.88 ERA, a 1.14 WHIP and a .218 batting average against. In nine relief appearances, those numbers balloon to 3.71, 1.65 and .323. That's all very easily explained, according to Boles.
"He has a chance to establish his stuff at that point," said the skipper. "He's not going to be a guy with the highest velocity. But over time, when he's able to add a curveball and a changeup to his fastball and his cutter, that's where he finds success. ... The more he gets settled in, the more unpredictable he gets."
The numbers taken on added meaning when put up against the left-hander's 5.72 ERA and 1.77 WHIP last season in 102 1/3 innings with the PawSox last season. He finished his 2012 campaign at Double-A Portland, where Boles managed at the time. While De La Rosa has already been called up to Boston with Webster, Ranaudo and Barnes all in the line behind him, Hernandez is finally showing he's capable of at least being in the conversation, and that's bringing a smile to Boles' face.
"He's getting more and more recognition and it's well-deserved," said Boles. "He keeps working hard no matter what, even when he had some bumps in the road like he did last year. To see him bounce back and knowing Chris Hernandez and what he's capable of, it's all very good to see."
Hernandez's batterymate Dan Butler went 2-for-3 with a double and a walk for the PawSox. No. 5 Red Sox prospect Mookie Betts went 1-for-3 with a pair of walks.
Sam Dykstra is a contributor to MiLB.com. This story was not subject to the approval of the National Association of Professional Baseball Leagues or its clubs.
View More