Hooks' Fisher finds footing with perfect day
Astros outfield prospect smacks four hits, comes up triple shy of cycle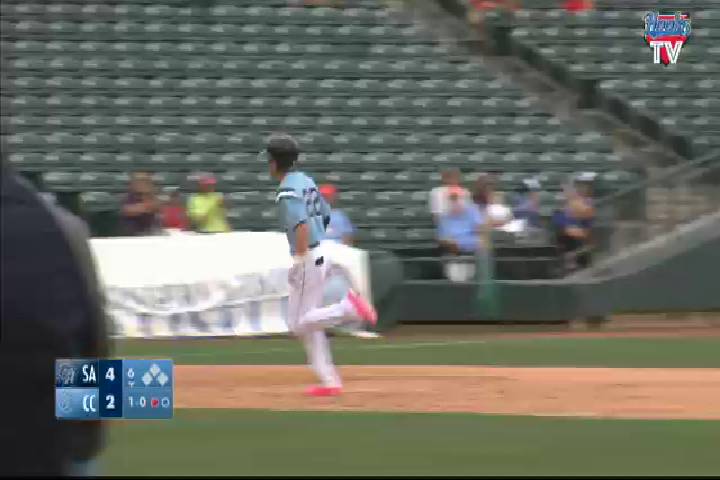 By Alex Kraft / MiLB.com | May 8, 2016 9:00 PM
Mired in a 6-for-37 slump, Derek Fisher worked tirelessly with the Double-A Corpus Christi coaching staff to find a way to get back on track. On Sunday, he finally got the breakout he was looking for.
The Astros' No. 9 prospect went 4-for-4, drove in two runs and fell a triple shy of the cycle before the Hooks dropped a 7-4 decision to San Antonio at Whataburger Field.
"I've got to give credit to our hitting coach [Dan Radison]," Fisher said. "We've put in as much work as we possibly can, finding the routine and just getting that feeling every night."
The 22-year-old outfielder finally got the feeling right on Sunday. He legged out an infield single to lead off the second inning, then opened the fourth by lining a double to right. A home run over the wall in left-center in the sixth chased Missions starter Fabio Castillo and put the University of Virginia product a triple away from the cycle.
"I think I just was taking to get a pitch right over the plate and put a good swing on it," Fisher said. "[Castillo] throws pretty hard, so basically, I just have to barrel it up and let his velocity do the talking. Fortunately, I was able to get it on the barrel."
Fisher stepped to the plate in the eighth with the cycle in his sights but drove in Evan Gattis with a single to pull Corpus Christi within 5-4.
"Just like everybody says, the triple is the hardest one to get," Fisher said. "I was up with a runner in scoring position, so you've got to get the barrel on it and put a good swing on it."
The 2014 first-round pick expressed confidence he could have completed the feat if he wanted to.
"I can leg it [out]," he said with a laugh. "Triples are triples, man. You've got to hit them in the right spot. Anybody can hit a triple."
Still, the single gave Fisher his first four-hit game in the Texas League. Despite raising his average 31 points to .231, he said the future will indicate whether or not the slump was really vanquished.
"Obviously, each individual game is a good thing," Fisher said. "What I've learned in professional baseball is it's not about your individual games -- you can have a good game, but it's about the consistency. How consistent can you be night in and night out? You're going to have those 0-for-4 nights, but those are the nights you have to limit."
The presence of Gattis has given Fisher an idea of what that type of consistency looks like.
"Spending as much time as we have with Gattis this year is a blessing," he said. "He's somebody that works hard at his craft. He works harder and knows himself more than anybody I've ever seen.
"Watching guys like Evan and watching the [big league] guys that we've been around, those guys are consistent. And whether or not they get four hits a night, they're doing the same thing every single day to put themselves in a position to compete."
Astros No. 26 prospect Teoscar Hernandez singled and homered for Corpus Christi, while Gattis doubled and scored a run. On the mound, Kyle Smith (0-4) surrendered four runs and five hits over five frames, walking one batter and striking out five.
Castillo (3-4) gave up three runs on six hits and two walks while fanning five over 5 1/3 innings. Jason Jester allowed a pair of hits and struck out one over the final 1 2/3 frames to secure his fourth save.
San Antonio shortstop Chase Jensen went 2-for-4 with a homer and a career-high four RBIs.
Alex Kraft is a contributor to MiLB.com. Follow and chat with him on Twitter @Alex_Kraft21. This story was not subject to the approval of the National Association of Professional Baseball Leagues or its clubs.
View More