On the Road: Becoming Mr. Celery in Wilmington
How a mysterious vegetable became a Blue Rocks' ballpark legend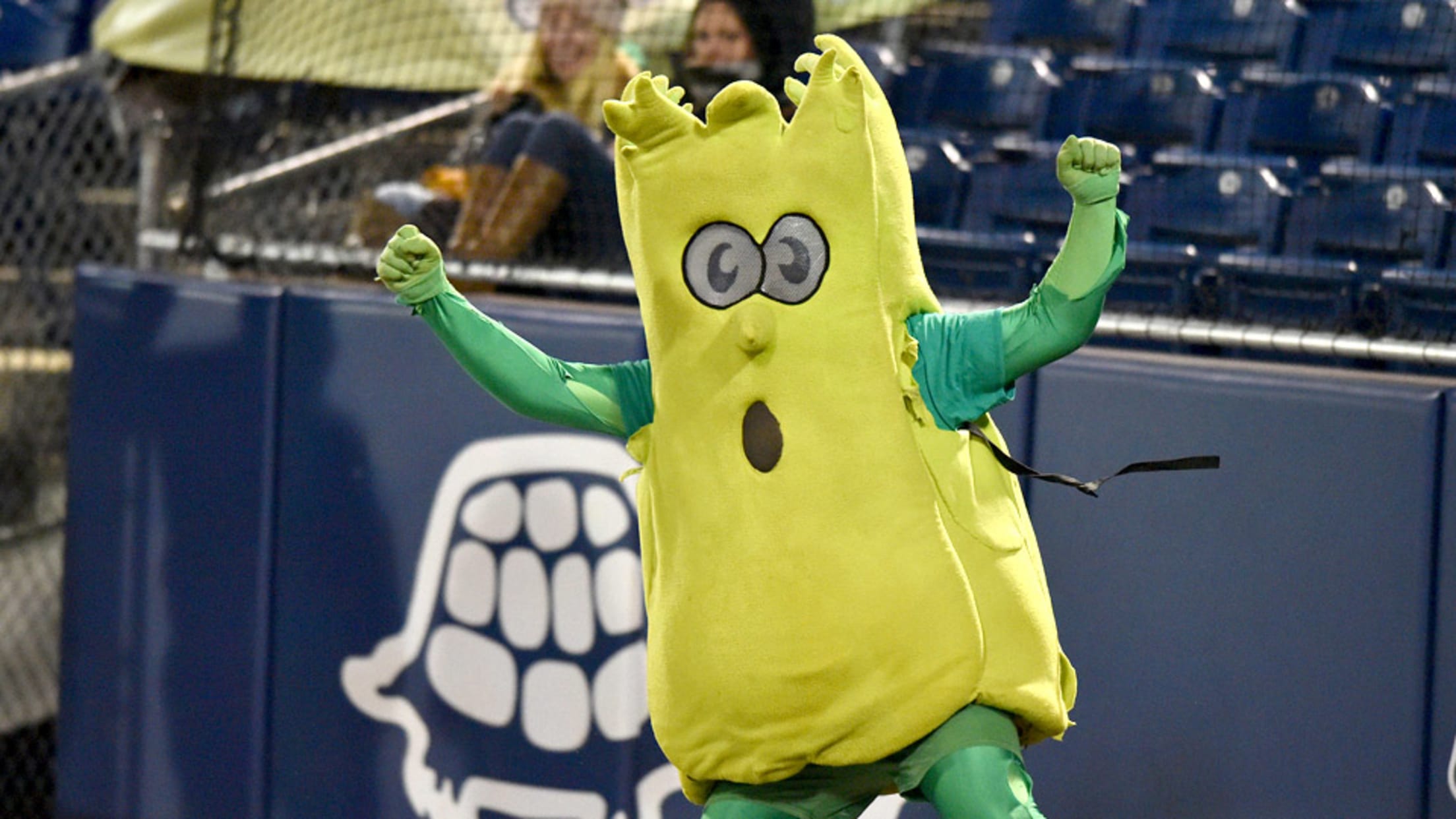 The mysterious Mr. Celery debuted with the Wilmington Blue Rocks in 2000 and quickly became a Frawley Stadium legend.
Who is Mr. Celery?That question is easy to answer. Mr. Celery is an anthropomorphic, adult human-sized piece of celery who has been a staple of Wilmington Blue Rocks games since 2000. Whenever the home team scores a run, Mr. Celery emerges from the dank, dark depths of Frawley Stadium and
Who is Mr. Celery?
That question is easy to answer. Mr. Celery is an anthropomorphic, adult human-sized piece of celery who has been a staple of Wilmington Blue Rocks games since 2000. Whenever the home team scores a run, Mr. Celery emerges from the dank, dark depths of Frawley Stadium and engages in a frenetic celebration as Blur's "Song #2" blares over the PA.
Mr. Celery runs, he dances, he pumps his fist; in short, Mr. Celery does everything Mr. Celery can do to pump up the crowd in the wake of a Blue Rock player crossing the plate. Over the past 18 seasons, he has become nothing less than a Delaware icon, almost equal in popularity to titans of the state such as Joe Biden.
Where did Mr. Celery come from, and how did his legend grow? These questions, particularly the first one, are a bit more difficult to answer. At July 31's Blue Rocks game -- which, it should be noted, was billed as a ballpark-wide "Celery-bration" -- I talked to a variety of longtime team employees about the vegetable-man, myth and legend.
Jason Estes, marketing manager: He's kind of grown into an urban legend here in Delaware. Fans have grown to love him; they call themselves the "Celery Stalkers."
Jim Beck, merchandise manager: The biggest question people ask is "Why?" People still ask, "What's the deal with the celery?" Some people think he's a pickle. I've heard him called a cucumber before.
Kevin Linton, director of community affairs: But he's always Mr. Celery. "Oh, look, it's the pickle man!" Oh, no. It's Mr. Celery.
Andrew Layman, general manager: Some have said it was part of a five-food-groups promotion that the state of Delaware was doing, and they donated a costume. Or that we found the costume in a dumpster. I've heard that one several times. Everybody's story is different, and that's part of the mystique. It's kind of a game you play. To some people, you just say, "Ah, I don't know. He just kind of appeared."
Stefani Rash, director of ticket sales operations: I've been here 12 years. When I interned here I told everyone that our [team] owner really loved Bloody Marys, so we always wanted to make sure we had celery on hand.
Eddie McCarthy, usher: It was a promotion for some kind of farmer's market thing, whatever. Where it came from, or how it got there, I don't know.
Noel Williamson, usher: What I heard was, there was a game one season where they were celebrating National Health Food Week. So this company came, and before the game there were different characters on the field. There was a carrot, there was a tomato, there was celery. After the game the company left, but they forgot to take one of their costumes. The one they left behind was celery.
Tweet from @bensbiz: Visiting @WilmBlueRocks tonight for a "Celery-bration." Fans receive celery for in-game "World's Largest Celery Snap" pic.twitter.com/RaVwSusHt
Williamson seems to have been on the right track. Throughout the course of the evening, the truth -- or at least something approximating the truth -- began to emerge.
Layman: It was the early '90s. I forget what year it was. At the time Centerplate was our concessionaire, and they were at Yankee Stadium. For whatever reason, they brought down a bunch of different costumes. I think one was a popcorn, one was a hot dog, one was a soda and one was a celery costume. It was thrown in the storage closet.
Rash: [Centerplate] had come and brought these suits in, to encourage people to eat healthy. They had tomatoes, celery, all sorts of vegetables, and there were a few they left behind.
2017 Road Trip
Beck: I believe it was from a promotion Centerplate had done. They had some other fruit and vegetable characters as well. Our general manager at the time [Chris Kemple], he wanted to do something that was kind of strange. He had gotten the idea from [the] Lake Elsinore [Storm]. They had, like, an Energizer Bunny that would come out of their outfield wall whenever they scored a run.
Layman: Chris Kemple had gone out to Lake Elsinore, and they had, I think, a pink rabbit that ran out behind home plate. So Kemple thought that was pretty cool. He came back, and I guess he was walking by the storage room one day and saw the celery costume there. He goes, "That might be kind of funny." So he told an intern to go put it on. He ran out behind home plate when we scored a run that night, and it took off.
Rash: My husband [Dan], one of his best friends was an intern here in 1999. His name is Ryan McCullough, and he and the other interns said, "Wouldn't it be funny if when we scored a run, we ran out in one of these suits?" They threw on the celery. It was the first one they picked up, and they just ran out there.
Tweet from @bensbiz: Chest-bumping a vegetable legend, @WilmBlueRocks pic.twitter.com/R6skHOloH
Mr. Celery was a hit, from the moment he first ran out there. Before long, he was a bona-fide ballpark celebrity with his very own cheering section.
Layman: A bunch of engineering students from the University of Delaware formed their own celery club. They'd bring celery, pots and pans. I think when that happened, you kind of knew it was something special.
Beck: The Celery Squad. It was a group of college kids. They'd sit in, I think it was Section C. We'd give them tickets every once in a while, because they were enthusiastic and got the fans into it.
Williamson: Ten or so years ago we had a group of college kids who would sit up there in the celery section, and they had T-shirts that said "Celery Squad."
Linton: They would bring actual stalks of celery and rush the net when he came out. All those things kind of put Mr. Celery on the map a little bit.
Beck: That was years ago. Those [Celery Squad] guys are probably close to my age now. They're probably in their 40s.
Linton: I was here doing a seasonal job, in 2001, and George Brett came to town. He was a rover for the Royals. He was so impressed -- blown away, almost -- by this creature we call Mr. Celery. He had to get his picture taken with him, and he was telling everybody back in Kansas City and all the Major Leaguers. So you have a Hall of Famer raving about one of our stadium characters. It's very notable.
Williamson: Eventually they sold merchandise -- hats, little celery dolls. The fans really caught on and they just love it. They chant "We want more veggies!" when he comes out.
Rash: My aunt, she loves Mr. Celery. She's got bobbleheads and made videos with him and stuff. But she flew up here from Florida to be Mr. Celery. A 45-year-old woman in the celery suit, and that was her bucket list right there. Checked off.
Layman: It's different people in the costume a lot, so it's interesting to see the different routines, the dances, whatever they want to do. Some people are really into it. Some aren't.
McCarthy: I'm dying to wear the suit. I would do it. The suit looks like it fits all, so I would put it on and then make a fool of myself. This is the second [Mr. Celery] outfit. The old one just fell apart.
Beck: I think we're on our fourth or fifth different costume.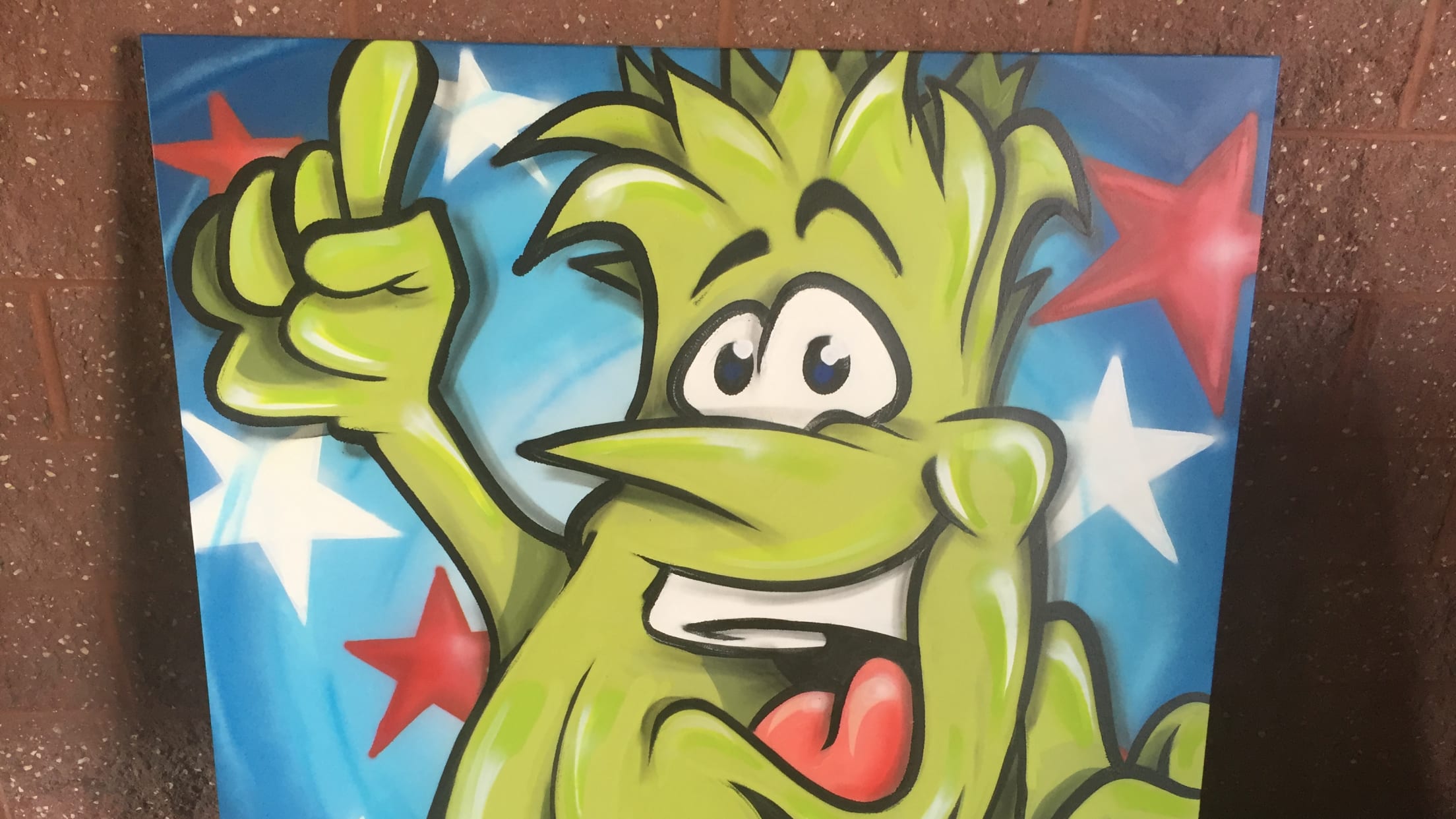 Over the past 18 seasons, Mr. Celery has made untold thousands of fleeting on-field appearances. But in Minor League Baseball, as in life, sometimes things don't go quite as planned.
Rash: Minor League Baseball things are gonna happen. There have been a couple of times he hasn't come out, and all hell breaks loose. "Where's Mr. Celery!? What's going on!?"
Williamson: There was an opposing team that didn't like the fact that Mr. Celery would do the dance every time we scored. So before the game started, somehow they broke into the dressing area and they stole Mr. Celery's costume.
Linton: It was the Kinston Indians. I don't remember the exact date. I don't remember who did it. But when Mr. Celery was supposed to come out, he was gone. No one knew where he was.
Williamson: When [the Indians] scored a run, they were out there in the bullpen doing a little dance with the celery costume. That's revenge, right?
Linton: Kinston wanted to play it up and we were like, "Just give us the costume back." That was quite an event.
McCarthy: One of the crazy things that happened was ESPN came here, doing a "50 states, 50 sporting events" thing. They came here for three days and [the Blue Rocks] didn't score a run for three days. They actually had to stage a run, so that Mr. Celery could come out. It was kind of neat they were here, but that was kind of sad.
It's unclear what the future holds for Mr. Celery, but there's no doubt he'll remain a key part of the Blue Rocks experience for years to come.
Rash: This big thing with him is that you will never see him outside [Frawley Stadium]. You can, you know, book [mascot] Rocky [Bluewinkle] to come and hang out, but you'll never see Celery. That's kind of the mystique of him.
Williamson: I was thinking maybe Mr. Celery could have some kids and have a baby celery. So maybe when the Blue Rocks get a base hit, then baby celery can come out and dance. I have not seen [Mr. Celery in the company of a potential Mrs. Celery]. I think we need to get to that first.
Linton: It would just be another run scored if we didn't have Mr. Celery around. One of the most popular stadium characters in all of America. Mr. Celery.
Layman: I think he's an immortal. Just keep the end in water and you're good. Don't let him wilt.