Hursh makes adjustments in scoreless start
No. 4 Atlanta prospect scatters four hits in six innings for Mississippi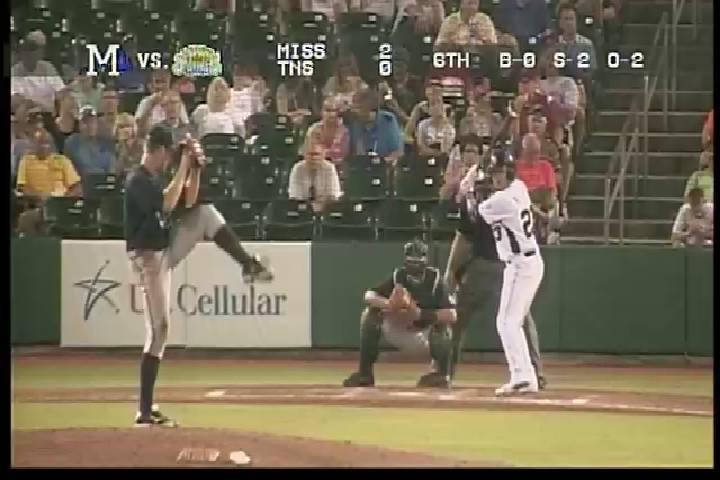 By Mark Emery / MiLB.com | July 22, 2014 2:41 AM ET
Every pitcher knows he's not going to carry his best stuff out to the mound with him for every start.
But as Jason Hursh demonstrated Monday, a hurler who is not at the top of his game can still do his job and do it well.
Despite not having the greatest grasp on his arsenal, Atlanta's fourth-ranked prospect delivered six scoreless innings in Double-A Mississippi's 4-3 win at Tennessee. The right-hander surrendered four hits while walking three and fanning two to pick up his second consecutive victory.
"The first couple innings, my command was probably a little erratic," Hursh said. "But it's a game of adjustments, so I kind of just took a deep breath and made the right adjustments. From really the fourth inning on, I felt really good."
What did he have going for him during the second half of his outing?
"Just my fastball command," he said. "I honestly didn't have it the first couple innings. But towards the end there, I got some curveballs over the plate and I kept them honest. My slider was there for me too. I felt like I got stronger as the game went on."
The 2013 first-round pick (31st overall) threw 49 of his 85 pitches for strikes. Of the 23 batters he faced, six grounded out and four flew out.
Hursh (8-6) got some help from his defense in the early innings as the Braves turned double plays in the first three frames. In the first, Stephen Bruno grounded into a 1-6-3 double play. An inning later, Christian Villanueva sent a liner at first baseman Rich Poythress, who stepped on the bag to double off Jorge Soler. And Jae-Hoon Ha grounded into a 6-4-3 double play in the third.
"I just always tell myself I'm a pitch away," Hursh said. "So I just tried to throw a sinker low in the zone, get that ground ball and trust my infielders. I was able to do a good job of that.
"I'm fortunate enough, I feel like I can get a lot of double plays. ... But I didn't even realize it happened three innings in a row. That helped out a lot, I guess."
Monday's outing marked the second scoreless start of the season for the 22-year-old. On May 30, he shut out Pensacola in the first game of a doubleheader, allowing five hits with one walk and one strikeout across seven innings.
Through 20 starts this season, the Oklahoma State University product has assembled a 3.70 ERA. Over 114 1/3 innings, he has racked up 58 strikeouts and 35 walks while holding hitters to a .273 average.
"I feel like it's been a good year for me," Hursh said. "I've had my challenges. I've had my good moments, and of course my bad, but the main thing is I've learned so much. I feel like this league was a good fit for me, for sure. I'm just going to try to finish strong."
Mississippi's Jose Peraza went 3-for-4 with a walk, two runs scored and an RBI. He also swiped three bases to up his total at Double-A to 13. The Braves' No. 3 prospect has back-to-back three-hit performances.
"Just a standard night in the life of Jose Peraza," Hursh said. "He's awesome. He's a great player. He's young, and he's just really dynamic -- he makes stuff happen. That's all you can really ask. He's been awesome. A great addition to the team."
Tennessee starter Matt Loosen (4-5) surrendered two runs over five innings, allowing five hits while fanning two and walking one.
Mark Emery is a contributor to MiLB.com. Follow him on Twitter @Mark_Emery. This story was not subject to the approval of the National Association of Professional Baseball Leagues or its clubs.
View More