IL notes: Sanchez seeking consistency
Jays top prospect walks four in four-plus innings in Triple-A debut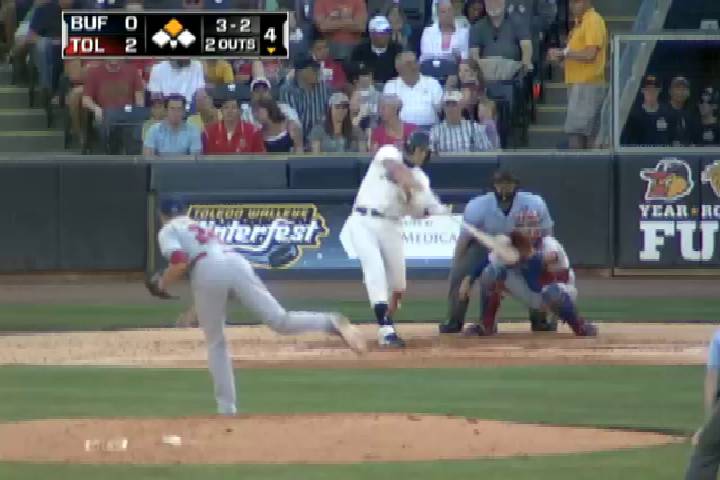 By John Wagner / Special to MiLB.com | June 16, 2014 10:00 AM ET
You might think that pitching in the International League for the first time would not be a big deal, especially for a top-ranked prospect who's already seen action in the Arizona Fall League.
In the case of Buffalo's Aaron Sanchez, nothing could be further from the truth.
"I was amped for the first inning and a half," Sanchez admitted following his Triple-A debut in Toledo on June 14. "Every emotion you can imagine was there. I told some guys there would be no nerves, but I don't think I fooled anyone."
While Toronto's top prospect did not record an out in the fifth inning and eventually lost to the Mud Hens in his IL debut, he certainly earned their respect.
"We knew right from the start he had good stuff. When you register 97 [mph] on your first pitch, you have to respect that," Toledo's James McCann said. "And he had a plus breaking ball, so you had to respect that pitch as well."
The problem, as you might expect from a 21-year-old making his first Triple-A start, was command, especially of his fastball. Sanchez walked the first batter he faced and issued four free passes over four innings, which caught the attention of Bisons manager Gary Allenson.
"He knows he has to get his fastball down in the zone more, although he did get a number of ground balls," Allenson said. "He pitched from behind a little too much. Throwing strike one and getting ahead is the key. But I was impressed with the composure he showed."
Sanchez began the season at Double-A New Hampshire and was solid, going 3-4 with a 3.82 ERA in 14 starts. While the Eastern League hit just .222 against him, he also had command problems with the Fisher Cats, issuing 40 walks over 66 innings.
The 6-foot-4, 200-pound California native said he didn't focus on pushing to Triple-A while with New Hampshire.
"I wasn't expecting to be promoted, which is the best way to earn a promotion," Sanchez said. "I was just working hard in Double-A, trying to get better."
Sanchez said his first look at Triple-A hitters made it clear that the more experienced bats at this level are better equipped to take advantage of mistakes.
"Consistency is the key in the game," he said. "If you don't execute pitches, you're going to get hit. And at every step up the ladder, hitters are better at doing that."
Despite his high-octane fastball and good breaking pitches, Sanchez struck out only two of the 20 batters he faced. But he also got seven outs on ground balls, including a double play that wiped out a third-inning rally.
"With the movement he has, just working down in the zone and getting early swings will allow him to pitch deeper into games," Allenson said.
Sanchez also showed an impressive pickoff move to erase Toledo's Ezequiel Carrera, who leads the IL in stolen bases.
In short, while he lost his debut, he showed more than enough ability to retire IL hitters -- and potentially earn a chance to make his first Major League start very soon.
In brief
Big relief: Louisville righty Jumbo Diaz , conservatively listed at 278 pounds, has played a big role in the Bats bullpen this season. He's tied for the IL lead with 16 saves and tied for second with 28 appearances. He has a 1.42 ERA, and his 9.95 baserunners allowed per nine innings is the fourth-best total among league relievers.
Running away: Toledo's Ezequiel Carrera stole two bases against Buffalo on June 14, giving him 27 thefts this season. Carrera, who has ranked among the IL stolen base leaders in each of the past three seasons, has at least 10 more steals than any other player. He also ranks fourth with a .324 batting average.
Almost perfect: Gwinnett righty Juan Jaime has not allowed a run in his last seven appearances, dating back to May 22. In fact, he's given up a run in only three of his 25 games this season and is 1-0 with 12 saves and a 2.59 ERA. If you exclude his May 4 appearance against Lehigh Valley, where he allowed six runs -- five earned -- while getting just one out, Jaime has a 0.75 ERA for the season.
He said it: "I've been in pro ball for 36 years and I've probably been with my boys six times on Father's Day. There were a lot of lonely days in hotels, when everyone you cared about was together at home. But that's the life of all of us in baseball." -- Rochester manager Gene Glynn to the Rochester Democrat & Chronicle. Glynn did not have that problem this year, though, as his son, Chris, has traveled with the Red Wings as the team's videographer, bullpen catcher and batting practice pitcher this season.
John Wagner is a contributor to MiLB.com. This story was not subject to the approval of the National Association of Professional Baseball Leagues or its clubs.
View More