IL notes: Wright overcoming 'hiccups'
Orioles prospect returning to form after rough stretch with Norfolk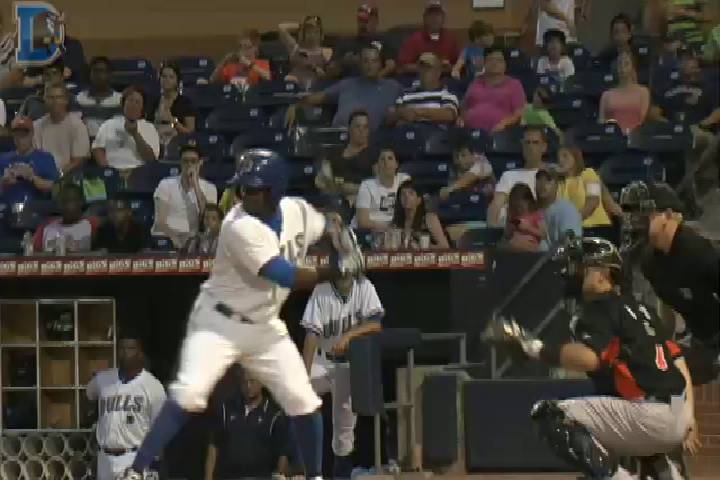 By John Wagner / Special to MiLB.com | August 4, 2014 10:00 AM ET
Last year, Mike Wright was named the top pitcher in the Orioles farm system after going 11-3 with a 3.26 ERA in 26 starts for Double-A Bowie.
He earned a promotion to Norfolk and, on the final day of the season, did not allow a run in 6 2/3 innings against a playoff-bound Durham team.
So expectations were high for the 24-year-old right-hander as he returned to the Tides to start 2014. Unfortunately, Wright hasn't matched his success from a year ago, entering August with a 3-9 record and 5.87 ERA in 21 starts.
Is Norfolk manager Ron Johnson worried? Not one bit.
"It's actually been a very natural developmental process for a player moving up a level," Johnson said. "Right out of the chute, he was throwing the ball pretty well, and I thought there might be no hiccups. After that, well, there was about six weeks of hiccups."
In Wright's first six starts, he was 1-0 with a 2.91 ERA. But the 2011 third-round pick lost six of his next seven starts as his ERA ballooned to 6.79.
"It was a learning experience," Wright admitted. "There were a few too many mistakes in the middle of the plate. If I made five mistakes, four of them were punished by the good hitters at this level. I've learned that I have to eliminate those mistakes and try to make quality pitches every time."
Wright also realized that doing those things is not nearly as easy as it sounds.
"It's hard to stay focused for 100 pitches, understanding what you have to do and executing it 100 percent of the time," he said.
Wright has won his last two starts, allowing two runs while fanning 10 over 12 innings.
"I'm proud of him because in the last two outings he has shown he's in better control of himself," Johnson said. "He's a competitive, emotional guy who likes to go harder when things are going against him.
"In the last few starts, when the game has started to speed up on him, he has taken a step back and tried to make a quality pitch."
Wright, who uses a mix of fastballs, sliders and changeups to keep hitters off-balance, said he appreciates the level of hard work and preparation that go into making a start.
"At the Triple-A level, all nine hitters are big league-caliber hitters, so you have to have a good approach for everyone in the lineup," he said. "They may struggle in one area, but all of them can hit. They punish mistakes. So you have to limit the mistakes."
Johnson said Wright also is learning how to pitch deeper into contests after matching his season's longest outing by going seven innings on July 25 at Columbus.
"A lot of young pitchers see what happens in the first inning and it controls the rest of their start," Johnson said. "A quality big league pitcher doesn't always come out dealing, but they always give you five or six innings.
"I like to judge guys like Wright by how they pitch when they don't have great feel or command. You still have to pitch. But he has earned the right to develop that."
In brief
Piling up the ribbies: Louisville OF Felix Perez used an 8-for-16 spurt earlier this week to continue his solid season in the middle of the Bats lineup. Perez is hitting .280 this season with 10 homers and ranks fourth in the IL with 62 RBIs.
Big league rotation? When the Twins traded for LHP Tommy Milone and sent him to Rochester, the Red Wings saw an already strong rotation get stronger. Milone joins RHPs Trevor May, who is 8-5 with a 2.72 ERA, and Alex Meyer, who is 6-4 with a 3.05 ERA, along with LHP Kris Johnson, who's 9-5 with a 3.12 ERA. Rochester leads the league with a 3.37 ERA.
Streak snapped: Gwinnett RHP Cody Martin allowed five runs and seven hits in three innings in a loss at Scranton/Wilkes-Barre. That snapped a string of seven straight starts without a loss for the right-hander, who's 6-7 with a 3.73 ERA. Martin also has struck out 108 over 123 innings to rank fifth in the IL.
He said it: "[Brandon Douglas] is a guy that grinds it out and keeps grinding. No matter where he finishes up in the game, he can look in the mirror and not worry about, 'What if?' He can look in the mirror and say, 'I gave it my best shot.' A lot of players retire and wonder what might have happened if they had applied themselves. He won't have to wonder." -- Toledo manager Larry Parrish to The (Toledo) Blade. Douglas is hitting .326 since the All-Star break to raise his average to .236 with three homers and 26 RBIs.
John Wagner is a contributor to MiLB.com. This story was not subject to the approval of the National Association of Professional Baseball Leagues or its clubs.
View More