Indians' Bradley, Zimmer hit stride in 2015
In year of progress, slugger, speedster get closer to Progressive Field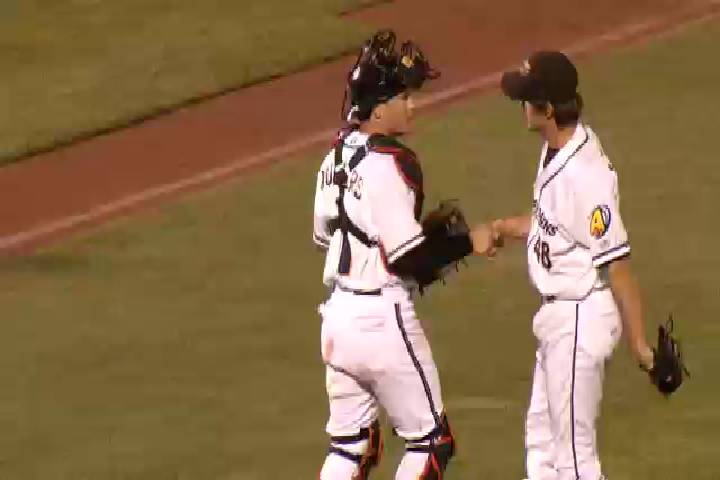 By Kelsie Heneghan / MiLB.com | October 19, 2015 10:00 AM
This offseason, MiLB.com will be honoring the players -- regardless of age or prospect status -- who had the best seasons in their organizations. We're taking a look at each team to determine the outstanding seasons in Minor League baseball.
While the Indians were playing above-average ball at Progressive Field, their prospects were miles away with a similar motif.
"I think the thing that we like the most is that it seemed like guys made progress over the course of the year," said Carter Hawkins, Cleveland's director of player development. "You look at that Carolina League team in [Class A Advanced] Lynchburg and guys like Clint Frazier and Nellie Rodriguez and Brad Zimmer that continue to progress and continue to improve. I think that was the theme overall for the system."
Triple-A Columbus shined brightest in the system, winning the Governors' Cup and advancing to the Triple-A National Championship. At a lower level, Rodriguez and Zimmer helped the Hillcats lead the league in just about every offensive category en route to a second-half division title.
Indians Organization All-Stars
Catcher -- Eric Haase, Lynchburg (90 games): Drafted out of high school in 2011, Haase has become a "veteran of sorts" after reaching his fourth level at the age of 22. While his average took a dip from last year, the backstop showed patience at the plate as his walk and on-base percentages grew. Haase continued to show his power as he led Indians catching prospects in homers for the third year in a row.
"There's definite skills there for Eric, his power and he certainly has a strong arm as well. He's continued to progress with receiving, with blocking as well," Hawkins said. "We're looking for him to make that big jump at some point but feel like he's on a really good track and he could be the guy who has a chance to impact us in Cleveland one day."
First baseman -- Bobby Bradley, Lake County (108 games), Lynchburg (two games): After being crowned Arizona League MVP in 2014, Bradley followed with a brilliant first full season. The 19-year-old Mississippi native led the organization with 27 homers and ranked second with 92 RBIs. His season was highlighted in August when he went yard in five straight games, then -- after a homerless day -- left the yard again.
"He could've been very comfortable with where he is at going into last offseason, after a similarly big season in the Arizona League, but he really took care of his body ... prepared himself for a really good season and it obviously paid off for him in a big way," Hawkins said. "So to be 19 years old and to drive the ball like he is and also to understand that there's a lot of improvement going to happen with his approach, with his plate discipline, he's a pretty exciting guy to have in your system."
Second baseman -- Claudio Bautista, Lake County (64 games), Lynchburg (52 games): In his third stint with Lake County, Bautista hit his stride as he became more consistent at the plate. The native of the Dominican Republic tripled his 2014 walk total to 36 and, after hitting .300 for the first time in his career, was promoted to Lynchburg.
"He obviously really came into his own," Hawkins said. "He's a guy who has an athletic ability, has ability to drive the ball as well. Overall, excited about the things that Claudio showed us."
While Bautista struggled a little when he got to the Carolina League -- hitting .197 in 52 games -- Hawkins is encouraged by the 21-year-old's talent and dedication to becoming more consistent.
Third baseman -- Yandy Diaz, Akron (132 games), Columbus (four games): With professional experience in Cuba that helped provide perspective and maturity, Diaz advanced to Triple-A in just his second Minor League season.
"Yandy, from an offensive standpoint, is a guy with really good feel for a bat head, ability to drive the baseball," Hawkins said. "[He's] still continuing to develop his extra-base-hit ability, it's something we're focused on with him that he's definitely bought into. He's strong, he hits the ball really hard but needs to get the ball off the ground a little more often."
The 24-year-old batted .315 with 55 RBIs for the RubberDucks and was promoted to the International League in time to help the Clippers reach the Triple-A National Championship with a homer and three RBIs in the postseason.
Shortstop -- Erik Gonzalez, Akron (72 games), Columbus (65 games): Coming off his best season, Gonzalez kept it going while experiencing a power surge in 2015. The 24-year-old tied a career high with nine homers and made his Triple-A debut after 6 1/2 years in the Minors.
"He got a chance to play shortstop for us consistently when he was with Lake County a few years back and really showed us that he has a chance to be a plus shortstop at the Major League level," Hawkins said. "We definitely feel like he has that ability to impact our team on both sides of the ball, and it's been about getting him consistent at-bats and time at shortstop at the upper levels."
Outfielders
Clint Frazier, Lynchburg (133 games): After a breakthrough sophomore campaign with Lake County in 2014, Frazier got off to a slow start this season. But the club's second-ranked prospect improved in most offensive categories as he posted a .377/.285/.465 slash line with 16 homers.
"The second half of [his season] was a lot deeper in terms of what he was doing positively. I think that speaks to his persistence, that speaks to his mindset and maybe that speaks to his willingness to make adjustments," Hawkins said. "We're just really excited about the steps he made last year and looking forward to the steps he'll make next year."
Bradley Zimmer, Lynchburg (78 games), Akron (49 games): Since the Indians took him 21st overall in the 2014 Draft, Zimmer has breezed through four levels. While his numbers took a hit with Akron while unknowingly playing on a broken toe, the organization's top prospect finished the year with 44 stolen bases to rank second in the system.
"He tore the cover off the ball in Lynchburg, he was aggressive on the basepaths; that was really exciting to see him be multi-dimensional from that standpoint. And then when he went to Akron, he was very strong in the playoffs," Hawkins said. "He definitely exceeded expectations, but the thing we're most excited about is just the work that he's putting into his game to this point and the foundation that he's built for his future."
Dorssys Paulino, Lake County (83 games), Lynchburg (43 games): Paulino spent 2 1/2 seasons in the Midwest League before proving he was ready for the next level. Once he got there, he did not disappoint. The 20-year-old hit .305/.371/.526 with 30 RBIs in 43 Carolina league games.
"Despite the fact that he's repeated a level a couple times, Dorssys is still extremely young, extremely talented. And now that he has a little bit stronger of a foundation mentally, we're pretty excited about where that can take him," Hawkins said.
Utility player -- Nellie Rodriguez, Lynchburg (180 games), Akron (25 games): The prospect who posed the biggest challenge to Bradley offensively is the same one who motivated him in the offseason. While the 19-year-old tore up the lower levels, Rodriguez led the system with 98 RBIs. The 21-year-old first baseman also ranked second behind Bradley with 21 homers.
"Nellie's another guy who struggled a little bit early in Lynchburg and then was willing to make adjustments, willing to continue to work through the process. ... Obviously turned it on there and then after that ended up being the MVP of [the Carolina] League," Hawkins said. "He continues to improve his defense, and that's going to be important for him going forward. But he has the power, has the approach and has the discipline to be an impactful power hitter in the big leagues."
Right-handed starting pitcher -- Adam Plutko, Lynchburg (eight games), Akron (19 games): While the Indians have several strong pitching prospects, Plutko stood out after halving his ERA to 2.39, which led all starters in the system. The 24-year-old UCLA product also ranked second among right-handers with 137 strikeouts while walking only 28 in his second professional season.
"Plutko is an extremely intelligent and cerebral pitcher who also has a lot of talent. Put both of those things together -- and when done right -- it creates a very steep learning curve. That's what we really saw from him," Hawkins said. "He's definitely a guy that's on our radar for a Major League appearance here in the near future, and he understands that if he continues to get stronger and he improves his pitch mix, if he does that, he'll be here in no time."
Left-handed starting pitcher -- Justus Sheffield, Lake County (26 games): As a teenager in his first full season, Sheffield racked up 138 punchouts. He led Captains starters with a 3.31 ERA, a year after following Zimmer in the first round of the Draft.
"I think Justus obviously has some electric stuff from the left side," Hawkins said. "He's definitely a guy who has stuff to miss bats at the upper levels if he continues to make adjustments, just refining his routine, refining his delivery that he's going to be repeating day in and day out throughout his career and improving his pitch mix as well."
Relief pitcher -- Jeff Johnson, Akron (51 games): After missing last season following Tommy John surgery, Johnson got a deeper understanding of what he can and cannot control. Back on the mound, he led the organization with 27 saves in 28 chances.
"His fastball velocity continued to improve over the course of the year, his split-finger was a pitch that he felt like he could throw in any count and get swing and misses or he could throw it for a strike and he had a slider that he was offering as well that is an upper-level-type pitch," Hawkins said. "You got a guy that you can definitely dream on that can help a Major League bullpen."
Kelsie Heneghan is a contributor to MiLB.com. Follow her on Twitter @Kelsie_Heneghan. This story was not subject to the approval of the National Association of Professional Baseball Leagues or its clubs.
View More