Knuckleballer Wright rides wind to win
Boston right-hander allows two hits over eight innings for Pawtucket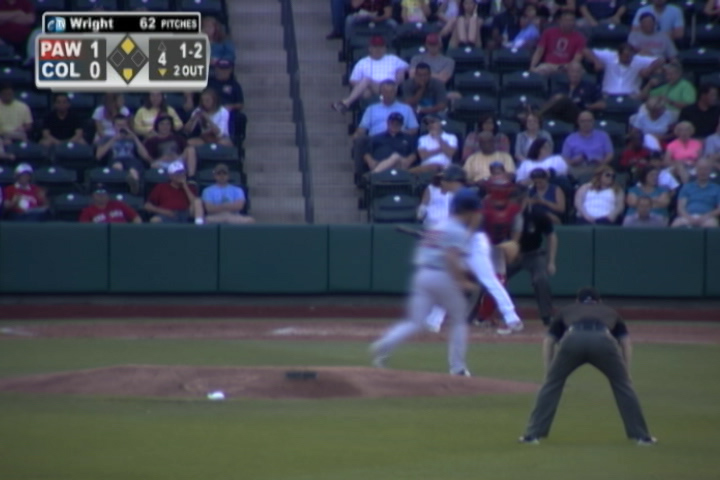 By Jake Seiner / MiLB.com | July 9, 2014 11:52 PM ET
The wind was blowing out at Huntington Park on Wednesday night, and that was strangely devastating news for Triple-A Columbus' hitters.
Rather than provide an extra push toward the outfield fences, the breeze aided Pawtucket right-hander Steven Wright and his knuckleball. The 29-year-old's tumbler danced in the wind all night as Wright logged eight scoreless innings in the PawSox's 3-1 win over the Clippers.
Wright (4-1) allowed two hits and three walks while striking out eight to slim his International League ERA to 2.04 on the season.
"I was just throwing the knuckleball and it was moving a lot," he said. "A lot more than it has all year. I had a little trouble keeping in the zone early on. But as the game went on, I started throwing it for strikes, and when I'm throwing it for strikes, it works pretty well."
The Clippers opted for aggression early, but the plan backfired when Wright's knuckleball started dropping hard out of the zone. Columbus' first three hitters all struck out and Wright faced just one over the minimum through the first three innings.
After the early success, Wright readjusted his release point to account for the extra movement and began pounding the strike zone with the knuckler. At that point, the right-hander can use his fastball and curveball as surprise weapons rather than get-them-over white flags when behind in the count.
"The best-case scenario for me is throwing the knuckleball for a strike early on with good movement," Wright said. "It gets hitters knowing that I'm keeping it in the zone, and then they have to start swinging at it. They can't rely on me falling behind or going deep into counts to where I have to pop them a fastball."
Wright missed the start of the 2014 season after undergoing surgery for a sports hernia in February. He returned in late May, making one start with Double-A Portland before joining Pawtucket's rotation on May 31.
Wednesday marked his eighth start with Pawtucket. In that time, he's shaved nearly 1 1/2 runs off his 2013 ERA (3.46 in 24 starts). He's also working deeper into games, averaging roughly 6 2/3 innings per game this season after averaging about 5 2/3 innings in 2013.
The Hawaii product said the knuckleball hasn't changed much, but his deployment of the pitch has, in large part due to his growing confidence in Pawtucket's defense.
"A lot of it has to do with the defense," Wright said. "I consider myself to be a contact pitcher. That's what I strive to be. The strikeouts are great, but for me, I want to go deep into games. If I can pitch to contact, that's my bread and butter.
"The way we've played defense, it's given me the extra confidence to throw it over the plate, let them hit it and know we'll have a chance to get an out. That's the biggest difference between this year and last year. Last year, I got caught up in being a swing-and-miss pitcher. … This year, my whole mentality is to throw the pitch for a strike all the time."
Jake Seiner is a contributor to MiLB.com. Follow him on Twitter at @Jake_Seiner. This story was not subject to the approval of the National Association of Professional Baseball Leagues or its clubs.
View More