Lamb continues barrage for BayBears
D-backs' No. 6 prospect plates four, has 15 RBIs over last 10 games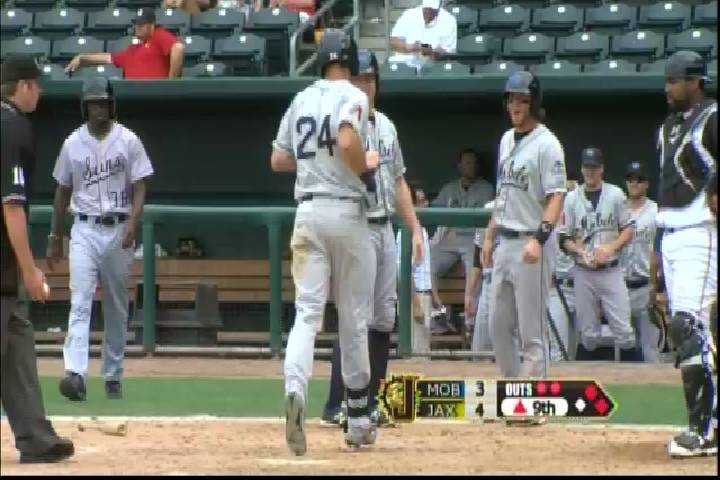 By Robert Emrich / MiLB.com | June 12, 2014 12:33 AM ET
While there's been a lot of Southern League focus on a certain third baseman in Tennessee, Jake Lamb has been racking up his own set of impressive numbers on the circuit.
The D-backs' No. 6 prospect plated four runs as Double-A Mobile defeated Pensacola, 5-3, on Wednesday.
Lamb got the BayBears on the board quickly, doubling home a pair of runs in the first inning. With the game tied in the fourth, 3-3, the 23-year-old third baseman struck again with a two-RBI single.
"I was just trying to hit the fastballs early in the count," Lamb said. "Came up multiple times with guys on, [Daniel Corcino] had a great changeup. I just wanted to get that fastball early in the count and I was lucky enough to hit into the outfield."
June has been kind to the Washington native. He is batting .452 with two homers and 15 RBIs in 10 games this month, 12 of his 19 hits have gone for extra bases and he has five games with two or more RBIs.
"I'm just trying to relax at the plate and see the ball," he said. "I know everyone says that, but that's what you got to do to hit consistently ... be patient, be relaxed at the plate and just focus on seeing the ball."
Overall, Lamb is batting .318 with nine homers and 51 RBIs for the BayBears. The 2012 sixth-round pick ranks second to MLB.com's No. 8 prospect Kris Bryant of the Cubs in RBIs, total bases [133], hits [74] and OPS [.959].
"I feel great right now," Lamb said. "I got off to a slow start, just battled through that, working with my hitting coach [Jacob Cruz] on my swing, on my approach, on everything. It's just one of those times where I'm feeling good at the plate. There's gonna be times probably again this season where I'm gonna be slumping. You just have to take it game by game."
The University of Washington product saw his average sitting at .167 after the first 11 games. The difference has been in a change to his approach.
"I was kinda giving in to the pitcher's plan and chasing too many pitches out of the zone," Lamb said. "I usually have a good idea of the strike zone. I wasn't doing that the first month or so, I just took a big deep breath and told myself to focus on my approach at the plate and that I'm going to get my pitches and make sure I don't miss them. It's been working ever since so far."
Justin Fitzgerald improved to 6-0 after giving up three runs on nine hits over 6 1/3 innings for Mobile. Jake Barrett, Arizona's No. 9 prospect, gave up a hit over the final 1 1/3 frames for his 11th save.
Rosmel Perez hit a solo homer in the loss for the Blue Wahoos.
Corcino, the Reds' No. 10 prospect, fell to 6-5 after allowing five runs on six hits and striking out seven over five innings.
Robert Emrich is a contributor to MiLB.com. Follow him on Twitter @RobertEmrich. This story was not subject to the approval of the National Association of Professional Baseball Leagues or its clubs.
View More