Lindor smacks first Triple-A homers
Tribe's top prospect goes yard twice in fifth International League game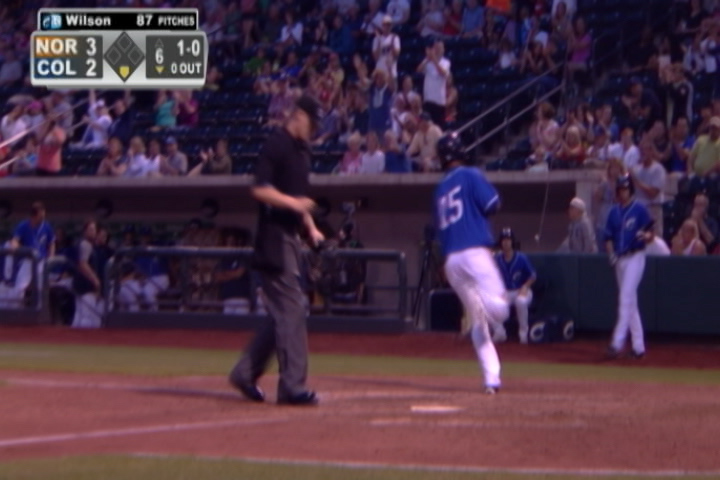 By Robert Emrich / MiLB.com | July 26, 2014 11:47 PM ET
Francisco Lindor has had an incredible season, collecting accolades and putting up impressive statistics. He added more milestones to his collection on Saturday night.
The Indians' top prospect slugged his first two Triple-A homers as Columbus fell to visiting Norfolk, 6-5.
Lindor, who also walked, launched his first International League homer in the sixth inning, sending a 1-0 pitch from Tides starter Tyler Wilson over the right-field wall at Huntington Park with the bases empty. Two innings later, he hit another solo shot to get the Clippers within 6-4.
"It felt good," Lindor said of his first homer. "I felt good running the bases. It was a fastball and I was trying to drive it. I'm not trying to do too much with that pitch."
Despite going yard twice in the same game for the first time in his career, the 20-year-old shortstop was more concerned with Columbus' comeback falling short.
"I wasn't very pleased because we lost," he said. "No matter how good you play, if you don't help the team win that day, you can't be too happy."
Lindor found out about his promotion after Monday's game for Double-A Akron. In five games with the Clippers, he's batting .333 with five runs scored. Saturday's game capped a whirlwind week for MLB.com's No. 9 overall prospect.
"First couple of days were long because of traveling," Lindor said. "Now I feel good. I'm getting to know the guys, I feel comfortable around them. The guys have been great, they've been helping me get used to the team."
Lindor has enjoyed an accolade-filled season, getting named to the Eastern League All-Star Game, playing in the All-Star Futures Game in Minneapolis and getting promoted. It's fitting that the Puerto Rico native also is enjoying his finest offensive season. He's already established career highs with eight homers and 50 RBIs and is one stolen base from matching his personal best of 26.
"I'm having a blast this year," the 2011 first-round pick said. "I'm learning. Every year has been fun. This year, we're in first place in Akron and we're in first place here. I have to say this one has been the funnest one because I've been on teams that are winning. I love winning and hate losing."
Audy Ciriaco also homered and drove in the Clippers' other three runs.
Jimmy Paredes was 2-for-4 with an RBI and Julio Borbon doubled home a run for the Tides.
Robert Emrich is a contributor to MiLB.com. Follow him on Twitter @RobertEmrich. This story was not subject to the approval of the National Association of Professional Baseball Leagues or its clubs.
View More