Lively dominates before Pensacola wins late
Cincinnati's No. 6 prospect allows three hits over six scoreless innings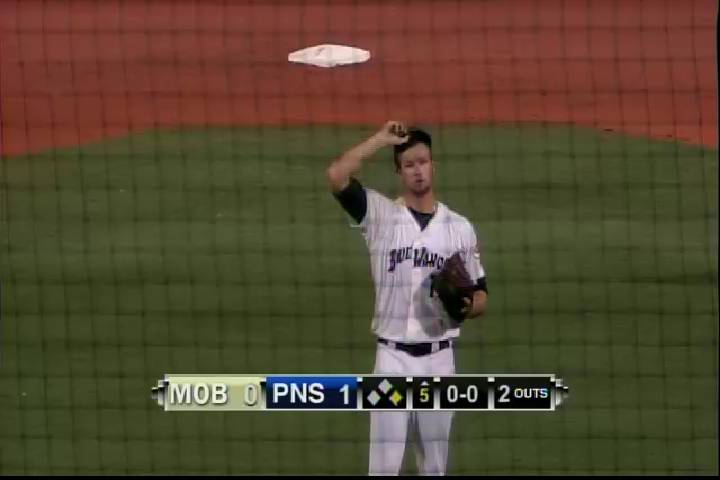 By Mark Emery / MiLB.com | August 15, 2014 2:09 AM ET
An unreliable curveball could be behind some of the growing pains Ben Lively has experienced at Double-A Pensacola. He had the hook working Thursday, and there was little the Mobile lineup could do about it.
The Reds' sixth-ranked prospect turned in his second scoreless Southern League outing in the Blue Wahoos' eventual 2-1 win over the BayBears in 11 innings. Lively surrendered just three hits and a walk while fanning seven.
"Honestly, I've been struggling with my curveball for a little while," said the right-hander, who is 1-6 with a 3.54 ERA across 10 Double-A starts. "I was going off that tonight. I was throwing fastballs for strikes, getting ahead and was going to that and showing sliders. It just kept working."
The 2013 fourth-round pick threw 56 of his 88 pitches for strikes, inducing three flyouts and two groundouts. He issued a leadoff walk to Dustin Martin in the second inning, then gave up singles to Brandon Drury and Gerson Montilla and uncorked a wild pitch in the fourth and a single to Todd Glaesmann to start the fifth.
"It felt good," Lively said about having an effective curveball. "I banked on that thing all the way through college [at the University of Central Florida], because I didn't really have a good slider then. But the slider started clicking last year, at the beginning of Rookie ball and everything. I started throwing it more."
The 22-year-old started this season at Class A Advanced Bakersfield, where he went 10-1 with a 2.28 ERA. After racking up 95 strikeouts there, he has recorded 61 at the next level, putting his combined season total at 156. That's the second-highest total in the Minor Leagues, behind the 162 of Class A Advanced Dunedin's Taylor Cole and ahead of the 153 posted by Mobile's Aaron Blair.
Lively insisted he's not particularly concerned about ending with the Minors' highest strikeout total, though he would like to finish in front of his good friend Blair.
"We kind of just joke around with that and keep messing around with it," he said, "because usually he has a start before me and he'll get back up there, and I'll be like, 'I'm going to get you again, don't worry.'"
Lively also chipped in at the plate, delivering a pair of singles at the start of the third and fifth innings. He did not cross the plate either time.
"I saw a lot of balls good," the Florida native said after the first multi-hit game of his career. "They just looked like beach balls up there today. It felt pretty good to actually get ahold of a couple."
Pensacola grabbed an early lead in the third on Kyle Waldrop's RBI double to left. Mobile tied it in the eighth on Martin's RBI double to center. In the final frame, Travis Mattair smacked a leadoff triple and Devin Lohman lofted a sacrifice fly.
Blue Wahoos reliever Jamie Walczak (4-6) allowed one hit and struck out five in the final two frames. The BayBears' Kyle Winkler (3-1) was charged with one run on two hits and a walk over 1 1/3 innings.
Mark Emery is a contributor to MiLB.com. Follow him on Twitter @Mark_Emery. This story was not subject to the approval of the National Association of Professional Baseball Leagues or its clubs.
View More