Mariners Prospect Primer: Peterson healthy
Third baseman looking to rebound after scary season-ending injury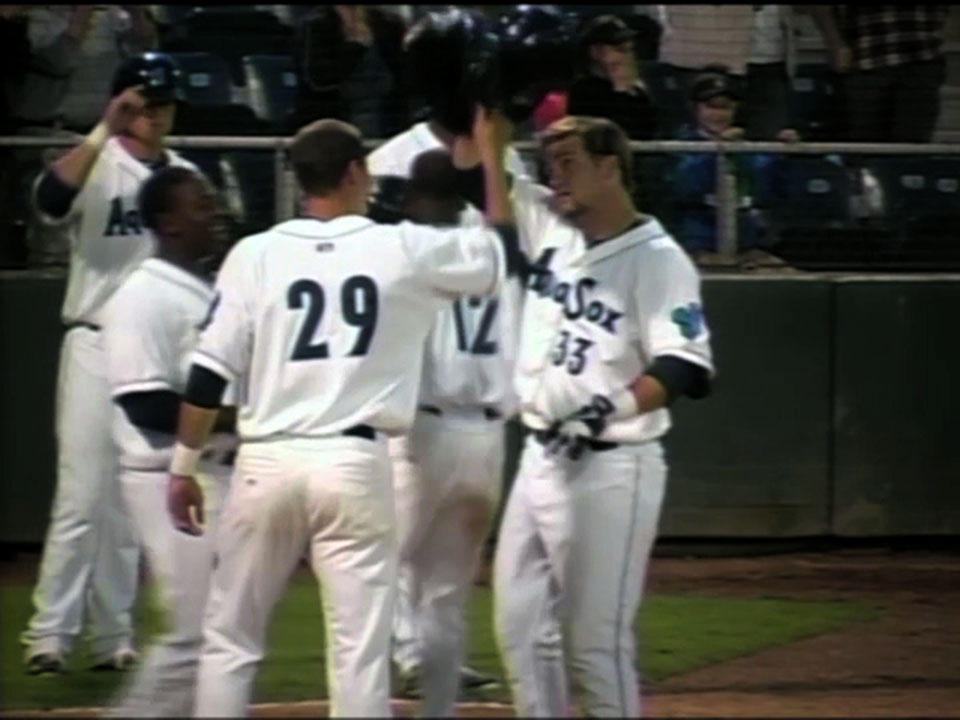 By Tyler Maun / MiLB.com | March 27, 2014 10:00 AM ET
Some players are on the verge of stardom, others are entering a crucial phase of their development and still others are getting their first tastes of full-season ball. With the 2014 season approaching, MiLB.com takes a look at the most intriguing prospects from each MLB organization.
Peterson's 2013 season came to a frightening end when he was hit in the face by a pitch late last August. Now, last year's 12th overall pick is ready to make up for lost time. He's also ready to move past talking about his injury.
"I'm feeling really good," Peterson told MLB.com shortly after the start of Spring Training. "And your next question is going to be, 'How is the injury and how did you get through it?'"
Those watching Peterson's development, though, are not quite as ready to move past the beaning and the 22-year-old's impressive response to it.
"He's reacted really well," said Jack Mosimann, an assistant in the Mariners' player development department. "Our training staff did a great job. They were on a plane basically the next day to Clinton, Iowa, to be with him, and his response has been great."
Peterson was in the midst of a sizzling stretch in the Midwest League. After making the jump from Short Season Everett to Class A Clinton in July, the third baseman hit his stride, batting .352 with five home runs and 16 RBIs over 19 August games. Then came that fateful pitch, the broken jaw, two surgeries that wired it shut and an offseason derailed.
"He was on pace to be in the Arizona Fall League, and then he had this minor setback," Mosimann said. "You never know how someone's going to react to that kind of injury, but he's been awesome."
MLB.com's No. 88 prospect hasn't shown any ill effects this spring. In seven Cactus League games with the big club, Peterson batted .286 with a homer and four RBIs. Beyond the showcasing of his signature offensive prowess, Peterson has caught the eye of coaches and staff with his progress defensively at third base, a position he moved away from in college. The University of New Mexico product, who crossed the diamond to play first while with the Lobos, has been steady at the hot corner this spring.
"All the coaches and the front office are giving him the thumbs up. He's holding his ground [at third]," Mosimann said. "Just like his hitting, you couldn't ask for anything better there. He's been great. He's been the first-round pick we expected him to be, and I think he's going to take that ball and run with it."
Back on track after an extraordinary turn to end 2013, Peterson is expected to open the season at the offensive haven that is Class A Advanced High Desert.
At 6-foot-4, 210 pounds, Wilson is the type of projectable athlete scouts love, and the Mariners are hoping 2014 is the year he finds himself.
"From a body perspective, he's just unreal," Mosimann said. "I mean, he hits balls that are still going in BP. All the potential in the world is there. One of the things that's overlooked with him is his knowledge and his aptitude and intelligence for the game."
It isn't just the game that draws such a mental investment. Wilson, a Stanford product, had some college coursework left unfinished when the Mariners selected him with the Draft's 49th pick a year ago.
"He wanted to go back to Stanford and wrap up some classes," Mossiman said. "I think that's a measure of his character."
Wilson lost half of his final season in college due to an elbow injury, but he began to settle into a groove toward the summer's close. In 56 games with Everett, the 22-year-old batted .241 with six home runs and 27 RBIs, but five of those six homers came in the season's final month when he registered a .973 OPS.
It's not just the offensive upside that has Wilson on Seattle's radar. He's also an above-average runner with a strong arm, making him a prototypical right fielder who should ascend to Class A Clinton this season.
Major League-ready: Carson Smith, RHP
Smith may always be known as the guy with the funky delivery. If he keeps striking out batters at the rate he has through his first two Minor League seasons, he'll be able to add another qualifier to that description: Major Leaguer.
"The sky's the limit for him," Mossiman said. "Carson was named our Minor League Pitcher of the Year last year, so he's done it on the field at the Double-A level in Jackson. Right now, it's about getting him innings and allowing him to succeed at the higher levels."
A right-hander from Texas State and Seattle's No. 11 prospect, Smith has flown through two levels in two years and could be knocking at the big league door in 2014. He works from an unorthodox, low three-quarters arm slot and is devastatingly deceptive to the tune of 11.2 strikeouts per nine innings in 2012 and 12.8 a season ago with Double-A Jackson.
Employing a tough sinker-slider combination, Smith saved 15 games for the Generals in 2013 and was nearly unhittable over the season's second half, posting a 1-0 record, eight saves, a 0.31 ERA and a .133 opponents' average in 22 appearances. This offseason, after a stint in the Arizona Fall League, Smith met Mariners faithful at the team's annual FanFest in Seattle. Those who got to know him at Safeco Field in January hope to see Smith there again sooner rather than later.
"The ball's kind of in his hands as far as where the future goes," Mossiman said.
More to keep an eye on: Heralded hurlers Taijuan Walker and James Paxton, both of whom made their big league debuts last season, should graduate fully to the MLB level, though Walker was shut down for a spell earlier this spring with inflammation in his throwing shoulder. ... Just 17 years old, Brazilian lefty Luiz Gohara is likely ticketed for a return to Rookie-level Pulaski, but the Mariners are high on his talent. ... Shortstop Chris Taylor has batted .316 over four levels through his two Minor League seasons and could open at Tacoma in 2014. ... Outfielder Gabriel Guerrero, nephew of nine-time MLB All-Star Vladimir, is likely headed to Class A Advanced High Desert.
Tyler Maun is a contributor to MiLB.com. Follow him on Twitter @TylerMaun. This story was not subject to the approval of the National Association of Professional Baseball Leagues or its clubs.
View More