Marlins' Newell fires six hitless innings
Right-hander strikes out seven; Grasshoppers lose no-no in eighth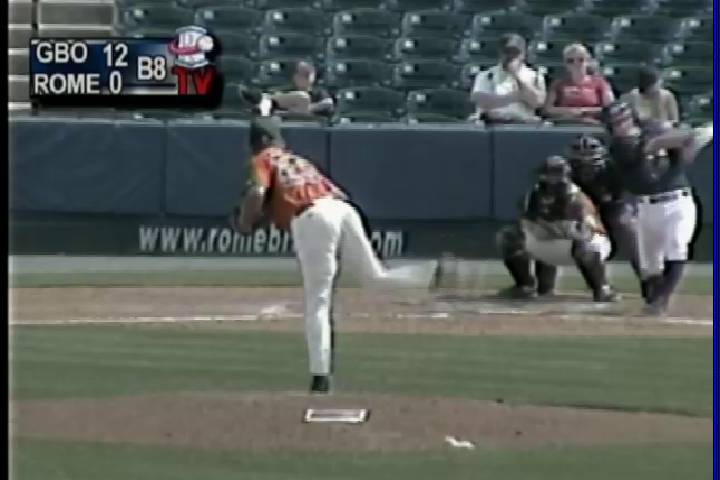 By Ashley Marshall / MiLB.com | May 25, 2014 10:21 PM ET
For the second time in nine months, Ryan Newell was almost part of a no-hitter. But with a different team in a different league, the outcome was still the same.
The Marlins prospect pitched six hitless innings while recording seven strikeouts as Class A Greensboro was four outs away from history on Sunday afternoon at State Mutual Stadium before settling for a 12-2 rout of Rome.
"I would say it was pretty good," Newell said. "I wanted to have fun today. My mom, my aunt, my girlfriend, friends from back home and my mom's friends came to watch. And Shorter [University] is only five minutes away, so my old coach came to watch. I wanted to go out there and have fun."
The 22-year-old right-hander struck out the side in the first inning and worked around a pair of two-out walks in the second. He rolled a double-play ball to erase two errors by shortstop Javier Lopez in the third before working three perfect innings to complete his day.
"Mainly just working the fastball in and out and mixing it up," said Newell (4-4), who also throws a slider and changeup. "I threw it to both sides of the plate and I was pitching to contact. I mainly threw the changeup to lefties and the slider to righties in strikeout counts where I felt comfortable and not scared to throw a ball in the dirt.
"This year, this is probably my second-best start. My best was was when we played Hickory and I went 8 1/3 innings [on April 27], but I got pulled after I gave up a double."
Cody Crabaugh issued a walk and uncorked a wild pitch in the seventh in keeping the no-hit bid alive, but Seth Moranda lined an RBI double to left field with two outs in the eighth to break it up. The extra-base hit plated Bryan De La Rosa, who'd drawn a one-out walk.
Rome scratched across another run in the ninth on an error, a wild pitch and a groundout before the Grasshoppers wrapped up the first one-hitter in the South Atlantic League this year.
"When I got through the sixth, I thought I had a really good chance to [go the distance], then I got pulled," said Newell, who threw 68 pitches in front of his mom, Cathie, who made the houe-long drive from Marietta, Georgia, and Shorter baseball coach Matt Larry and assistant coach Lee Bryant. "I honestly felt like I was really strong. Every pitch was where I wanted to put it.
"I asked [manager Dave Berg] if I could go back out. He said it was still early in the season and that I'm at quite a lot of innings and that they want to keep it at a reasonable rate."
Through 10 starts, Newell ranks third in the league with 53 strikeouts -- against 14 walks -- over 57 1/3 innings.
Newell, who lowered his ERA to 3.14, took a no-hitter into the ninth for short-season Batavia last August. That also ended up a one-hitter, with Newell leaving after allowing a leadoff single to Aberdeen's Hector Veloz.
"Basically, the same thing," he said. "Working every pitch, feeling comfortable with every pitch and getting ahead with the fastball. [A full-season league] is way different from last year because last year was only half a season. You have to have a different mind-set and take it start by start. You can't think about the end. You have to have a strong mind-set every outing."
Selected by the Marlins in the seventh round of the 2012 Draft, the Virginia native was 2-5 with a 4.33 ERA in 15 appearances, including seven starts, across two levels that summer. He posted a 5-4 record and 2.09 ERA in 14 New York-Penn League starts last season.
The Grasshoppers provided more than enough support for Newell on Sunday, collecting a season-high 21, including seven for extra bases.
Lopez was 4-for-6 with three doubles, four RBIs and three runs scored out of the leadoff spot, while Kentrell DeWitt had four hits and scored twice. Justin Bohn and Austin Dean each chipped in two RBIs.
"It's always nice to score a run in the first inning and it's nice to go out there with the lead," Newell said.
The gem capped an eventful weekend for the Grasshoppers. On Friday, Felix Munoz had five hits and scored five times, while Carlos Lopez drove in six runs in a 14-4 rout of Rome. And on Saturday, Carlos Lopez went 6-for-6 in a 7-4, 12-inning win.
Rome starter Daniel Cordero (1-1) allowed eight runs -- six earned -- on 11 hits and two walks while striking out one over three innings.
Ashley Marshall is a contributor to MiLB.com. Follow him on Twitter @AshMarshallMLB. This story was not subject to the approval of the National Association of Professional Baseball Leagues or its clubs.
View More