Matthes homers twice, plates nine runs
Healthy again, outfielder looking to get back on track in A's system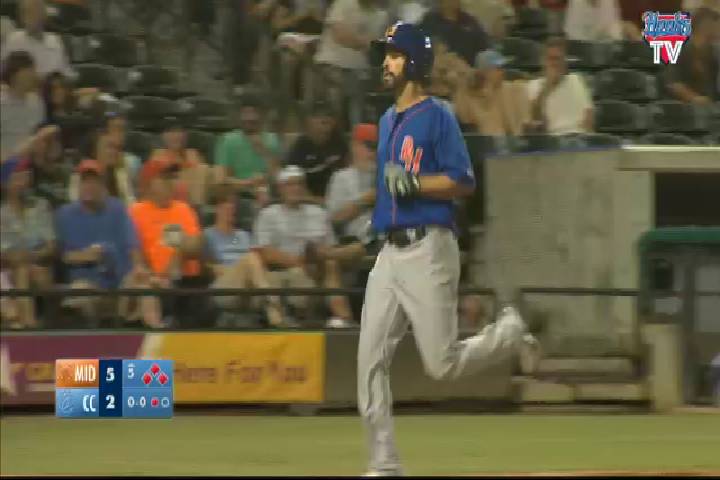 By Ashley Marshall / MiLB.com | July 27, 2014 1:17 AM ET
Saturday night at Whataburger Field was a little unusual, a little rare and a lot of fun for Kent Matthes.
The former California League MVP homered twice, drove in a career-high nine runs and almost singlehandedly powered Double-A Midland to a 10-4 triumph over Corpus Christi.
Matthes smacked a three-run homer to left field in the first inning, then launched a grand slam to center with out one in the fifth to open an 8-2 lead. In the ninth, he added a two-run single to cap a career night.
"All the credit goes to [my teammates]," Matthes said. "Without having the bases loaded or having guys on, I'm not getting those pitches to hit. All the credit goes to them. They drew some walks and had some good swings. They were all out there for me.
"It was a good night. It was good to get a win against a team in our division. There were guys on base for me and I'm glad it worked out."
The homers were the sixth and seventh of the season for the 27-year-old outfielder, who pushed his RBI total to 31.
Matthes' first dinger came on the seventh pitch of his first at-bat against Hooks starter Aaron West, and he said he knew it was gone as soon as he hit it. The grand slam came in a little different way.
"First at-bat, their starter was coming at me with fastballs," Matthes said. "He threw me some off-speed that I took to work the count full and I got a fastball over the plate. I put a good swing on it. Anytime you have two strikes, especially in that position, you don't want to get too big. You just try to get a pitch to hit and get the runner in from second.
"[The grand slam] started against their starter. He threw me one pitch to get to a 1-0 count and the manager switched the pitcher in the middle of the at-bat. He brought in [David] Rollins. ... I worked the count full and he came back with another fastball that I hit up the middle. I didn't know it was gone, but I'm glad it went out."
Matthes became the 15th player in Texas League history with at least nine RBIs in one game. Tommy Everidge collected 10 RBIs for the RockHounds on May 26, 2008 at Tulsa to become one of seven Texas Leaguers with at least 10 in a game.
Matthes is no stranger to big individual games. He clubbed three homers and plated seven runs for Class A Advanced Modesto on July 25, 2011, almost three years to the day.
"Nine is a lot," Matthes said of his RBI haul. "It's tough to say which is [better]; they're both good. I will take either of them."
Matthes was named Cal League MVP that year after batting .334 with 23 homers and 95 RBIs in 93 games. But health has been an issue for the University of Alabama product for several years, dating back to his rookie season in 2009.
He appeared in 177 games over his first three seasons but has seen time in the Pacific Coast League each of the past two years. He made 47 starts for Colorado Springs last year and got 26 PCL games under his belt for Sacramento after being claimed off waivers by the A's during Spring Training.
"The A's have their trainers and their protocols on how they want to handle my rehab," Matthes said. "But I feel good now and I have the utmost confidence with the A's staff. Hopefully, I finish the season strong and stay healthy."
Ashley Marshall is a contributor to MiLB.com. Follow him on Twitter @AshMarshallMLB. This story was not subject to the approval of the National Association of Professional Baseball Leagues or its clubs.
View More