Mets promote Montero, put deGrom on call
No. 2 prospect will make MLB debut Wednesday against Yankees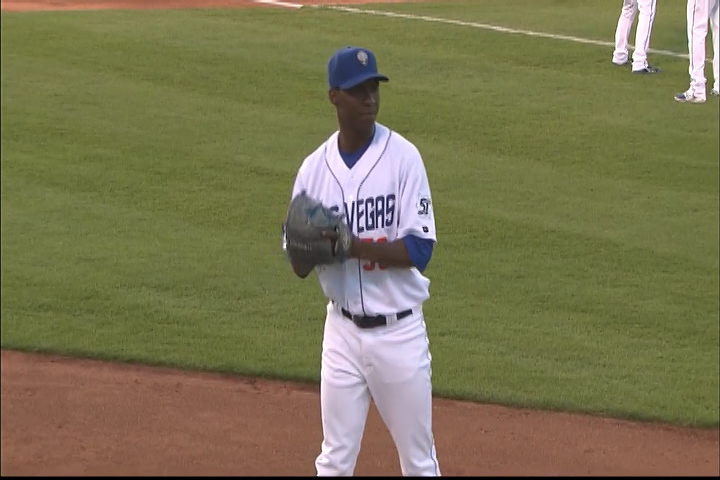 By Sam Dykstra / MiLB.com | May 12, 2014 5:50 PM ET
It's going to take a little bit more than the 4 Train to get there, but Rafael Montero will be making his Major League debut in the Subway Series all the same.
The Mets announced that they will promote their No. 2 prospect and start him Wednesday night against the Yankees, as he takes over Jenrry Mejia's spot in the rotation. No. 13 prospect Jacob deGrom has been scratched from his start Monday night with Triple-A Las Vegas and could also be promoted in case New York's National League team needs bullpen help this week.
Montero is 4-1 with a 3.67 ERA in eight starts this season in the Pacific Coast League. The 23-year-old right-hander has struck out 41, walked 18 and held opposing batters to a .203 average in his 41 2/3 innings on the mound.
He tipped the scales in his favor after tossing 5 1/3 innings of no-hit ball Friday against Salt Lake City. He struck out five and walked three in that game. After struggling some out of the gate (4.31 ERA in six April starts), he's rebounded in May, allowing only three runs in 10 1/3 innings (1.74 ERA) across two starts this month.
It appears some mechanical adjustments have led to those improvements.
"[H]e was repeating his delivery really well," said Las Vegas pitching coach Tom Signore after Montero's latest gem. "That's something we've been working on, and he did a very good job of that [Friday].
"Occasionally, he gets rotational in the windup with his shoulder and he doesn't keep his front side closed. This start, he was much better. He kept it closed about 85 percent of the time."
The right-hander's coming off a stellar 2013 season, when he went 12-7 with a 2.78 ERA, struck out 150 and walked only 35 in 155 1/3 innings between Las Vegas and Double-A Binghamton. He ranked fourth among MLB.com's top 100 prospects in FIP (2.63) last season. He was up to No. 78 on that updated top-100 rankings list at the time of his promotion.
The Dominican Republic native received 60 (i.e. above average) grades on the 20-80 scale for his fastball and control from MLB.com. The fastball usually sits in the lower end of the 90s but can reach around 95 at times. He backs that up with a changeup (55 grade) and slider (50). Listed at 6-feet, 185 pounds, Montero often loses points for his comparatively diminutive stature, which has been seen as something that keeps him from being a true power pitcher. He's shown an ability to make up for his lack of size with plus command of his pitches.
It doesn't appear that Montero is being called up for a simple spot start against the Mets' crosstown rivals. "We think he's ready now," general manager Sandy Alderson told reporters when the team announced it was promoting Montero.
According to MLB Trade Rumors, that would give the right-hander 138 days of service time this season, assuming he doesn't get sent down to the Minors at any point. Because he doesn't have any previous Major League experience, the Mets have effectively delayed his first free agent year until after 2020. However, because he was called up before the expected Super Two deadline, he will probably be eligible for arbitration after 2016. (That could have been delayed to 2017 if the team had waited until late June, which is usually considered the Super Two deadline.)
Montero will slot into Mejia's spot in the rotation after the 24-year-old right-hander failed to impress as a starter this season. Despite striking out 38 in 37 1/3 innings (9.2 K/9), he also walked 20 (4.8 BB/9) in that span and put up a 5.06 ERA. He will become a reliever, a role where his stuff is expected to play better in shorter stints.
deGrom could join him there should the Mets decide they need more depth in the bullpen. The 25-year-old right-hander was 4-0 with a 2.58 ERA, 29 strikeouts and 10 walks in seven Triple-A starts (38 1/3 innings) this season before being scratched Monday.
Sam Dykstra is a contributor to MiLB.com. This story was not subject to the approval of the National Association of Professional Baseball Leagues or its clubs.
View More