Missions go back-to-back-to-back
Hedges, Overbeck, Goris put on laser show in ninth for San Antonio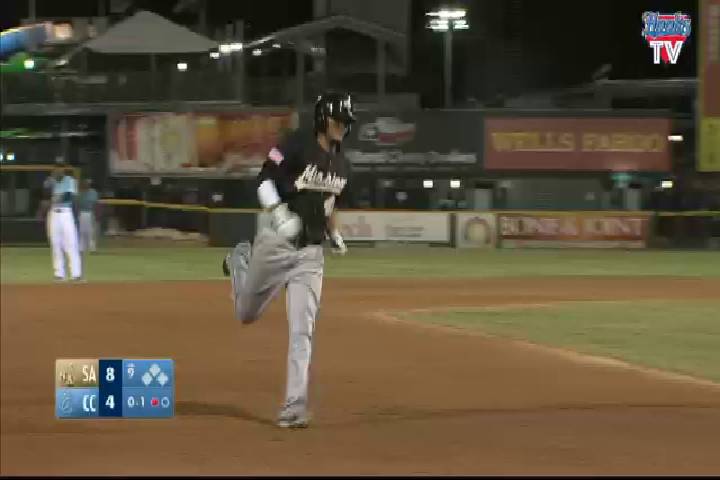 By Ashley Marshall / MiLB.com | July 30, 2014 12:51 AM ET
San Antonio and Corpus Christi met in the first round of the Texas League playoffs last year, but only one of those teams has a chance to advance to the postseason this year. Neck and neck in the standings, Austin Hedges and Co. are doing their part to make sure it's the Missions who have a shot at defending their crown.
Hedges, Cody Overbeck and Diego Goris smacked consecutive home runs in the top of the ninth inning Tuesday night, putting the finishing touches on the Missions' 10-4 win at Corpus Christi.
"That might be the first time I have ever been a part of that," Hedges said. "It's a blast, especially in the ninth when we needed a few runs to give us a cushion to help us win the game. Once we got that momentum, everybody jumped along."
Hedges got the parade started with a one-out solo shot to left field. Overbeck followed with a blast to left-center and Goris completed the outburst with a long ball down the left-field line.
The inning started smoothly enough for Hooks reliever Kyle Weiland, who induced a ground ball off the bat of Padres No. 4 prospect Hunter Renfroe. But then the next three Missions combined to hit about 1,100 feet of fly balls.
Hedges cranked an 0-1 slider for his first homer in seven weeks to give the visitors a 7-4 lead and Overbeck worked the count full before clubbing the seventh offering he saw from Weiland to the right of where Hedges' ball landed and into the bullpen. Not to be outdone, Goris turned on an 0-1 pitch and yanked a hanging breaking ball down the line, sneaking it inside the foul pole for his first Texas League homer.
"Our leadoff hitter got out on the first pitch, so I was taking all the way," said Hedges, San Diego's top prospect. "Then I got a hanging slider and I was able to put a good swing on it. In that situation, I was sitting on something off-speed and it was in a good zone.
"I'll look for a different pitch each pitch of the at-bat. We didn't have much of a scouting report on [Weiland], so I was watching him in the warmup and I thought I'd take my chances with the off-speed after a first-pitch fastball."
After Overbeck and Goris went yard, Cory Spangenberg doubled to left and Adam Buschini singled him home to complete the scoring.
It helped the Missions improve to 19-20 in the second half, one game ahead of the fourth-place Hooks and five behind first-place Midland. Second-place Frisco locked up a playoff spot by winning the South Division first-half title.
"They got a couple mistakes as well," Hedges said of Overbeck and Goris. "They were able to put good swings on them. At this field, the wind blows out to left field most nights. We know, especially against Corpus and Midland, we need to win these games because they are fighting us for a playoff spot."
Ashley Marshall is a contributor to MiLB.com. Follow him on Twitter @AshMarshallMLB. This story was not subject to the approval of the National Association of Professional Baseball Leagues or its clubs.
View More