M's Peterson checks tape, goes yard
Generals third baseman socks fifth career grand slam, adds key single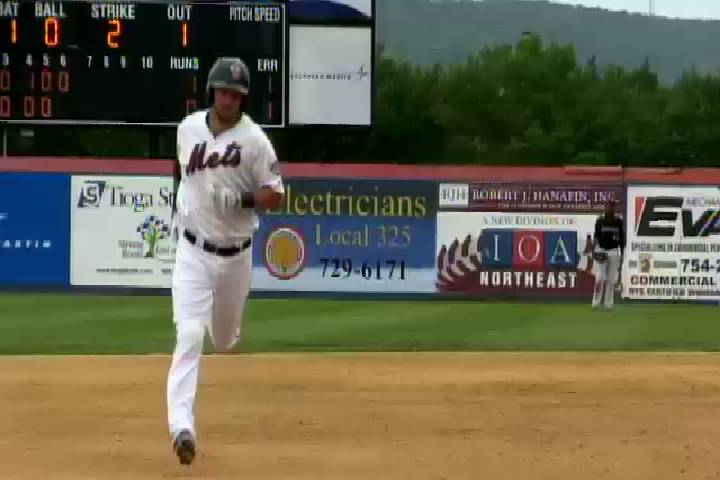 By Jake Seiner / MiLB.com | July 16, 2015 1:34 AM ET
Just two levels shy of the Major Leagues, D.J. Peterson made some tweaks to his swing this offseason to try take those final steps. After a disappointing first half, he was left trying to clean up his own mess.
After hours spent watching tape of his old swing, Peterson looked like his old self on Wednesday night, slugging a grand slam and finishing 2-for-5 in Double-A Jackson's 9-6 win at Mobile.
The Mariners' No. 2 prospect slugged the slam in the fourth inning, turning on a middle-in fastball from BayBears right-hander Blayne Weller. It was his fifth grand slam in three Minor League seasons.
"[I was] just looking to get a base hit up the middle, find good contact," Peterson said. "He happened to throw a fastball middle-in. I connected and it went. Basically, I was just trying to get a base knock up the middle and I ended up with a grand slam."
Peterson emerged as one of baseball's best offensive prospects last year, slugging 31 homers with a .297 average between Class A Advanced High Desert and Jackson, where he batted .261 with 13 homers in 58 Southern League games.
Seattle has been on the lookout for right-handed power for years, and Peterson made some adjustments to his swing in the offseason in an attempt to improve his chances of getting to the Majors as soon as possible.
The tweaks backfired. Peterson was hitting .211 with a .582 OPS and two homers through the end of May. The 23-year-old wasn't striking out more, but when he hit the ball, the contact lacked the same authority.
"I think maybe in the offseason, I was trying to do a little too much," he said. "I tweaked something and built a bad habit and took a long time to get out of it."
Peterson has attempted to bust out of the slump in the video room. He's studied video of his college days at New Mexico and from earlier in his professional career, noting that his hand positioning and other mechanics were different this season.
The 12th overall pick in the 2013 Draft set a season high with three homers in June and has a .259 average in July. The improvements have been small but steadily for the 6-foot-1 infielder.
"I had to figure out where I'd been with my load, where my hands were, to get back to where I was then," he said. "I've just been trying to find my swing, where it was. I think the last couple months ... I'm starting to feel it a little better, find my swing."
With the Generals holding on to a 7-6 lead in the ninth, Peterson helped create some breathing room. After Ian Miller reached on a single and took second on Tyler Smith's sacrifice, Peterson rocked a single to left that moved Miller to third.
Peterson then sized up reliever Jimmie Sherfy and took a calculated gamble, effectively stealing second before scoring on Daniel Paolini's single. Peterson is 5-for-5 on stolen base attempts this year and 14 of 16 as a Minor Leaguer.
"For me, stolen bases are about timing," he said. "[The pitcher's] time to home has got to be pretty decently up there. I'm not a huge speedster, I just pick my moments."
Mariners No. 8 prospect Tyler Marlette was 3-for-5 with a homer and two RBIs for the Generals, while Paolini and Miller also had three hits apiece.
Jake Seiner is a contributor to MiLB.com. Follow him on Twitter at @Jake_Seiner. This story was not subject to the approval of the National Association of Professional Baseball Leagues or its clubs.
View More