MWL notes: Shipley's Alaskan adventure
D-backs prospect credits development in college for added exposure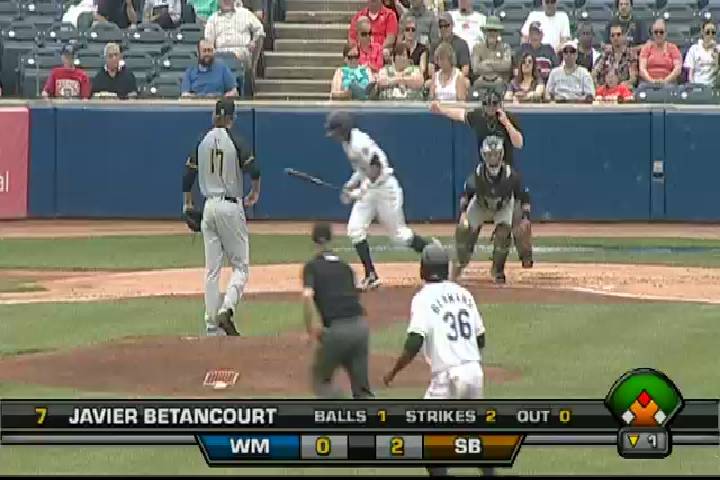 By Curt Rallo / Special to MLB.com | May 29, 2014 10:00 AM ET
Braden Shipley wasn't on the radar as a pitcher after his freshman season at the University of Nevada. In fact, he wasn't even in the same sentence.
But a change in roles and a summer in Alaska altered Shipley's destiny.
A 6-foot-3, 190-pound right-hander, Shipley played mostly shortstop at North Medford High School in Oregon and at the University of Nevada. After his freshman season, Nevada needed pitching help, and Shipley moved to the mound.
That's when his future changed dramatically.
"After my junior year, in the Alaska League, I started to throw a little harder and was getting noticed," Shipley said. "My whole life, I've been an under-the-radar kind of guy, and that's how I like it. After my sophomore year in college, I was like, OK, I have a chance to get drafted next year. I was thinking maybe I could get drafted in the 10th round.
"Then, when I went up to Alaska to pitch my junior year, I went up there as a closer, and my velocity went up into the high 90s."
Shipley's velocity jumped to 97 mph, and the attention skyrocketed, turning into a first-round selection by the D-backs in 2013 (No. 15 overall).
"A lot of kids are getting looked at their freshman and sophomore years and playing Team USA Baseball, and that's not the route that I went," Shipley said. "I went to Alaska, and I worked on all of my pitches. I made it a goal to develop my changeup. It was all done by myself."
Class A South Bend manager Mark Haley said that Shipley's fastball is unique.
"The thing that's impressive about him is what I call reach-back velocity," Haley said. "He'll sit there at 92, and then all of the sudden, he's at 97. That's really tough on a batter. Plus he's got a great curve."
Shipley's curve has had Midwest League batters fooled his season.
"My pitching coach in high school, Brett Wolfe, taught me the curve," Shipley said. "I threw a normal curveball like anybody else, two fingers on the ball, kind of in the horseshoe, and then snap it. One day, he said, 'I want you to try something. I want you to trying throwing a spike curve.' That was my junior year. I started throwing the spike in the fall, and that was the pitch. It was just really nasty for me."
Haley said that Shipley's greatest attribute is his competitiveness.
"Braden really has great competitiveness," Haley said. "He is a tough, tough kid, and he works really hard. Those are qualities that you really can't teach. The thing he needs now is experience pitching."
Shipley said that he's made progress this season.
"I feel like this year, overall, I've pitched better than I pitched in the playoffs last season, as far as executing my pitches," Shipley said. "My numbers may not show it, I've given up 47 hits in 45 innings, but there hasn't been a start when I haven't located well, or felt like, this team really beat me today. I feel like I've been executing and doing everything I can to keep my team in the ballgame and produce good numbers. Unfortunately, I've run into some bad luck here and there, but I've had the least amount of hard contact that I've had in a season so far."
In brief
Unique streak: The Fort Wayne TinCaps have won 99 games in a row when they've led entering the ninth inning. That streak almost ended Tuesday afternoon when Dayton's Jamodrick McGruder belted a two-out single to tie the score, but Fort Wayne's Henry Charles came through with a walk-off single in the bottom of the ninth.
Herrera swaps teams: Ronald Herrera, a right-handed pitcher, switched from the Beloit Snappers to the Fort Wayne TinCaps. Herrara was traded from the Athletics organization to the Padres organization as part of a May 15 trade that allowed the Athletics to acquire outfielder/first baseman Kyle Blanks for Minor League outfielder Jake Goebbert and a player to be named later, who turned out to be Herrera.
In his last game, Herrera pitched at Milwaukee's Miller Park, giving up two runs and two hits in seven innings. He is 3-4 on the season with a 3.38 ERA.
Meeting of the minds: Hall of Fame manager Tony LaRussa, recently hired by Arizona as a consultant, visited South Bend to evaluate the D-backs' farm team there and brought along Chicago Bulls coach Tom Thibodeau and Indiana University basketball coach Tom Crean. Silver Hawks manager Mark Haley took advantage of the opportunity to learn from the variety of coaches.
"I was picking their brains, talking to them about motivation techniques," Haley said. "It's nice when you get around guys who coach at that level. The thing about them -- they're always trying to learn, they're always asking questions."
Haley said that LaRussa talked to Silver Hawks players during his time in South Bend.
"He talked about the way he sees things, the things he looks for," Haley said of LaRussa's meeting with the players. "It was a motivational talk. He spoke about how important it is to prepare for games, about being a good teammate. It was really good. He had some really important messages for the players."
Curt Rallo is a contributor to MiLB.com. This story was not subject to the approval of the National Association of Professional Baseball Leagues or its clubs.
View More