Nationals Prospect Primer: Goodwin shines
'11 first-rounder could demonstrate all five tools at Triple-A Syracuse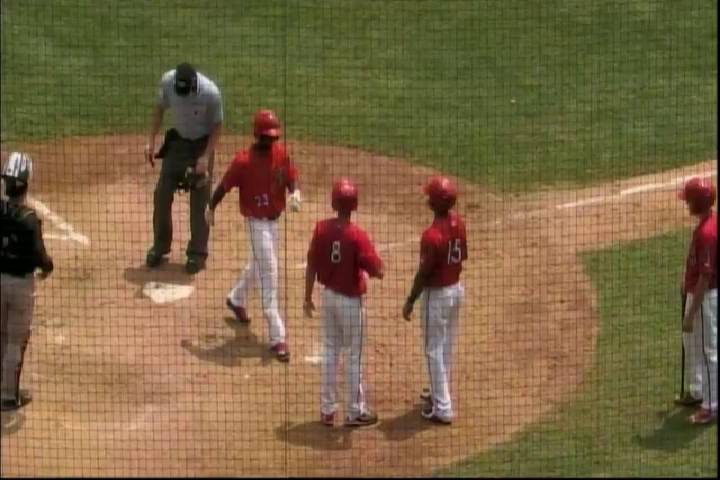 By Ashley Marshall / MiLB.com | March 31, 2014 10:00 AM ET
Some players are on the verge of stardom, others are entering a crucial phase of their development and still others are getting their first tastes of full-season ball. With the 2014 season approaching, MiLB.com takes a look at the most intriguing prospects from each MLB organization.
The top prospect in Washington's system, Goodwin already oozes star potential despite having never played a game above Double-A.
In 2013, his second year in pro ball, Goodwin batted .252 with 10 homers and 40 RBIs in 122 Eastern League games. He smacked 19 doubles and 11 triples, stole 19 bases and drew 66 walks. Goodwin had a .982 fielding percentage in center field and recorded five assists, drawing attention for his range and arm in addition to his developing bat.
"He is getting ready for the next challenge and we expect him to continue to refine his approach offensively and evolve defensively," said Nationals assistant general manager Doug Harris. "He has [Arizona] Fall League experience and 1 1/2 years in the Eastern League.
"He showed parts of five tools -- he can hit for average and hit for power, he can steal bases, play good defense and he can throw. He can do a lot of different things and he has a chance to stay in center field because he has above-average range. He had a difficult start last year, but he finished the year nice and strong."
Full-season debutant: Lucas Giolito, RHP
Giolito went 2-1 with a 1.96 ERA in 11 games across two levels last year, striking out 39 batters over 36 2/3 innings and holding opponents to a .217 average. The 6-foot-6 19-year-old was drafted 16th overall in 2012, but the high schooler made just one start before undergoing Tommy John surgery.
There's a chance the Nationals choose to skip Class A Hagerstown and start Giolito in Potomac, but that seems unlikely. The organization is in no rush to push the right-hander through the system and the front-office staff sees plenty of value in making Giolito succeed at each Minor League level.
While there will be an innings limit on Giolito, the Nationals are not divulging just how high or low it: he did not log more than five innings in any of his 11 appearances last season.
"His health is good," Harris said. "For us, it is about continuing to build volume and work through a full season. There will be parameters on that, but he needs to make that next step and prepare to pitch every fifth day. Lucas is ready for the next challenge. His stuff has been well talked about. He is a guy that is continuing to build a foundation and him touching the next level is important for his development. We don't have a timeline on him, so we want to build that foundation one step at a time.
"His breaking ball is a legitimate swing-and-miss pitch. It's a power curve and it has excellent depth, and he is continuing to throw it for strikes. His changeup is still a work-in-progress, but it came along with big strides in the instructional league."
Severino may not wow fans with light tower power, but the Nationals believe he has the potential to develop into an above-average hitting catcher. He's already one of the best defenders at his position in the system and it may only be a matter of time before he fills into his body and develops gap-to-gap pop.
The native of the Dominican Republic batted .241 with 22 extra-base hits and 45 RBIs in 88 South Atlantic League games last year and threw out a league-best 40 percent of would-be basestealers (37-of-92).
"I think at this stage, his defense is ahead of his offense," Harris said. "He has developed physically a great deal over the course of the last year and the offense is starting to mature. He is a very good athlete, first and foremost. He has excellent feet and hands and good instincts and he did a great deal of maturing with how to handle a pitching staff.
"He has continued to get stronger physically. He has always had a good foundation to hit, but now he is strong enough to compete with his bat. We were happy with his numbers last year and he finished strong in instructs. He did a real nice job there and doing that at that level was impressive. He was a leader on the field as a 19-year-old."
More to keep an eye on: Tony Renda batted .294 with 49 extra-base hits at Hagerstown last year and has every chance to move up to Potomac. Described as a gap-to-gap hitter instead of a true power hitter, he'll look to show the Nationals he can continue to improve his defense at second base, particularly on his pivots, footwork and reads. A.J. Cole won 10 games between Potomac and Harrisburg last year and is expected to return to the Eastern League to continue working on his secondary pitches, particularly his curveball, which is considered a long way behind his fastball. Michael Taylor is ticketed to start in Triple-A for the fifth consecutive year -- his first in the International League -- after a move from the A's and Zach Walters should join him in Syracuse after getting a cup of coffee with the Nationals as a September callup. Harrisburg seems the most likely landing spot for outfielder Drew Vettleson, acquired from the Rays in February in the deal for Nate Karns. Vettleson hit .274 with 62 RBIs in the Florida State League last year and the Nats already have been impressed with routes he takes to the ball and the power potential he showed this spring.
Ashley Marshall is a contributor to MiLB.com. Follow him on Twitter @AshMarshallMLB. This story was not subject to the approval of the National Association of Professional Baseball Leagues or its clubs.
View More