Nimmo, Ceciliani help B-Mets take Game 1
Outfield prospect delivers pair of run-scoring singles in Finals opener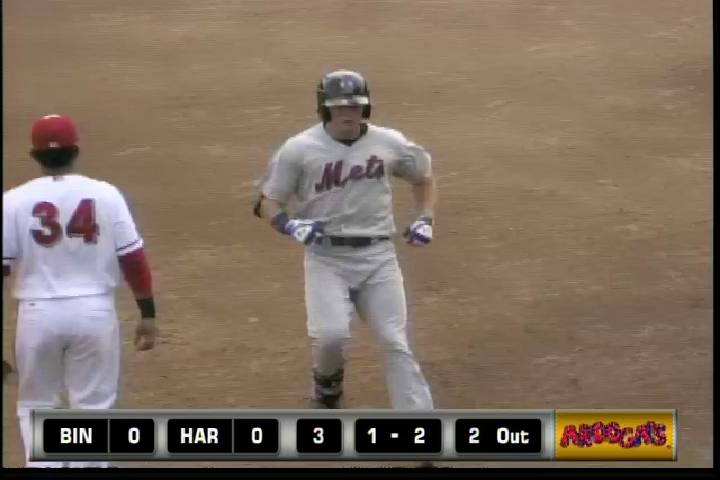 By Danny Wild / MiLB.com | September 9, 2014 11:14 PM
Brandon Nimmo has been a tough out in the postseason, but he's not concerned with his statistics.
"In playoff time, your stats really don't mean anything, it's whether you get that 'W' at the end of the night," he said. "I'm glad I was able to help out the team and give us some more cushion late. And I'm just very happy we got the win."
The Mets' No. 3 prospect hit a pair of RBI singles and Darrell Ceciliani lined a go-ahead base hit Tuesday night as Binghamton beat Richmond, 5-2, in Game 1 of the best-of-5 Eastern League Championship Series.
Nimmo singled home Wilfredo Tovar for a 1-0 lead in the second, then plated Dustin Lawley with an insurance run in the eighth to cap a two-run outburst. In between, Ceciliani broke a 1-1 tie with a single to right field in the fifth that knocked home T.J. Rivera.
The Mets, who beat Portland in the decisive fifth game of their semifinal series on Sunday, are two wins from their first championship since 1994.
"It was awesome. When you're able to get ahead in the second inning and put a run up on the board, give your pitcher a little room to work with, it helps," Nimmo said. "It helps everyone relax a little bit and just play their games a little more freely. To get that run and put the pressure on them right away was very good. I think last time we were here, they swept us, they very rarely trailed us. I'm just very blessed to be able to get some good wood on that ball and get a run in."
Binghamton starter Tyler Pill (1-0) held the Flying Squirrels to a pair of runs on six hits over six innings. The 24-year-old right-hander out of Cal State-Fullerton struck out three and did not walk a batter, throwing 46 of 76 pitches for strikes. Paul Sewald, Chase Huchingson, Hansel Robles and Cody Satterwhite combined to blank Richmond over the final three innings.
"It's huge. Good pitching wins championships -- good pitching, defense and timely hitting, and that's pretty much what we had tonight," Nimmo said. "It doesn't matter how well your offense is if your pitching doesn't go out and give you a chance and keep it close. For us to be able to relax and get the runs when we got them, it wasn't a big pressing situation for us.
"Pill had good command, he was dealing; same with Sewald and Huchingson, Robles and Satterwhite, coming in and closing it down that way. That was good, fundamental, clean baseball. And that's what we're looking for."
Nimmo, the Mets' top pick in the 2011 Draft, was coming off consecutive three-hit efforts against Portland that helped Binghamton advance to the Finals. He's hit safely in his last five postseason starts with three RBIs. The 21-year-old outfielder batted .278 with 10 homers, 51 RBIs and 14 steals in 127 regular-season games between Binghamton and Class A Advanced St. Lucie.
"It was very important [to win Game 1]. To get that first game gives you that competitive edge, it allows you to play a little more freely and relaxed. And this team always plays better that way," he said. "This was a very big win for us."
Clayton Blackburn (0-1), the Giants' No. 7 prospect, allowed three runs on eight hits and three walks over five innings. He struck out four before Kyle Crick, San Francisco's top prospect, surrendered two runs in the eighth.
Daniel Carbonell went 2-for-4 with a triple and an RBI, while pinch-hitter Myles Schroder singled in a run for Richmond, which hosts Game 2 on Wednesday.
Danny Wild is an editor for MiLB.com. Follow his MLBlog column, Minoring in Twitter. This story was not subject to the approval of the National Association of Professional Baseball Leagues or its clubs.
View More