Nimmo leaves game with knee injury
Mets' No. 4 prospect helped off field after doubling in ninth inning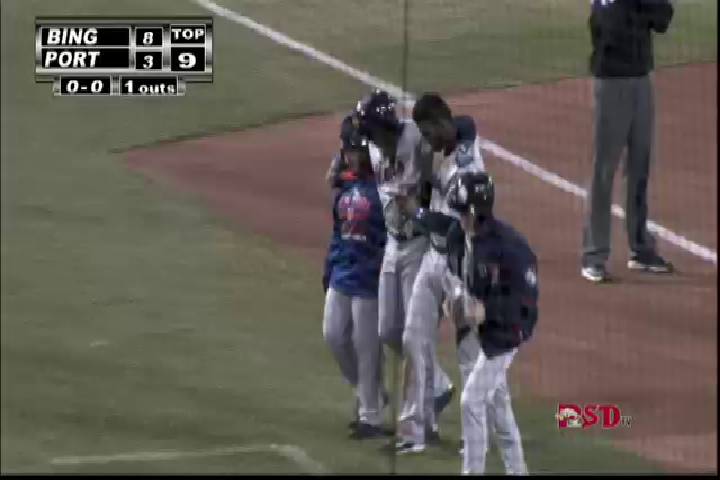 By Ashley Marshall / MiLB.com | April 29, 2015 11:07 PM
Center fielder Brandon Nimmo left Wednesday's game for Double-A Binghamton with an apparent knee injury that the team described as not serious.
New York's No. 4 prospect came up holding the back of his right knee and limping around second base after doubling to left-center field in the ninth inning of an 8-3 Eastern League win at Portland. He struggled to put pressure on his leg but remained on his feet as trainer Deb Iwanow came out to tend to him.
Iwanow and backup outfielder Eudy Pina helped Nimmo off the field, and Gilbert Gomez entered the game as a pinch-runner.
Binghamton director of broadcasting and media relations Tim Heiman said Wednesday night that there is "nothing to be worried about," adding that Nimmo "simply stepped awkwardly on second." He noted that Nimmo was walking "just fine" on the way to the bus an hour after the game.
The 22-year-old Wyoming native popped out in the first inning, walked and scored in the third, legged out a two-out triple to right field in the fourth and grounded out in the seventh.
Selected 13th overall in the 2011 Draft, Nimmo is hitting .284 with two homers, six RBIs and 16 strikeouts in 19 games in his fifth Minor League season. After collecting two hits in his first 20 at-bats, he's batting .352 (19-for-54) in his last 14 contests.
Ashley Marshall is a contributor to MiLB.com. Follow him on Twitter @AshMarshallMLB. This story was not subject to the approval of the National Association of Professional Baseball Leagues or its clubs.
View More