Offensive Players of the Week
For the week ending April 13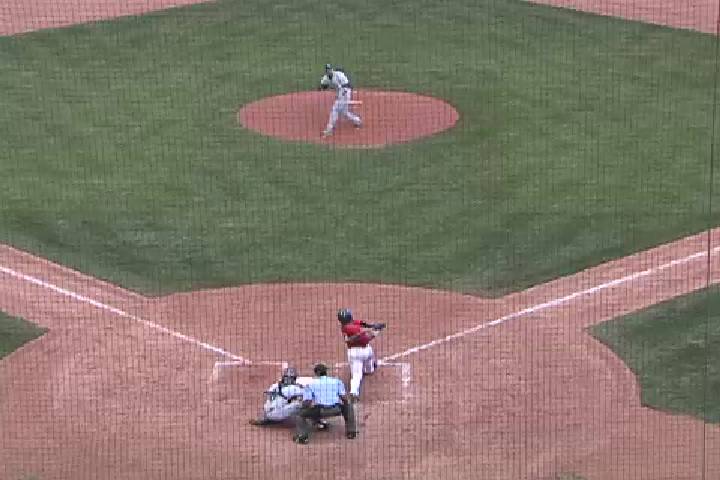 By John Parker / MiLB.com | April 14, 2014 4:30 PM ET
Here's a look at the top offensive performers in each league for the week ending April 13:
International League (selection for April 7-13)
Gregory Polanco, Indianapolis
(.500/.548/.786, 7 G, 14-for-28, 1 2B, 2 3B, 1 HR, 7 RBI, 2 BB, 2 K, 1 SB, 1 CS)
The hype surrounding the 22-year-old Polanco, MLB.com's No. 13 prospect, has yet to distract from his outstanding performance on the field. The outfielder was named MVP of the Dominican Winter League, hit a few monster home runs in Spring Training and has yet to let up in the International League, where he has hits in all 11 of his games. Polanco tripled, singled and drove in two runs Friday before plating five more over the weekend. Though he's played only 81 games above Class A -- and just 13 in Triple-A -- with Pirates right fielders batting only .264/.304/.321, he may be in Pittsburgh soon.

Indianapolis's Polanco blasts two-run shot
Pacific Coast League
Jon Singleton, Oklahoma City
(.325/.438/.725, 10 G, 13-for-40, 4 2B, 4 HR, 15 RBI, 8 BB, 14 K, 1 CS)
Singleton didn't have a great Spring Training -- he hit .154 with one homer in 14 Grapefruit League games -- but he's feeling right at home in the PCL after homering three times and driving in eight runs over his last four games. The Astros slugger has more than balanced his propensity for striking out with serious power and an ability to take walks. Singleton is tied for the PCL lead in total bases and has collected an RBI in seven of his last eight games, helping Oklahoma City to an 8-3 start and a two-game lead in the PCL American Northern Division.

Oklahoma City's Singleton bashes fourth homer
Eastern League
Mookie Betts, Portland
(.457/.512/.743, 9 G, 16-for-35, 5 2B, 1 3B, 1 HR, 4 RBI, 11 R, 5 BB, 3 K, 4 SB, 1 CS)
The jump to Double-A is supposed to be the most difficult for prospects to handle, but apparently no one told Betts. The 21-year-old second baseman, who was the Red Sox's Minor League Offensive Player of the Year last season, has been even hotter in his first nine Eastern League contests, batting .457. Betts started the season in style, going 4-for-4 with a solo homer and three runs scored at Reading on Opening Day. He's reached base at least twice in all but one outing and leads the league in runs scored, batting average and on-base percentage. And he's pretty good with the glove, too.

Sea Dogs' Betts strikes RBI double
Southern League
Brady Shoemaker, Jacksonville
(.429/.568/.750, 10 G, 12-for-28, 3 2B, 2 HR, 2 RBI, 6 R, 9 BB, 5 K)
Shoemaker is a career .308/.401/.491 hitter in the Minors but missed the entire 2013 season with a torn labrum. A 19th-round pick by the White Sox in 2009, the 26-year-old was selected by the Marlins in the Minor League portion of the Rule 5 Draft last December. The year off hasn't blunted Shoemaker's offensive skills -- he went 9-for-15 with a homer, three doubles and seven RBIs during a five-game series against Birmingham (his former team) over the weekend and leads the league in batting, on-base percentage and slugging.
Texas League
James Ramsey, Springfield
(.410/.477/.846, 10 G, 16-for-39, 3 2B, 1 3B, 4 HR, 11 RBI, 10 R, 4 BB, 8 K, 1 CS)
A first-round pick by the Cardinals in 2012, Ramsey played in the Florida State League that summer and spent most of the 2013 season in Springfield, where he hit .251/.356/.424. The Florida State product got off to a blistering start in his return to the Texas League this year, highlighted by a four-game stretch last week in which he went 10-for-20 with three homers, a triple, two doubles and seven RBIs. Ramsey leads all Double-A hitters (and ranks fourth in the Minors) with an .846 slugging percentage. A right fielder, Ramsey currently sits behind Oscar Taveras and Stephen Piscotty on the Cardinals' outfield depth chart -- but perhaps not for long.

Springfield's Ramsey goes yard
California League
Marquez Smith, Bakersfield
(.444/.500/.917, 10 G, 16-for-36, 6 2B, 1 3B, 3 HR, 19 RBI, 8 R, 5 BB, 5 K)
Smith is 29 years old in a league with an average age of 23 and was a Double-A Southern League Player of the Week back in May 2009, so it's strange to see him with the Blaze. There's certainly no arguing with his output, however -- Smith leads the Minor Leagues with a .917 slugging percentage, 1.417 OPS and 19 RBIs. The slugger has at least one RBI in all but one of his 10 games, leading Bakersfield to a league-best 9-2 record and two-game lead in the North Division.

Bakersfield's Smith clears bases
Carolina League
Joey Gallo, Myrtle Beach
(.333/.452/.727, 10 G, 11-for-33, 1 2B, 4 HR, 8 RBI, 9 R, 8 BB, 12 K, 1 CS)
After leading the Minors with 40 long balls last season, Gallo got off to a quiet start in 2014 with none in his first six games. That all changed in a hurry Thursday when the big Rangers prospect went 4-for-4 with his first two blasts. He added two more over the weekend, and though he's struck out 12 times in 10 games, he's also drawn eight walks. His .452 on-base percentage is more than 100 points higher than the .338 mark he posted last year. One of Gallo's goals coming into the season was to make more contact; he seems to be succeeding.
Florida State League
Peter O'Brien, Tampa
(.333/.366/.692, 10 G, 13-for-39, 2 2B, 4 HR, 6 RBI, 6 R, 1 BB, 9 K)
A second-round pick out of the University of Miami in 2012, O'Brien cranked 22 home runs with Charleston and Tampa last year in his first full season. The Yankees catching prospect went deep at Lakeland on Opening Day and added three more last week to take the Florida State League lead in long balls and total bases. O'Brien is also fanning slightly less often than last season, when he struck out 134 times in 119 games, but has drawn just one walk in his first 10 games of 2014.
Midwest League
Clint Coulter, Wisconsin
(.286/.459/.821, 9 G, 3 2B, 4 HR, 12 RBI, 7 R, 7 BB, 6 K, 1 SB, 2 CS)
Coulter hit only seven home runs in 70 games all last season, but the 20-year-old backstop is more than halfway there already after going deep four times in his first nine games of 2014. A first-round pick by the Brewers in 2012, Coulter went on a power trip over the weekend, hitting three long balls and driving in eight runs in two wins at South Bend. About the only thing that could slow Coulter down was the weather -- he and the Timber Rattlers have had their Monday game snowed out.

Coulter doubles in two runs for Timber Rattlers
South Atlantic League
Avery Romero, Greensboro
(.432/.468/.591, 10 G, 19-for-44, 4 2B, 1 HR, 6 RBI, 3 BB, 3 K, 2 SB, 1 CS)
The 20-year-old Romero played in nine games for the Grasshoppers last season, batting a miserable .147. The Marlins' 2012 third-rounder is having rather more success in his second Sally League stint. At 5-foot-8, Romero hasn't shown much power, but he can put the ball in play -- he's fanned just three times in 44 at-bats over his first 10 games and leads the league in batting and runs scored.
John Parker is an editor for MiLB.com. This story was not subject to the approval of the National Association of Professional Baseball Leagues or its clubs.
View More