Offensive Players of the Week
For the week ending June 15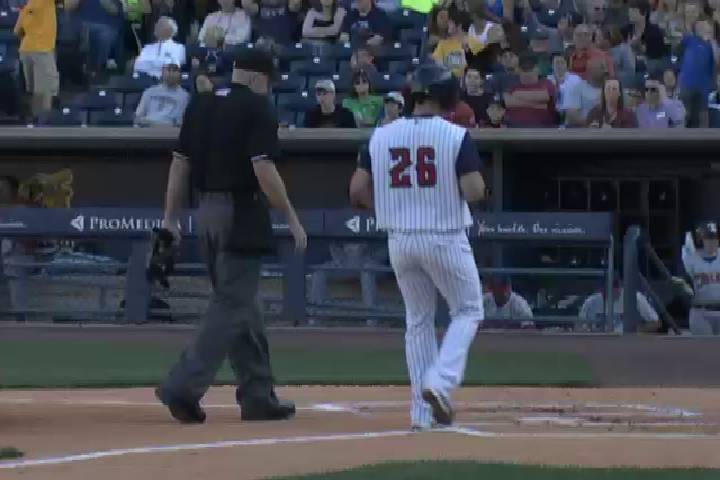 By Sam Dykstra / MiLB.com | June 16, 2014 5:05 PM ET
Here's a look at the top offensive performers in each league for the week ending June 15:
International League
Hernan Perez, Toledo
(.500/.538/.917, 6 G, 12-for-24, 5 2B, 1 3B, 1 HR, 6 RBI, 2 BB, 2 K)
After playing in 34 games for the Tigers last season as well as two more in the playoffs, Perez hasn't been able to crack the Majors this year, especially after hitting .231 during the month of May. He may well be hitting his way there now. The Tigers' No. 9 prospect had four multi-hit games last week, including a 4-for-5, four-run showing Thursday, raising his season average from .259 to .280 in six game's time. And these aren't exactly cheap hits, either; seven of his 12 last week went for extra bases. There are still a ways to go for him to reach the .301 mark he put up last year between Double-A Erie and Toledo, but last week's showing was certainly a start.

Perez goes yard
Pacific Coast League
Jared Hoying, Round Rock
(.464/.531/.821, 7 G, 13-for-28, 2 3B, 2 HR, 10 RBI, 10 R, 4 BB, 5 K, 3 SB)
Last week might have been just what the doctor ordered for Hoying, who had a .212 average entering last Tuesday. That number was up to .245 by the end of Sunday, thanks to a stretch of four straight multi-hit games from Tuesday to Friday. Though he hasn't hit for a high average this season -- nothing unexpected for a .265 career Minor League hitter -- he has hit for power. With two roundtrippers last week, the left-handed hitter has 12 in 65 games this season, just one shy of his career high set in 93 contests between Double-A Frisco and Round Rock last season.

Hoying clubs two-run dinger
Eastern League
Brian Burgamy, Binghamton
(.500/.567/1.000, 8 G, 12-for-24, 3 2B, 3 HR, 9 RBI, 9 R, 5 BB, 3 K)
The last time Burgamy was named the Player of the Week in an affiliated league was in September 2007 when he was with Class A Advanced Clearwater, the Phillies' Florida State League affiliate. It's been a long road back to the Minors since. Burgamy played eight games for St. Lucie in 2008 but didn't make it back into Minor League ball until this season, playing in the Mexican League in 2013 and at various stops in the independent Atlantic League from 2009-13. He signed a Minor League deal with the Mets in February and is starting to heat up in Binghamton. His most impressive showing came Wednesday when he homered twice and drove in seven for the B-Mets. The 32-year-old switch-hitter owns a .262/.354/.477 slash line with 10 homers and 33 RBIs in 53 games.

Burgamy homers again
Southern League
Jake Lamb, Mobile
(.476/.538/1.000, 7 G, 10-for-21, 3 2B, 1 3B, 2 HR, 11 RBI, 4 BB, 4 K)
Lamb has been inarguably the most impressive hitter in the Southern League, non-Kris Bryant division, but this is the first time he's been named a Player of the Week this season. After a big week last week, he now ranks second in league in average (.325), slugging percentage (.597) and OPS (.996) and leads in doubles (25). That's a far cry from April, when he batted just .244 in 25 games. "I was kinda giving in to the pitcher's plan and chasing too many pitches out of the zone," Lamb told MiLB.com. "I usually have a good idea of the strike zone. I wasn't doing that the first month or so, I just took a big deep breath and told myself to focus on my approach at the plate and that I'm going to get my pitches and make sure I don't miss them. It's been working ever since."
Texas League
Jason Hagerty, San Antonio
(.450/.607/.900, 7 G, 9-for-20, 3 2B, 2 HR, 7 RBI, 6 R, 7 BB, 2 K)
You don't always need a big breakout game to capture this award. Rather, an incredibly steady week can also get the job done. That's what happened to Hagerty, who collected two hits in five of his seven games last week. He also showed an incredible eye at the plate, walking seven times compared to only two strikeouts, although that seems like a bit of an outlier given his 44-to-26 strikeout-to-walk ratio on the season. The 26-year-old, who has started at first base, catcher and DH in his second turn with the Missions, owns a .268/.362/.429 slash line with seven homers and 30 RBIs this season.

Hagerty rips solo homer
California League
Juan Silva, Bakersfield
(.588/.667/.941, 4 G, 10-for-17, 2 2B, 2 3B, 4 RBI, 10 R, 4 BB, 0 K, 4 SB)
It was a shortened week for Cal Leaguers because of the upcoming California League/Carolina League All-Star Game on Tuesday, and Silva made the most of it. The 23-year-old outfielder had three hits in each of his last three games before the break, going 9-for-13 with nine runs scored in that span. With four walks and no strikeouts last week, he owns a 46-to-44 K-to-BB ratio in 61 games. Silva has shown the impressive ability to not only get on base this season (.417 OBP) but to also take the extra bag, thanks to a league-leading 32 steals.
Carolina League
Michael Burgess, Frederick
(.500/.560/1.091, 6 G, 11-for-22, 2 2B, 1 3B, 3 HR, 9 RBI, 4 R, 2 BB, 4 K, 1 SB)
It takes a lot to nearly cycle -- at least three hits, at least two of them for extra bases -- and that's something Burgess knows all too well after last week. The 25-year-old outfielder needed a homer Friday and a triple Sunday to turn the trick but couldn't get either. Still, it was an incredible week for the left-hander, who was able to get a hit in half of his at-bats. Burgess leads all active Carolina Leaguers with a .564 slugging percentage and a .937 OPS -- only the recently promoted Joey Gallo ranks higher.
Florida State League
Josh Bell, Bradenton
(.462/.533/1.231, 4 G, 6-for-13, 1 2B, 3 HR, 5 RBI, 5 R, 1 BB, 1 CS)
Talk about going out with a bang. Well, several bangs. Bell, the Pirates' No. 6 and MLB.com's No. 61 overall prospect, homered in three straight games to end the FSL's first half. That gave him nine homers in 62 games to go with a .318/.368/.512 slash line in that span. Five of those nine blasts have come in 11 June contests, signifying that with warmer temperatures has come a hotter (or at least more powerful) Bell.
Midwest League
Eric Aguilera, Burlington
(.400/.444/.833, 8 G, 12-for-30, 2 2B, 1 3B, 3 HR, 12 RBI, 6 R, 3 BB, 3 K, 1 SB)
Aguilera already captured this award once this season when he went 12-for-24 during a seven-game stretch from May 12-18. He didn't quite match those numbers last week, but they were certainly good enough to warrant a repeat in this spot. His 12 RBIs, seven of which came from Friday to Sunday, give him 43 on the season with the Bees, seventh-most in the Midwest League.
South Atlantic League
Dustin Fowler, Charleston
(.393/.433/.821, 7 G, 11-for-28, 2 2B, 2 3B, 2 HR, 10 RBI, 3 R, 2 BB, 3 K)
The Yankees' 2013 18th-rounder sealed this award by going 2-for-5 with a homer, a triple and four RBIs on Sunday against Lexington. That gave him five multi-hit games in the week while six of his 11 hits went for extra bases. Since joining the RiverDogs on May 17, Fowler owns a .250/.314/.448 line with three homers, three triples, four doubles and 13 RBIs in 26 games.

Fowler blasts grand slam
Sam Dykstra is a contributor to MiLB.com. This story was not subject to the approval of the National Association of Professional Baseball Leagues or its clubs.
View More