Offensive Players of the Week
For the week ending Aug. 10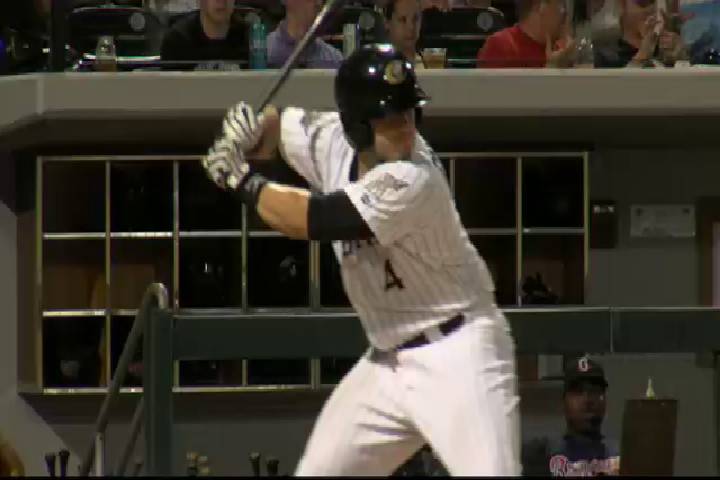 By John Parker / MiLB.com | August 11, 2014 5:28 PM ET
Here's a look at the top offensive performers in each league for the week ending Aug. 10:
International League
Josh Phegley, Charlotte
(.563/.611/1.313, 4 G, 9-for-16, 3 2B, 3 HR, 13 RBI, 7 R, 2 BB, 4 K)
We called this one last week. It didn't take an abundance of prognosticative prowess -- there aren't too many players to hit three homers and drive in 11 runs over a two-game span that failed to be named Player of the Week. Despite playing in only four games -- and going 0-for-4 in one of them -- the 26-year-old backstop was second in the Minors in RBIs during the week (see below for the leader). The homer surge also pushed Phegley into third place in the IL with 20 on the season.

Knights' Phegley hits a three-run blast
Pacific Coast League
Tommy Pham, Memphis
(.500/.559/.750, 7 G, 14-for-28, 1 2B, 2 HR, 7 RBI, 10 R, 5 BB, 2 K, 4 SB)
Pham was having a pretty solid stretch from Monday through Friday -- six hits, a homer, a few stolen bases. Then he went 4-for-5 on back-to-back days Saturday and Sunday, scoring six times and driving in four runs. The 26-year-old outfielder reached base 19 times during the week and no one scored more than his 10 runs. Though he lacks the plate appearances to qualify, his .345 batting average in 84 games is 10 points better than any qualifying PCL hitter and his .407 on-base percentage would rank third.

Memphis' Pham clubs solo homer
Eastern League
Greg Bird, Trenton
(.421/.541/1.000, 6 G, 8-for-19, 2 2B, 3 HR, 3 RBI, 8 R, 4 BB, 4 K)
Bird was, dare we say it, the word in his first taste of Double-A ball. Called up from Class A Advanced Tampa after his friend Peter O'Brien was dealt to the D-backs, the 21-year-old Bird went 0-for-8 in his first two Eastern League games. On Tuesday he clubbed his first Double-A home run, followed rapidly by a 4-for-4, two-homer performance against Altoona on Wednesday. Despite hitting from the left side, Bird has hit .350 (with all three of his homers) off southpaws and is just 1-for-7 against righties in the eight-game EL sample.

Bird hits second homer, third in two games
Southern League
Daniel Mayora, Chattanooga
(.522/.542/.826, 6 G, 12-for-23, 2 2B, 1 3B, 1 HR, 6 RBI, 4 R, 0 BB, 3 K, 1 CS)
The Southern League is the only Minor League circuit to regularly schedule five-game series, meaning that by the end of the week, the Montgomery Biscuits had seen far more of Mayora than they wanted. The veteran third baseman collected 10 hits and drove in five runs in the Lookouts' five-game sweep of the host Biscuits. After a slow start, Mayora is batting .335/.381/.473 in 47 games since the All-Star break for an .853 OPS that is 150 points higher than his first-half numbers.

Chattanooga's Mayora hits RBI triple
Texas League
Juan Graterol, Northwest Arkansas
(.526/.550/.842, 5 G, 10-for-19, 3 2B, 0 3B, 1 HR, 7 RBI, 4 R, 1 BB, 0 K)
Graterol began the week with Triple-A Omaha before joining the Naturals on Wednesday. The 25-year-old catcher immediately made an impact for Northwest Arkansas, reeling off four consecutive multi-hit games with six RBIs. Graterol's 23 homers on the season -- 21 of which have come with the Naturals -- are already a career best. Though he's drawn just 20 walks over the last three seasons, covering 179 games, Graterol also rarely strikes out. He's fanned just more than 11 percent of the time in his two seasons with the Naturals.

Juan Graterol's two-run homer
California League
Dennis Raben, Inland Empire
(.556/.625/1.333, 7 G, 15-for-27, 1 2B, 1 3B, 6 HR, 18 RBI, 10 R, 5 BB, 4 K, 2 SB)
Above, we noted that Josh Phegley was second in the Minors with 13 RBIs last week. Raben was first with 18. He was also first in hits, extra-base hits, home runs, total bases and pretty much everything else. Raben's week got off to a strong start on Monday, when he went 4-for-5 with seven RBIs. The next day he went deep twice, then once more on both Wednesday and Thursday. The 27-year-old slugger was held to a double on Friday and a triple and single on Saturday but came back with his sixth long ball of the week on Sunday. Raben is batting .370/.425/.710 with 15 homers in 42 games since the All-Star break.
Carolina League
Logan Vick, Carolina
(.381/.409/.762, 5 G, 8-for-19, 4 2B, 1 HR, 3 RBI, 2 R, 1 BB, 6 K, 1 SB)
It hasn't been a smooth campaign for Vick, who sits just above the Mendoza line at .203 on the season. It all came together last week for the 23-year-old outfielder, who had multiple hits in four straight games for the Mudcats. Though he drew only one walk this week, he ranks fifth in the Indians organization in free passes, lifting his on-base percentage to .343. Strikeouts remain an issue, however -- despite limited power (four home runs, 14 doubles), Vick has fanned 81 times in 78 games.
Florida State League
Rock Shoulders, Daytona
(.429/.667/1.143, 5 G, 6-for-14, 1 2B, 3 HR, 3 RBI, 6 R, 10 BB, 5 K, 1 CS)
Shoulders is best known in these parts for his 2012 Moniker Madness championship, but he's making a different name for himself at the plate, where he reached base 16 times in five games last week. Twenty percent of his 50 walks on the season came in last week's five games, and when he wasn't walking, he was trotting, blasting three of his 12 homers in 2014.
Midwest League
Ivan Castillo, Lake County
(.464/.500/.821, 6 G, 13-for-28, 4 2B, 2 HR, 5 RBI, 7 R, 2 BB, 6 K, 1 SB)
Castillo began the week -- and the weekend -- with two career home runs: one earlier this year and one with the DSL Indians back in 2012. On Sunday he doubled that total in a single game, going 4-for-5 with a pair of homers, a double, a walk and three RBIs. It was the 19-year-old shortstop's second four-hit game of the week, following a 4-for-6 performance Thursday. The big week lifted the switch-hitter's 2014 average from .208 to .240 and his slugging percentage from .279 to .347.
South Atlantic League
Austin Meadows, West Virginia
(.480/.519/.880, 6 G, 12-for-25, 4 2B, 2 HR, 7 RBI, 5 R, 1 BB, 2 K)
The ninth overall pick in the 2013 Draft, Meadows got a late start this year thanks to a lingering hamstring injury. He's been making up for lost time since joining the Power, hitting .351/.390/.489 in his first 23 full-season games. His first homer of the season came against Hagerstown on Tuesday, followed by another the next day. West Virginia was a Sally League-worst 20-48 in the first half of the season; with help from Meadows, the team is a far more respectable 24-26 in the second half.
New York-Penn League
Rhys Hoskins, Williamsport
(.476/.542/.810, 6 G, 10-for-21, 1 2B, 2 HR, 5 RBI, 6 R, 3 BB, 2 K)
In his professional debut with the Crosscutters in June, the 21-year-old Hoskins batted .212 in 14 games. The fifth-rounder then batted .212 in 28 July games. August has been a very different story, with the Cal State Sacramento product hitting .433 this month and going 10-for-21 last week. The surge included a 4-for-4 outing Friday night in which Hoskins fell a triple shy of the cycle. Hoskins leads Williamsport with 34 RBIs and ranks second with seven home runs.
Northwest League
Christian Arroyo, Salem-Keizer
(.444/.444/.778, 4 G, 8-for-18, 3 2B, 1 HR, 8 RBI, 5 R, 0 BB, 3 K, 1 SB, 1 CS)
Like Meadows a first-round pick in 2013, Arroyo began the season with Class A Augusta but struggled out of the gate, hitting just .203/.226/.271 in 31 games before his reassignment to extended spring training. The shortstop, now 19, has recovered his stroke in Salem-Keizer after a slow start and ranks in the league's top 10 in batting and RBIs. Eight of the latter came in his four games last week, along with nine hits. With help from Arroyo, the Volcanoes are 4-0 since Tuesday's All-Star Game.
Appalachian League
Jean Rodriguez, Kingsport
(.556/.556/1.000, 4 G, 10-for-18, 1 3B, 2 HR, 5 RBI, 5 R, 0 BB, 1 K)
Rodriguez began the week mired in a 2-for-19 slump stretching back over his previous six games. A day off Monday seemed to help the 21-year-old third baseman flip a switch; on Tuesday he began smacking hit after hit, with 10 coming in four games. He closed out the week with his second and third homers of the season, one each vs. Bristol on Saturday and at Johnson City on Sunday. A switch-hitter, Rodriguez has not fared well against lefties (.158) but has been teeing off against right-handed pitching with a .340 average and .509 slugging percentage.
Pioneer League
Stewart Ijames, Missoula
(.348/.515/.826, 7 G, 8-for-23, 2 2B, 3 HR, 9 RBI, 9 R, 8 BB, 8 K)
Ijames was drafted out of high school in the 46th round of the 2007 Draft and out of the University of Louisville in the 29th round of the 2010 Draft but never played affiliated baseball. He spent the 2013 season and the first part of this year playing independent ball before signing with the D-backs on July 18. An outfielder who will turn 26 in 10 days, Ijames is making the most of his belated opportunity by blasting six homers and driving in 18 runs in his first 12 games with the Osprey.

Missoula's Ijames hits three-run blast
John Parker is an editor for MiLB.com. This story was not subject to the approval of the National Association of Professional Baseball Leagues or its clubs.
View More