Pacific Coast League playoff preview
MVP Walker leads Reno; Sky Sox seek first title since 1995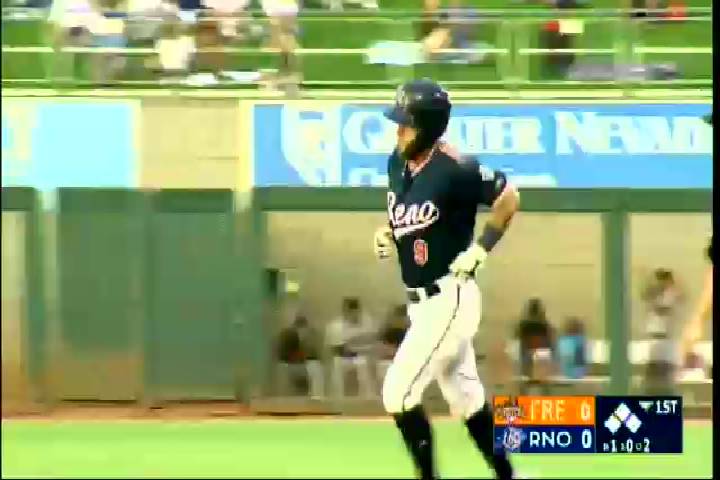 By Chris Jackson / Special to MiLB.com | September 6, 2017 1:30 PM
The Pacific Coast League was barreling toward the playoffs with what looked like four new participants -- then the El Paso Chihuahuas happened again.
The defending-champion Chihuahuas rallied to overtake the Salt Lake Bees on the last weekend of the regular season, clinching their third straight Pacific Southern Division title with a victory Saturday night.
For the third time in three years, El Paso will face a different Pacific Northern Division champion, this season drawing the Reno Aces. The other semifinal features the Colorado Springs Sky Sox, who clinched their first playoff berth in 20 years by dominating the American Northern Division.
Opposing the Sky Sox will be the Memphis Redbirds, who won the American Southern by 20-plus games and became the first PCL team to reach 90 wins since 2006.
Memphis Redbirds (91-50, American Southern Division champion) vs.
Colorado Springs Sky Sox (80-57, American Northern Division champion)

Season series tied, 8-8
Game 1 at Memphis, Sept. 6 at 8:05 p.m. ET

Game 2 at Memphis, Sept. 7 at 8:05 p.m. ET

Game 3 at Colorado Springs, Sept. 8 at 8 p.m. ET

Game 4 at Colorado Springs, Sept. 9 at 6 p.m. ET (if necessary)

Game 5 at Colorado Springs, Sept. 10 at 3:30 p.m. ET (if necessary)
A funny thing happened on the way to the Sky Sox and Redbirds going head-to-head: They also finished the regular season going head-to-head, splitting four games in Colorado Springs.
Memphis manager Stubby Clapp summed up their postseason matchup with one word: "Tight."
"They've got a good team," Clapp said. "They've got good pitching we didn't see. Their hitters and position players are very good athletes.They play good baseball. They're a veteran type of team."
Of course, Clapp's squad can be described with those same attributes. Even with the usual slew of players moving back and forth between Triple-A and the Majors, the Redbirds racked up 91 victories.
"My hats off to [my] staff and the players," Clapp said. "They came every day to work, ready to get better, ready to help the guys get better. I think that was the beginning of the recipe. The guys continued to just stay active, they never quit."
---
Complete postseason coverage >>
---
Memphis was strengthened by the constant influx of additional prospects moving up from Double-A to replace those recalled to St. Louis. Three of those in-season additions -- right-handers Dakota Hudson (1-1, 4.42 ERA), Kevin Herget (4-2, 4.62) and Ryan Helsley (3.60 in one start) -- will start the first three games of the series, Clapp said.
"Obviously it's nice when you have the players to be able to do that," he said. "Just to be able to incorporate them into the atmosphere we've created, it made things run smooth. They knew what was expected of them."
The big bats for Memphis are third baseman Patrick Wisdom (.243/.310/.507, 31 HR, 89 RBI) and outfielder Tyler O'Neill (.246/.321/.499, 31 HR, 95 RBI).
Video: Memphis' Wisdom drives out a two-run homer
Colorado Springs has not announced a rotation, but right-handers Taylor Jungmann (9-2, 2.59), Bubba Derby (5-0, 3.55) and Angel Ventura (6-4, 4.06) are strong candidates to start.
The Sky Sox have lost most of their power hitters to Milwaukee, leaving a more contact-oriented attack led by infielders Ivan De Jesus Jr. (.345/.407/.488, 7 HR, 65 RBI) and Nate Orf (.320/.397/.507, 9 HR, 65 RBI).
El Paso Chihuahuas (73-69, Pacific Southern Division champion) vs.
Reno Aces (80-62, Pacific Northern Division champion)
El Paso won the season series, 8-7
Game 1 at Reno, Sept. 6 at 10:05 p.m. ET

Game 2 at Reno, Sept. 7 at 10:05 p.m. ET

Game 3 at El Paso, Sept. 8 at 9:05 p.m. ET

Game 4 at El Paso, Sept. 9 at 9:05 p.m. ET (if necessary)

Game 5 at El Paso, Sept. 10 at 8:05 p.m. ET (if necessary)
Reno first baseman Christian Walker, recently named the PCL's MVP, will be among the Aces looking to take down the defending-champion Chihuahuas.
Just don't expect Walker and his teammates to be overly serious when the series begins.
"It's going to be a lot of fun," Walker said. "That's how we're approaching it. Playoff baseball is exiting at any level. Stat lines are restarted, reset. When you play games like that, you just have to remember, it's a lot of fun."
Walker (.309/.382/.597, 32 HR, 114 RBI) had plenty of fun punishing PCL pitching all season. It came after a whirlwind offseason in which he was claimed off waivers four times before finally clearing waivers with the Arizona Diamondbacks.
With Reno, Walker found plenty of offensive support in the Aces' lineup. Even with outfielder Oswaldo Arcia (.326/.410/.639, 24 HR, 87 RBI) on the disabled list, there is still plenty of offense left. Outfielder Zach Borenstein (.279/.351/.573, 24 HR, 91 RBI) adds the power, while second baseman Ildemaro Vargas (.312/.355/.462, 10 HR, 65 RBI) sets the table.
"This lineup from head to toe, sometimes it seems like no matter what order we're in or who's hitting, there's always games where we're scoring lots of runs," Walker said. "There's never a moment or sense of panic. Everyone knows we're going to put ourselves in position to win. It's just trusting each other, trusting ourselves."
El Paso is not exactly lacking when it comes to its own big bats. Outfielder Nick Buss (.348/.395/.541, 11 HR, 55 RBI) was the regular-season batting champion. Fellow outfielders Franchy Cordero (.326/.369/.603, 17 HR, 64 RBI) and Rafael Ortega (.317/.383/.468, 6 HR, 53 RBI, 26 stolen bases) have also been tearing it up, along with third baseman Christian Villanueva (.296/.369/.528, 20 HR, 86 RBI).
Pitching figures to decide the final outcome. Reno will be led by lefties Anthony Banda (8-7, 5.39) and Eric Jokisch (8-8, 4.21), while El Paso's top starters are right-handers Chris Huffman (3-1, 3.31) and Matt Magill (6-5, 3.95).
In brief
Long time coming: The Sky Sox are making their first playoff appearance since 1997, and they have not won a PCL championship since 1995. That stands in sharp contrast to the Chihuahuas (2016), Aces (2012) and Redbirds (2009), all of whom have won a title in the last 10 years.
All-Stars on parade: In addition to PCL MVP Walker, two other members of the end-of-season PCL All-Star squad made the playoffs, though teammate Arcia does not seem likely to play due to injury. That just leaves Memphis' Wisdom, along with Clapp, who was named Manager of the Year. Five other members of the team were promoted to the Majors, including Las Vegas' Amed Rosario (Rookie of the Year) and Oklahoma City's Wilmer Font (Pitcher of the Year).
Missing in action: Only one team has lost a key player since initial Sept. 1 callups were announced. The D-backs recalled Reno closer Jimmie Sherfy, who had 20 saves in 23 chances with the Aces this season. Of course, others can still be recalled as needed, and with the D-backs, Brewers and Cardinals all in playoff contention, their needs would come before any of their affiliates.
Chris Jackson is a contributor to MiLB.com. This story was not subject to the approval of the National Association of Professional Baseball Leagues or its clubs.
View More