PCL notes: Dickerson battling back
Padres prospect lucky to be playing after discovery of cyst on heel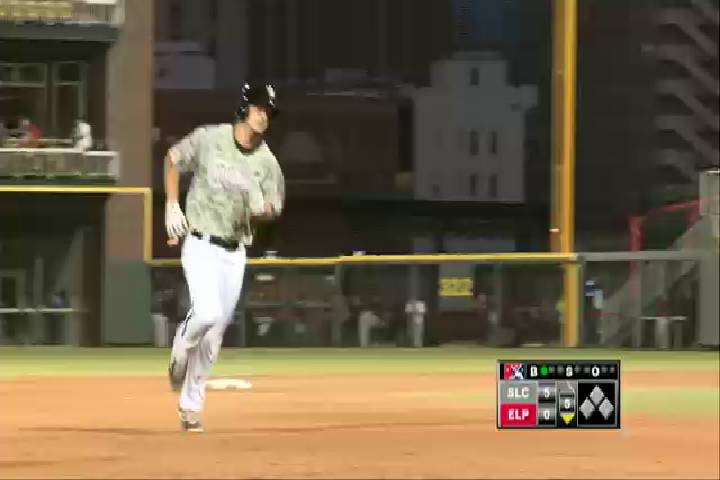 By Chris Jackson / Special to MiLB.com | June 22, 2015 10:56 AM
A routine injury saved Alex Dickerson's baseball career.
The Padres' No. 13 prospect sprained his left ankle during a Spring Training game last year. He went to see the team trainer to get it checked out when something far more alarming was discovered.
"It's just a freak incident -- nobody saw it coming," Dickerson said of the cyst that was discovered on the bone of his left heel. "It's a blessing they found it. The timing of it wasn't the greatest, considering there were only a couple weeks left in the spring and I was playing really well. But it is what it is.
"I had to battle through last year, kind of see what it was like to miss [most of] a season, watch everybody else get to play. It was kind of a mental grind more than physical."
Dickerson certainly was lucky to have it found when he did, as it could have affected far more than his playing career.
"It could have been a quality of life issue, it could have possibly shattered [the bone]," he said. "The doctors wouldn't have been sure they could have fixed it."
Because there was no pain or any apparent effect from the cyst, Dickerson said he was not convinced the surgery had to happen when it did.
"There's a part of me that still thinks I could have finished the season," he said. "That thing had been there for a while, but the physics of it did not look good on the X-ray. My first instinct was that I'm going to play, but cooler heads prevailed and I had the surgery."
It all happened a few months after Dickerson was traded by the Pirates, who drafted him in the third round in 2011 out of Indiana University, to his hometown Padres.
"It's not something you expect to happen," Dickerson said with a smile. "I was definitely really excited. I got to start having all my workouts at Petco Park during the offseason. It was an awesome moment for me. It's really one of those things you dream of, getting to play for your hometown team. Now I'm just working on trying to get there."
Dickerson was able to come back late last season and hit an impressive .321/.367/.496 with three homers and 24 RBIs in 34 games at Double-A San Antonio. He carried that hot hitting into this year with El Paso, batting .315/.386/.500 with five homers and 37 RBIs through 63 games.
"It's been solid, [but] I'm still constantly working on stuff," Dickerson said. "I'm just trying to get back to the feel of being me, getting in the box and feeling like I'm in control. It's had its ups and downs as far as feeling. I've been able to battle through times where I don't feel good. That's just part of the game; that's just part of competing."
In brief
Rainier in a rut: Not every prospect can bounce back well from an injury-shortened season, as Tacoma right-hander Stephen Landazuri can attest. The Mariners' No. 19 prospect is 0-3 with an 8.42 ERA in seven starts after missing a chunk of last season with a strained left oblique.
Chaser down: Omaha lost one of its unheralded stars when outfielder Reymond Fuentes was placed on the disabled list this week. The Royals' 20th-ranked prospect was hitting .311/.370/.437 with four homers and 23 RBIs.
Changing roles: Round Rock right-hander Luke Jackson has made a positive shift to the bullpen. After posting a 5.64 ERA in five starts, the Rangers' No. 8 prospect has a 2.70 ERA in 14 relief appearances, striking out 22 over 16 2 /3 innings.
Chris Jackson is a contributor to MiLB.com. This story was not subject to the approval of the National Association of Professional Baseball Leagues or its clubs.
View More