PCL notes: Kivlehan drawing on gridiron past
Increasingly versatile M's prospect played on special teams at Rutgers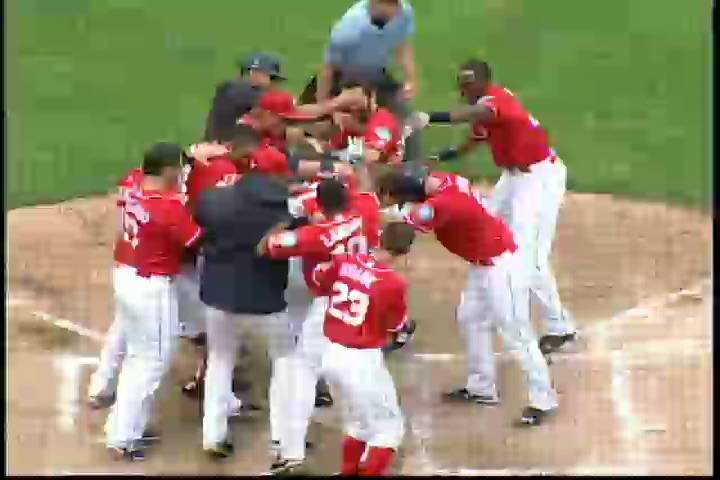 By Chris Jackson / Special to MiLB.com | June 29, 2015 10:00 AM
Patrick Kivlehan entered the season stuck between a proverbial rock and a hard place.
The Mariners' No. 4 prospect was a third baseman by trade but had Kyle Seager ahead of him. Thoughts of moving him to first base were complicated by the fact that No. 2 prospect D.J. Peterson was just a level behind.
Seattle's final decision was to turn Kivlehan into the ultimate super sub, moving him between the infield corners and all three outfield positions at Tacoma.
"It's kind of different, something I've adjusted to now," Kivlehan said. "I started at third when I first came up and then moved to first, now the outfield. Wherever I am that day, that's where I've got to play. I've adjusted to it pretty well."
If nothing else, the move has turned every game into a new adventure for the 2012 fourth-round Draft pick. It's also left with him a full equipment bag.
"I carry three [gloves], but I have six on me -- I have an outfield, third base and first base glove, plus I carry a backup glove for each," Kivlehan said.
The defensive adjustments have been constant for Kivlehan, but he said he's been able to handle them so far.
"Just not having the reps at one position [is tough]," he said. "There might be a certain play you struggle with where if you had had more practice reps you would have gotten it down. Just stuff like that. You might not be as tuned in as you'd like to be."
A former college football player at Rutgers, Kivlehan has been able to take some lessons from that sport and apply them to his ever-changing role.
"Coming from my football background, I was more of a special teams guy," he said. "So I was kind of one of those guys who tried to do anything possible to get on the field. I think it kind of helps me now -- I don't know what position I'm playing on a daily basis, so that mind-set helps me deal with it."
As for his bat, Kivlehan has hit for power but without the consistency he'd like. Through Sunday, he was batting .237/.290/.441 with 14 homers and 42 RBIs.
"I'm just staying the course, just trying to see the ball, simplify things," Kivlehan said. "I don't want to think as much up there. When you start thinking up there, things get a little tough. You start overthinking instead of just going up and trying to put the barrel on the ball."
Rainiers manager Pat Listach has been impressed by Kivlehan's approach to being a super sub.
"I think the most important thing for him at this level is to get at-bats, so we're trying to find at-bats for him at multiple positions," Listach said. "He's very versatile. The more positions you can play, the more chances a big league team can give you."
In brief
Faltering 51: With LHP Steven Matz making his big league debut, the top Mets pitching prospect still at Las Vegas is 14th-ranked Matt Bowman. The right-hander has struggled this season to the tune of a 5-8 record and 5.73 ERA in 14 starts.
Living on the Blach: Sacramento lefty Ty Blach has been especially stingy when it comes to walks. The Giants' No. 7 prospect has allowed nine free passes over 87 2/3 innings while going 5-7 with a 4.00 ERA.
Nolin is Rollin': Nashville LHP Sean Nolin has bounced back from an early-season injury and is 1-1 with a 2.89 ERA in nine games, including seven starts. The No. 6 A's prospect has pitched only 28 innings as the Sounds remain cautious.
Chris Jackson is a contributor to MiLB.com. This story was not subject to the approval of the National Association of Professional Baseball Leagues or its clubs.
View More