Peavey pitches Lookouts to Game 3 win
Chattanooga moves within one victory of Southern League Finals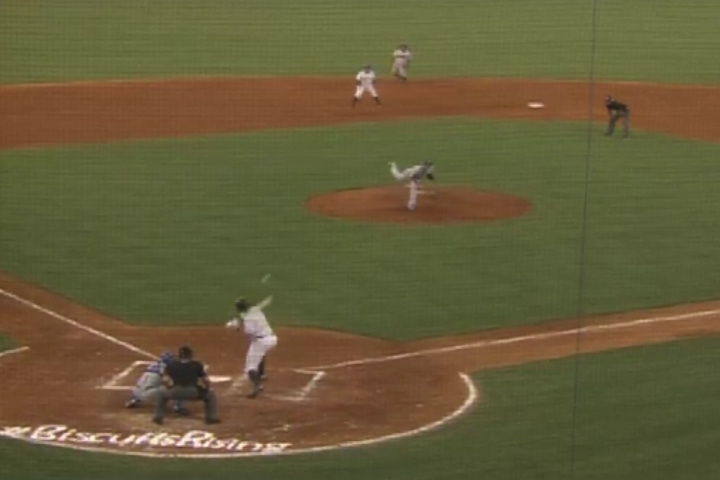 By Andrew Kahn / MiLB.com | September 14, 2015 12:06 AM
Greg Peavey didn't have a good feel for any of his pitches on Sunday night. But he battled through six innings to get Chattanooga within one win of the Southern League Championship Series.
Peavey scattered five hits and three walks while striking out five as the Lookouts beat Montgomery, 7-3, to grab a 2-1 lead in the best-of-5 Southern Division finals.
"It was one of those days where everything was just OK, not great, and I had to compete and be down in the strike zone," he said. "Hitters at this level will make you pay if you keep it up."
The 27-year-old right-hander's only clean inning was the first, but he held the Biscuits in check and exited with a 4-0 lead after throwing 108 pitches.
"Every single inning was a battle," Peavey said. "But that's what you expect in the playoffs."
Shannon Wilkerson was in the middle of the Lookouts offense all night. He led off the third with a single off starter Austin Pruitt and scored on second baseman Juniel Querecuto's error. The 27-year-old center fielder reached on catcher's interference in the seventh and crossed the plate again on a sacrifice fly by Twins No. 4 prospect Jorge Polanco. An inning later, he hit a back-breaking two-run single to make it 7-3.
"He's a spark plug. He's a great player all-around," Peavey said of Wilkerson. "I've been playing against him for years. It's nice to have him on my team this time. He had a great game in the outfield as well as with the bat."
Montgomery's three errors were critical. In addition to the interference call and Querecuto's miscue, third baseman Patrick Leonard's errant threw preceded Wilkerson's big hit.
The Biscuits battled in the seventh. Reliever Alex Wimmers issued consecutive walks and Cameron Seitzer slugged a three-run homer. Montgomery loaded the bases with one out, but Jake Reed came on and recorded two strikeouts to escape the jam.
"You just know neither team is going to give up," Peavey said. "It's win-or-go-home this time of year. We got out of [the seventh] with the lead and knew we had to add on, and our hitters picked us up."
Adam Brett Walker II, the Twins 10th-ranked prospect, started the scoring with a two-run homer in the second.
Game 4 is Monday at Montgomery. The series winner will face Biloxi for the championship.
"This is a super talented team," Peavey said. "We come to the yard every day knowing that, talent-wise, we can win. We're feeling pretty good right now."
Andrew Kahn is a contributor to MiLB.com. Follow him on Twitter @AndrewKahn. This story was not subject to the approval of the National Association of Professional Baseball Leagues or its clubs.
View More