Pioneer notes: O'Hearn feasting on fastballs
Idaho Falls first baseman opens first professional season on a tear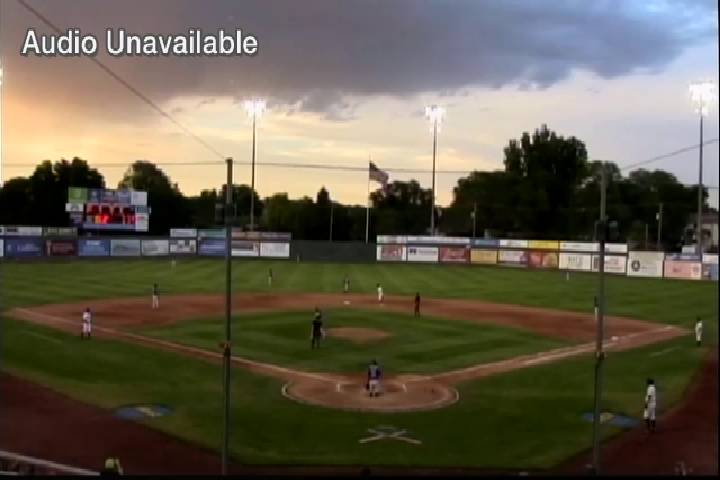 By Greg Rachac / Special to MLB.com | July 10, 2014 10:00 AM
Ryan O'Hearn hammered left-handers to the tune of a .428 average through the first 14 games of this, his inaugural professional season. It's a reversal of fortune for the lefty-hitting Idaho Falls first baseman, who'd been snake-bitten by southpaws in college.
"I'm just trying to stay away from the loopy breaking ball and know that I'm going to get a fastball," said O'Hearn, a tinge of his native Texas drawl laced in his voice. "Left-handers have given me a little bit of trouble in the past, but I've maybe figured out that having quieter feet, faster hands and using the whole field works."
Quieter feet? It's a term you don't hear too often in baseball parlance. What does that mean?
"I guess you could say it's being more relaxed at the plate with my lower-half," O'Hearn said. "Not trying to pull everything but just staying opposite-field. If a ball's inside, I'll react to it, but really it's just thinking about hitting with a left-center approach."
It has served O'Hearn well. In three collegiate seasons at Sam Houston State, O'Hearn hit better than .300 only once, and that was in his freshman year when he finished at .304. O'Hearn hit .292 his junior season this past spring.
But entering Tuesday, he was dominating professional pitching at a Pioneer League-leading .448 mark. He was named the league's Player of the Week on Monday.
Even after going 1-for-6 on Tuesday against Billings -- which included a pair of strikeouts against Mustangs lefty Ty Sterner -- O'Hearn was still hitting .422 overall, good for second place among the league leaders. His renaissance has been about staying inside the ball, keeping things simple in the box and, as is the case with most young hitters, hitting fastballs when they come.
"I think it's really just focusing on discipline and getting five at-bats every day," O'Hearn said. "In college you play a lot of games, but you play on Tuesday and then on Friday, Saturday and Sunday. So you have days to think about it. But here, if you go 0-for-5 or 1-for-6 or whatever, you have the next day to get back in there.
"At the same time, I've really just been hunting the fastball. That's it. I haven't been looking for anything else until I get to two strikes, and that has really been working for me. I really like hitting with the wood bat. And on top of that, it's having confidence. Being confident every night and knowing what I can do."
The Kansas City Royals had confidence in the 6-foot-3, 200-pound O'Hearn when they picked him in the eighth round (243rd overall) of the Draft in June. And he's meeting their expectations. O'Hearn has also had the fortune of playing with a college teammate in Idaho Falls, shortstop Corey Toups, who was picked in the 15th round by the Royals.
"It's a class organization," O'Hearn said. "Every guy I've met here has been awesome. They're really accommodating and just really focused on getting us Minor League guys better and onto the next level."
In brief
Two good: Great Falls' Chris Freudenberg and Dane Stone are the league's top starting pitching duo. Entering Wednesday, the sinkerballing Freudenberg was 2-2 through five starts with a 1.35 ERA, and Stone was 1-0 in four starts with a 1.93 ERA. They combined for 45 strikeouts and just 11 walks and had a WHIP of 1.20.
Make Way: Orem's Trevor Gretzky, son of NHL legend and Hall of Famer Wayne Gretzky, was promoted back to Class A Burlington of the Midwest League last week. Gretzky, a left fielder, was one of the league's top hitters, but fellow outfield prospect Bo Way has kept slugging and earned a spot in the lineup. Way entered Wednesday hitting .342 with 20 RBIs and was riding an eight-game hitting streak.
All in: Nine Pioneer League alums have been picked for the Major League All-Star Game. From the AL: Royals C Salvador Perez (Idaho Falls, 2008-09), Blue Jays 1B Edwin Encarnacion (Billings, 2001), Indians OF Michael Brantley (Helena, 2005) and Royals RHP Greg Holland (Idaho Falls, 2007). From the NL: D-Backs 1B Paul Goldschmidt (Missoula, 2007), Brewers C Jonathan Lucroy (Helena, 2007), Reds 3B Todd Frazier (Billings, 2007), Dodgers 2B Dee Gordon (Ogden, 2008) and Brewers RHP Francisco Rodriguez (Butte, 1999). A 10th, Angels RHP Garrett Richards (Orem, 2009), is a final-vote candidate in the American League.
Greg Rachac is a contributor to MiLB.com. This story was not subject to the approval of the National Association of Professional Baseball Leagues or its clubs.
View More