Pirates option Polanco to Indianapolis
Orioles assign Bundy to Double-A Bowie to continue rehab program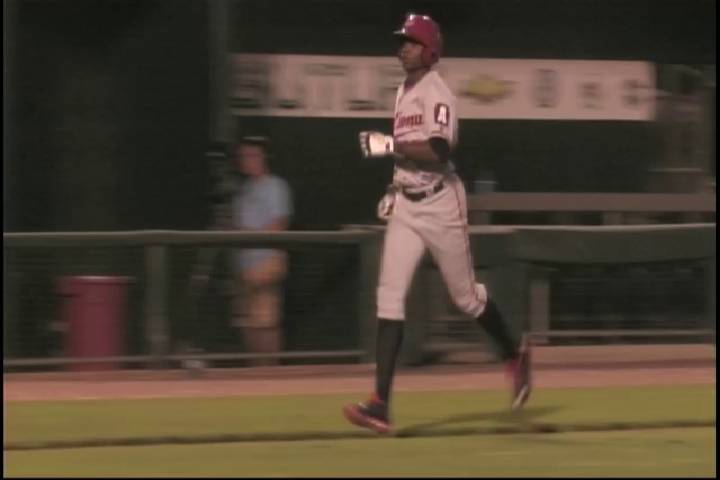 By Josh Jackson / MiLB.com | March 14, 2014 8:22 PM ET
Highly touted prospect Gregory Polanco may join reigning National League MVP Andrew McCutchen in the Pirates' outfield this year, but it won't be on Opening Day.
Pittsburgh optioned Polanco, MLB.com's No. 13 overall prospect, to Triple-A Indianapolis on Friday. Team officials expect the 22-year-old to see more off-speed pitches in the International League, which they believe will enable him to more quickly to adjust to the big leagues when he arrives.
"He hit a couple of Major League pitchers' off-speed pitches in fastball counts and did some damage on them. But we also saw him swing through some pitches by trying to do too much," Pirates GM Neal Huntington told MLB.com.
"He has to keep the swing short and recognize how to handle off-speed pitches in fastball counts, because he's going to get that from Day 1 in the big leagues. So he'll have the opportunity to see that from better competition [in Triple-A] before we ask him to do it at the Major League level."
Polanco admitted to being thrown off-balance by some of the Major League pitchers he faced this spring.
"They pitch backwards," he said. "On 3-1 and 2-1 counts, they throw off-speed, a curve or a change. They don't throw fastballs, like in the Minor Leagues. They have more command and they throw out and in."
Nonetheless, Polanco batted .273 with two doubles, a homer and two RBIs in 10 Grapefruit League games.
"We couldn't be happier with the development," Pirates manager Clint Hurdle said. "We want him to go down and face the challenge. Every time he steps into the box, there's going to be a pitcher thinking, 'That's a springboard to the big leagues,' whether it's an older or young pitcher. We want him, when he gets back, for it to be for good."
Polanco was not the only top prospect to be dropped from a big league camp on Friday. Dylan Bundy, the Orioles right-hander who rocketed from Class A to the big leagues in 2012 in his first pro season before undergoing Tommy John surgery last June, was sent to Double-A Bowie.
The assignment, which allows the 21-year-old to begin the season on the Minor League disabled list, came as Bundy prepares to ramp up his rehab.
"It's a paperwork move," Orioles manager Buck Showalter told MLB.com. "It's the same thing, whether he's really here or there as far as what we get done with him. [Medical services coordinator] Dave Walker's been with him the whole offseason. He has a throw day on [Wednesday]. I'd be surprised if he didn't do it at [the Major League facility]."
Bundy is MLB.com's 20th-ranked prospect.
The Chicago Cubs continued to whittle their Major League roster by sending five players to Minor League camp, including Kris Bryant, MLB.com's No. 9 prospect, who was cut on Wednesday.
Josh Jackson is a contributor to MiLB.com. This story was not subject to the approval of the National Association of Professional Baseball Leagues or its clubs.
View More