Pirates' Polanco promoted to Majors
Top Bucs prospect expected to join Pittsburgh on Tuesday morning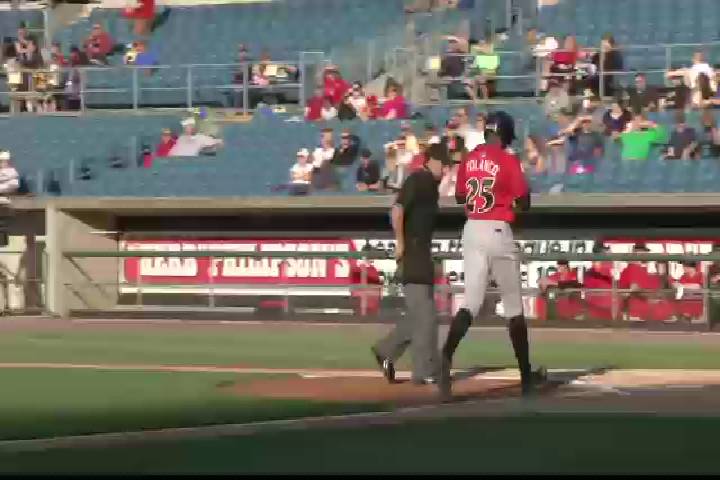 By Ashley Marshall / MiLB.com | June 10, 2014 12:45 AM
Four simple words tweeted by Gregory Polanco had the baseball world buzzing Monday night: "The wait is over."
The top Pirates prospect is expected to join Pittsburgh from Triple-A Indianapolis on Tuesday after the team placed second baseman Neil Walker on the 15-day disabled list Monday following his appendectomy.
The Pirates were not expected to officially announce the move until Tuesday -- they said they "intend to" call up Polanco -- but the right fielder took to Twitter late Monday evening to share his news with friends and fans.
The wait is over.... My dream has officially come true ⚾? Pittsburgh, see you mañana!!

- Gregory Polanco ☕? (@El_Coffee) June 10, 2014
Indianapolis manager Dean Treanor let the cat out of the bag in front of the Indians' coaching staff and Polanco's teammates following the win over the IronPigs.
"Usually I'd call a player in [to the office], but with this kid, I thought that the whole team would want to be a part of it," said Treanor. "Everybody started cheering and that just shows how well liked he is with his teammates and how much they care about him.
"I got the phone call after the game, so I hurried to the clubhouse. I had been thinking about how I was going to do it and I just felt like the team would want to hear it at the same time. I don't think he knew what to say. He was choked up and everybody was hugging him."
Polanco, kept out of the Indians' 3-1 win in Lehigh Valley on Monday, is batting .347 in 62 International League games. The 6-foot-4 left-hander has seven homers, 49 RBIs and 47 runs scored for the Indians. He's collected 17 doubles, five triples and 15 stolen bases in 20 attempts.
"Our manager does a real nice job of telling guys when they're getting called up, but tonight he did it in front of everyone, which was unusual," said Indianapolis hitting coach Mike Pagliarulo. "Dean was going around talking about the game and he pointed to Polanco and said, 'Oh, and you're going to Pittsburgh.' Some of his teammates were cheering harder than he was. Some guys were jumping up and down and others were hugging him.
"I was so happy for him, because when you tell them they're going to the Major Leagues for the first time, it's a special moment. His grin was ear-to-ear."
"He's going to the right city that will support him," Pagliarulo said. "He's not flashy, he's a blue-collar guy and he's all in. He's the kind of player you like to cheer for. He's a classy kid and a gentleman, the kind you want to root for, and you could see that in his teammates.
"He will have good guys around him. Russell Martin, Josh Harrison, Andrew McCutchen, [Starling] Marte, the guys you want around your kid. They will help him in many, many ways. In '91 when I won the World Series [with Minnesota], I didn't know how to act. But I watched my teammates and spoke with other players that had been to the World Series before and that showed me how to behave."
Ranked 12th among MLB.com's Top 100 prospects, the 22-year-old leads the circuit in a number of offensive categories, including runs, RBIs, triples, hits (86), extra-base hits (29) and total bases (134).
"I would say he's both physically and mentally ready for the challenge," Treanor said. "He wants this challenge. I think it meant a lot for his teammates to be there with him tonight. The initial reaction from him and the team is what it's all about. It's like the MasterCard commercial, it's priceless."
A native of the Dominican Republic, Polanco was signed by the Pirates as a non-drafted free agent in 2009. In six Minor League seasons, he is a career .287 hitter with 41 homers and 287 RBIs in 472 contests.
Ashley Marshall is a contributor to MiLB.com. Follow him on Twitter @AshMarshallMLB. This story was not subject to the approval of the National Association of Professional Baseball Leagues or its clubs.
View More