Pitchers of the Week
For the week ending April 13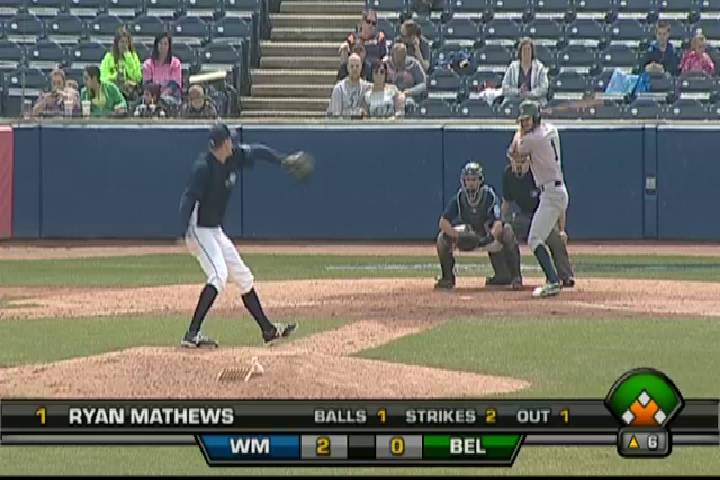 By John Parker / MiLB.com | April 14, 2014 4:30 PM ET
Here's a look at the top pitching performers in each league for the week ending April 13:
International League (for April 7-13)
Scott Carroll, Charlotte
(2-0, 0.00 ERA, 2 G, 2 GS, 13 IP, 7 H, 2 R, 0 ER, 0 HR, 0 HBP, 3 BB, 5 K)
In his last two seasons, Carroll has four wins in 46 appearances (20 of them starts). He's well on his way to eclipsing that mark in the first two weeks of 2014 after winning all three of his starts for the Knights and allowing just two unearned runs over 19 frames. The 29-year-old right-hander has a perilously low strikeout rate but is holding IL hitters to a .197 average and getting a ton of ground-ball outs.
Pacific Coast League
Tsuyoshi Wada, Iowa
(2-0, 0.68 ERA, 2 G, 2 GS, 13 1/3 IP, 7 H, 1 R, 1 ER, 1 HR, 1 BB, 18 K)
The 33-year-old Wada was Rookie of the Year in the Japanese Pacific League in 2003 and is on pace to earn trophies in the Pacific Coast League 11 years later. After parts of two seasons -- marred by the necessity for Tommy John surgery in May 2012 -- with Norfolk in the Orioles system, Wada has been lights-out in his first two outings in the Cubs organization, fanning 18 and walking just one in his first two starts. The left-hander has a reputation for being prone to the long ball, but he's allowed just one -- and only seven hits -- so far while notching two victories.
Eastern League
Henry Owens, Portland
(2-0, 0.00 ERA, 2 G, 2 GS, 1 CG, 1 SHO, 12 2/3 IP, 6 H, 0 R, 0 ER, 0 HR, 0 HBP, 2 BB, 18 K)
Last season Owens led all qualifying Minor Leaguers by holding opponents to a .177 batting average. After opening the season with a rain-shortened no-hitter on April 3 and tossing 6 2/3 scoreless frames last Wednesday, the lanky left-hander has limited Eastern League hitters to a .140 average while fanning 18 in 12 2/3 innings. We knew Owens would be good -- he's the Red Sox's top pitching prospect -- but we didn't know he'd be this utterly dominant.

Portland's Owens fans his ninth batter
Southern League
Chase Anderson, Mobile
(2-0, 0.00 ERA, 2 G, 2 GS, 12 IP, 5 H, 0 R, 0 ER, 0 HR, 1 HBP, 2 BB, 12 K)
Anderson posted a 2.86 ERA for Mobile in 2012, but struggled to a 5.73 mark with Triple-A Reno last season. Back in the Southern League, the 26-year-old right-hander has resumed his dominance, allowing just five hits and two walks over 12 scoreless innings. Though Anderson hasn't racked up the strikeouts that Portland's Owens has, he's been even better at stifling opposing hitters: they've managed just a .125 average in the Oklahoma University product's first two outings.
Texas League
Raul Alcantara, Midland
(2-0, 1.23 ERA, 14 2/3 IP, 11 H, 2 R, 2 ER, 0 HR, 2 HBP, 2 BB, 8 K)
The top-ranked pitcher in the A's organization, Alcantara went 12-6 with a 3.11 ERA last season in 27 starts split between Class A Beloit and Class A Advanced Stockton. The step up to Double-A hasn't slowed him down at all -- he went eight innings against Northwest Arkansas in his first Texas League outing and 6 2/3 frames at Arkansas on Saturday, allowing one run in each appearance. The right-hander hasn't been overwhelming, fanning only eight, but he's held opponents to a .229 average.
California League
Vincent Velasquez, Lancaster
(2-0, 0.69 ERA, 3 G, 2 GS, 13 IP, 3 H, 1 R, 1 ER, 0 HR, 1 HBP, 3 BB, 16 K)
Velasquez appeared in three games for the JetHawks late last season, going 0-2 with a 6.14 ERA. Eight months later, the California native seems to have solved the offense-friendly circuit -- he's allowed just three hits while fanning 16 in his first three outings. In his last two starts, the 21-year-old right-hander has given up one hit over a combined nine innings. With Velasquez, Houston's No. 9 prospect, surging, the Astros organization may be even more stacked than we knew.
Carolina League
Christian Binford, Wilmington
(1-0, 0.00 ERA, 2 G, 2 GS, 12 IP, 8 H, 2 R, 0 ER, 1 HR, 0 HBP, 0 BB, 16 K)
As a 30th-round pick, Binford lacks the pedigree of most top prospects -- including teammate Sean Manaea -- but he's more than held his own where it counts. The 21-year-old righty posted a 2.03 ERA in 2012, his first pro season, and a 2.67 mark in the South Atlantic League last year. Binford has been dominant in his first two Class A Advanced outings, fanning 10 over seven scoreless two-hit innings Saturday (the top game score of the season to date) and holding left-handed hitters to two hits in 20 at-bats overall.
Florida State League
Matt Boyd, Dunedin
(2-0, 0.00 ERA, 2 G, 2 GS, 12 IP, 8 H, 0 R, 0 ER, 0 HR, 0 HBP, 1 BB, 9 K)
Boyd appeared in eight games last season after the Blue Jays made him a sixth-round pick in the June 2013 Draft. Though he went 0-3, he held hitters to a .167 mark and struck out nearly a batter per inning. The Oregon State product has been just as sharp in his first two outings of 2014, allowing no runs and one walk while earning a pair of victories in 12 innings. With help from the southpaw Boyd, Dunedin owns the top record in the FSL at 8-2.
Midwest League
Austin Kubitza, West Michigan
(2-0, 0.84 ERA, 2 G, 2 GS, 10 2/3 IP, 6 H, 1 R, 1 ER, 0 HR, 0 HBP, 2 BB, 16 K)
Kubitza worked primarily as a reliever last summer -- with mixed results -- after the Tigers took him in the fourth round of the Draft. The move to a starting role in 2014 seems to be sitting well with the Rice product, who notched his first two pro victories last week. Relying on strikeouts and a heavy dose of ground-ball outs, the 22-year-old Kubitza has held Midwest League batters to a .158 average.

West Michigan's Kubitza fans eight
South Atlantic League
Akeel Morris, Savannah
(1-0, 0.00 ERA, 3 G, 6 2/3 IP, 1 H, 0 R, 0 ER, 0 HR, 0 HBP, 3 BB, 14 K)
Relievers don't often earn Pitcher of the Week honors, but relievers don't often strike out nine batters over three innings as Morris did Wednesday. The 21-year-old native of St. Thomas in the U.S. Virgin Islands also joined the ranks of those with four strikeouts in a single inning, as Augusta's Christian Paulino fanned on a wild pitch to reach first in the eighth inning. Altogether in his three outings for the Sand Gnats, Morris has yielded one hit and three walks while striking out 14 over 6 2/3 frames.
John Parker is an editor for MiLB.com. This story was not subject to the approval of the National Association of Professional Baseball Leagues or its clubs.
View More