Pitchers of the Week
For the week ending June 22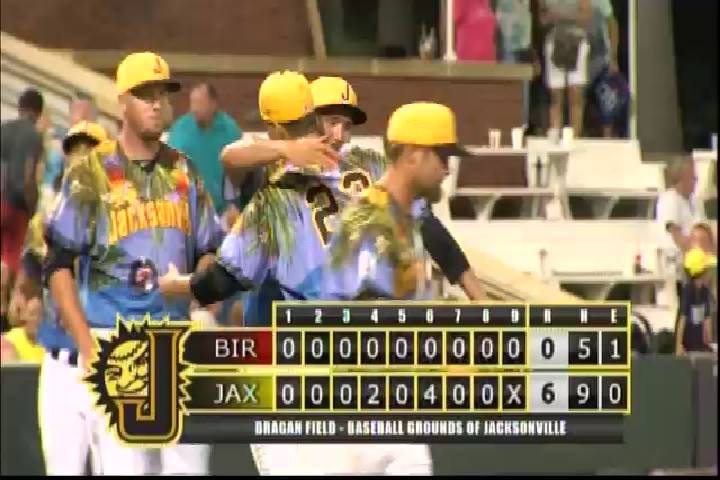 By Sam Dykstra / MiLB.com | June 23, 2014 4:50 PM ET
Here's a look at the top pitching performers in each league for the week ending June 22 (games from June 13-22 considered for New York-Penn and Northwest League winners):
International League
Eric Surkamp, Charlotte
(1-0, 0.64 ERA, 2 G, 2 GS, 14 IP, 8 H, 1 R, 1 ER, 0 HR, 0 HBP, 2 BB, 15 K)
Claimed off waivers from the Giants in the offseason, Surkamp's first season in the White Sox system has gone better than his numbers would suggest. Despite putting up a 4.54 ERA in 14 appearances (11 starts), the 26-year-old left-hander leads the International League with 84 strikeouts and has averaged only about 2.1 walks per nine innings with Charlotte. He's been hurt by an incredibly high .388 BABIP, and that's a big reason why his 3.44 FIP is rosy in comparison to his ERA. For those reasons, last week's pair of strong seven-inning performances might be a sign of the numbers finally reflecting the performance. This is Surkamp's first Pitcher of the Week honor since July 11, 2011, when he won EL honors as a member of the Richmond Flying Squirrels.
Pacific Coast League
Carlos Frias, Albuquerque
(2-0, 0.69 ERA, 2 G, 2 GS, 13 P, 8 H, 1 R, 1 ER, 0 HR, 0 HBP, 4 BB, 17 K)
The 24-year-old right-hander has never really been a huge strikeout guy -- he fanned only 14 in 32 innings with Double-A Chattanooga prior to an early-season Triple-A promotion -- but that's exactly what he was last week. His 10 punchouts in eight innings against New Orleans on Monday were a career high, and his seven K's five days later in Iowa were his second-most. After starting June with a 7.00 ERA in his first three starts, Frias has bounced back nicely and has this month's figure down to 3.60. He is 5-4 with a 5.10 ERA and 54 strikeouts in 65 1/3 innings since joining the Isotopes on April 30.
Eastern League
Zach Davies, Bowie
(2-0, 0.00 ERA, 2 G, 2 GS, 13 IP, 3 H, 0 R, 0 ER, 0 HR, 1 HBP, 4 BB, 7 K)
The Orioles' No. 12 prospect, entered the week with a 6.26 ERA. Two scoreless starts later -- a six-inning gem Monday and a seven-inning, one-hit showing Sunday -- and the number is back down to 4.24. Davies missed most of May with an arm injury and couldn't find his rhythm upon his return, giving up 13 earned runs over his first three starts back. But Davies believes his last two outings are bigger indicators of what's to come for him in Double-A ball. "There were no mechanical issues or anything like that," Davies told MiLB.com on Sunday. "I think it was just a little combination of making not great pitches and pitch selection. Throwing pitches in certain situations that, they may not be bad pitches, but they may not be the right pitches for that situation. Hitters will sit on it or they'll see it well and put it in the outfield and then get runs across the board."
Southern League
Justin Nicolino, Jacksonville
(1-0, 0.00 ERA, 1 G, 1 GS, 1 CG, 1 SHO, 9 IP, 5 H, 0 R, 0 ER, 0 HR, 0 HBP, 0 BB, 4 K)
What a week for Marlins left-handers: Andrew Heaney was promoted to the Fish earlier in the week and was solid in his Major League debut. Meanwhile, his former teammate back in Jacksonville tossed the fourth complete game of his Minor League career and his first shutout. It was just the latest in a string of strong starts by Nicolino, who has given up three runs or fewer and pitched six innings or more in each of his last six outings. He's posted a 3.04 ERA through 15 starts and stands third in the Southern League with a 1.05 WHIP, thanks to only 10 walks in 91 2/3 innings (1.0 BB/9).

Nicolino finishes off shutout
Texas League
Matt Branham, San Antonio
(1-0, 0.00 ERA, 2 G, 9 IP, 2 H, 0 R, 0 ER, 0 HR, 1 HBP, 1 BB, 10 K)
Put together, Branham's two relief appearances last week make for one heck of a complete game. As it stands, the 6-foot-5 right-hander was as dominant as anyone could be asked to be out of the bullpen for the Missions. In each of his last three appearances, he's been paired with starter Leonel Campos who hasn't pitched more than 3 2/3 innings as he eases into the rotation. That role of longman out of the bullpen could give Branham some value as he tries to make it back to Triple-A El Paso, where he made three appearances back in late April.
California League
Dylan Unsworth, High Desert
(1-0, 0.00 ERA, 1 G, 1 GS, 7 IP, 3 H, 0 R, 0 ER, 0 HR, 0 HBP, 0 BB, 12 K)
The 21-year-old South Africa native has been hit hard at home, posting an 8.91 ERA in seven starts at High Desert's Mavericks Stadium, so it's not difficult to believe he enjoyed a move to Modesto's John Thurman Field on Friday. He got the second half of the Cal League season off to an incredible start, notching a career high with 12 strikeouts. Unsworth believes starting the latter months of the season off on the right foot should continue to produce good results, even if they aren't necessarily as stellar as Friday's. "I can hit my spots when I have my good changeup and throw the ball down when I'm ahead in the count and get some ground balls," he told MiLB.com. "That's when I can be really good. I've just got to believe in that. This league can knock you down and there will be ups and downs. You've just got to keep going at it."
Carolina League
Ryan Merritt, Carolina
(1-0, 1.29 ERA, 1 G, 1 GS, 8 IP, 3 H, 1 R, 1 ER, 0 HR, 0 HBP, 1 BB, 5 K)
You could make the argument that no pitcher in the Carolina League has been steadier than Merritt. Indeed, that's why he was the circuit's starting hurler at the All-Star Game against the California Leaguers on Tuesday. When he returned to the mound for the Mudcats on Sunday, he looked every bit the same form. Following his eight-inning gem, Merritt hasn't allowed more than three runs in any of his 13 outings this season and leads the circuit with a 1.61 ERA, third-best among full-season Minor Leaguers, and a 0.93 WHIP.
Florida State League
Jose Berrios, Fort Myers
(1-0, 0.00 ERA, 1 G, 1 GS, 7 IP, 1 H, 0 R, 0 ER, 0 HR, 0 HBP, 2 BB, 9 K)
Alex Meyer and Trevor May get their fair share of publicity in the Twins system, because they're one step away from the Majors at Triple-A Rochester, but Berrios deserves attention, too, for what he's doing down in the FSL. The right-hander, who just turned 20 last month, put in what may have been his most impressive performance yet Tuesday against Bradenton, and that's saying something considering he's 7-2 with a 2.09 ERA and 90 strikeouts in 77 1/3 innings for Fort Myers. Double-A New Britain shouldn't be too far behind. "I think he's right on track to go there now," Miracle pitching coach Gary Lucas told MiLB.com. "I think he's passed the A-ball test. When Minnesota is ready to move him, he's a legit candidate to move. I don't think you can hold him back forever. I think he's on a roll now, his confidence is sky-high. I don't see any reason that he can't do more than just compete at Double-A. I think he's a guy who is going to be a horse for us in the big leagues."
Midwest League
Jonathan Martinez, Great Lakes
(0-0, 0.00 ERA, 1 G, 1 GS, 6 IP, 3 H, 0 R, 0 ER, 0 HR, 0 HBP, 0 BB, 7 K)
Martinez has been solid, but not quite spectacular, for the Loons this season, but he was certainly the latter Thursday against Dayton. His seven strikeouts were his second-highest total this season, trailing only the 11 K's he put up in his season debut April 9, and it was his seventh time in 14 starts that he did not issue a walk. Martinez owns a 3.46 ERA through 78 innings and ranks third in the Midwest League with a 1.4 BB/9 rate.
South Atlantic League
Nick Pivetta, Hagerstown
(1-0, 0.00 ERA, 1 G, 1 GS, 6 IP, 0 H, 1 R, 0 ER, 0 HR, 0 HBP, 1 BB, 2 K)
It's always one of the more interesting pitching lines you'll see when there's a zero next to hits and any other number in the runs (albeit unearned) column. That was the case with Pivetta on Friday, when a walk and a pair of throwing errors allowed Greensboro to tack on their only run in Hagerstown's 9-1 win. (The Grasshoppers got their only hit when Cody Keefer singled off reliever Andrew Cooper to lead off the eighth.) The effort represented Pivetta's first time pitching as many as six innings since he got through seven May 14. The 2013 fourth-round pick out of New Mexico Junior College is 9-3 with a 3.57 ERA in 13 appearances for the Suns.
New York-Penn League
Nolan Gannon, Hudson Valley
(2-0, 0.00 ERA, 2 G, 2 GS, 11 IP, 2 H, 0 R, 0 ER, 0 HR, 0 HBP, 3 BB, 10 K)
Since being taken in the fourth round of the 2012 Draft out of high school, Gannon has been brought up slowly through the Rays system. After putting up a 7.43 ERA in 11 appearances at Rookie-level Princeton last season, the 20-year-old right-hander needed to get off to a good start in 2014, and that's just what he did with the Renegades. The San Diego native proved to be nearly unhittable, giving up just one base hit in each of his first two starts. The more impressive of the two outings came Friday when he struck out eight and allowed just the one hit and a walk in six innings against Staten Island.
Northwest League
Anderson Placido, Hillsboro
(1-0, 0.87 ERA, 2 G, 2 GS, 10 1/3 IP, 6 H, 1 R, 1 ER, 1 HR, 0 HBP, 3 BB, 16 K)
With the Northwest League season just kicking off June 13, the period considered for this award gets extended to that Opening Day, and that's a big boost for Placido, who struck out a dozen in just 5 1/3 innings against Everett in his Hops debut June 15. The 20-year-old left-hander followed that up with another strong showing Friday, allowing only one run on three hits while striking out four and walking two in five innings against Salem-Keizer.
Appalachian League
Ian McKinney, Johnson City
(1-0, 0.00 ERA, 1 G, 1 GS, 7 IP, 2 H, 0 R, 0 ER, 0 HR, 0 HBP, 0 BB, 5 K)
McKinney, a Cardinals fifth-rounder from 2013, has already pitched at both Class A Short Season State College and Rookie-level Johnson City in 2014, and it's at the latter spot that he's enjoyed the most success so far, albeit in the smallest of samples. In his Appy League debut, the 19-year-old left-hander scattered just the two hits with five strikeouts in seven innings against Bluefield. With only 42 1/3 professional innings under his belt, McKinney can only hope it's the start of a successful Minor League career. "Everyone wants to be healthy the whole year -- no injuries," he told MiLB.com. "A long-term goal is to get back to State College. As for right now, I just want to keep command of my fastballs and get the curve over for strikes, command the curve and throw it where I want to throw it."
Pioneer League
Edinson Bock, Ogden
(1-0, 0.00 ERA, 2 G, 6 IP, 0 H, 0 R, 0 ER, 0 HR, 0 HBP, 3 BB, 7 K)
With teams averaging 5.8 runs per game so far, the Pioneer League hasn't exactly been kind to pitchers in the early going, and that's what makes Bock's performance stand out all the more. The 20-year-old right-hander has yet to give up a hit and has struck out seven while walking only three in two appearances (six innings). He blasted out of the gate, striking out five in his two-inning debut against Grand Junction on Wednesday. It'll be interesting to see how his numbers hold up over the long haul after he put up a 2.35 ERA -- but also 16 strikeouts and 25 walks -- in 15 Arizona League appearances last season.
Sam Dykstra is a contributor to MiLB.com. This story was not subject to the approval of the National Association of Professional Baseball Leagues or its clubs.
View More