Polanco gets four hits in shortened game
Rain keeps Pirates' top-ranked prospect a home run from the cycle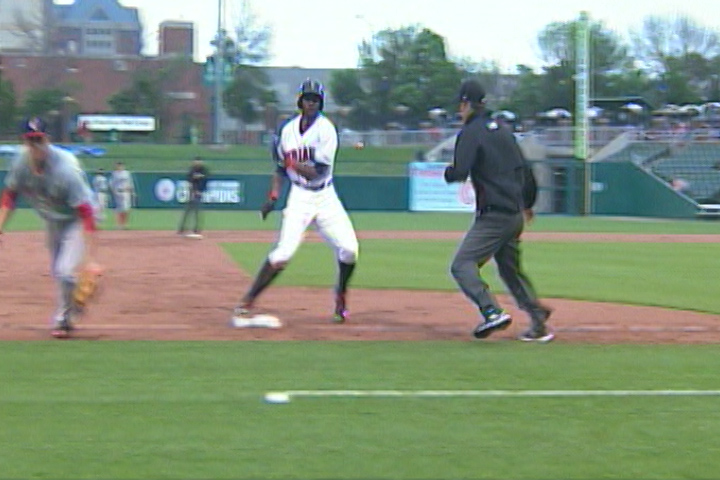 By Josh Jackson / MiLB.com | May 14, 2014 12:07 AM ET
Gregory Polanco was swinging such a hot bat Tuesday night, it took an act of nature to prevent him from getting a fifth hit.
The Pirates' top prospect missed the cycle by a homer, knocked in three runs and scpred twice during a 4-for-4 performance in Triple-A Indianapolis' rain-shortened 6-2 victory over visiting Pawtucket.
The game was called with one out in the bottom of the sixth inning.
"I think it was a very good game [for Polanco]," Indians hitting coach Mike Pagliarulo said.
Polanco, who played two games in the International League last year after splitting the bulk of the season between Class A Advanced Bradenton and Double-A Altoona, leads the circuit with a .378 batting average. Of his 37 games this season, he's had multiple hits in 12 of them, including eight with three or four. He five homers, five triples and 11 doubles.
On Tuesday, Polanco saw a total of eight pitches over his four plate appearances.
"He didn't have to go deep in counts to get the pitch he wanted. We want to swing and hit it fair and hit it hard if we get the pitch we're looking for," Pagliarulo said. "We're aggressive when we see the pitches we want, and he's aggressive from the first pitch on.
"He's going to swing if he sees a good pitch, and that's a good thing. He's also hitting with guys on base and the cleanup hitter behind him, so he does see some good pitches."
The left-handed hitter doubled in the first and tripled in the second against Red Sox starter Rubby De La Rosa. In each of those at-bats, Chris Dickerson and Robert Andino were on first and second, respectively.
"The part of those at-bats that was important is that they were situational at-bats where you want him to move the runners over. He did what he was supposed to do," Pagliarulo said. "He pulls the ball and he ends up with a double out of it. That's very good for him, very positive."
De La Rosa is no stranger to the Indians, and Pagliarulo credited Polanco's study habits for the 22-year-old outfielder's comfort level in those at-bats.
"I think that because this is the third time we've faced this guy, part of the learning process is, 'How is this guy going to pitch us this time?'" the former Major Leaguer said. "[Polanco] does his homework. We always break down the opposing pitcher and count on him having a little different plan than before."
The native of the Dominican Republic singled twice off reliever Chris Hernandez. With heavy rain falling in the sixth, he beat out a dribbler in front of the plate for his fourth hig. Umpires halted play shortly thereafter.
"He runs so well," Pagliarulo said. "You bobble the ball in the infield, that's all he needs. He runs balls out all the time."
Polanco, MLB.com's No. 12 overall prospect, homered and doubled on Monday but had been scuffling this month -- at least by his standards. He finished April with a .400 batting average, a mark that dipped to .357 by May 11.
Brandon Cumpton (3-1) was credited with his second career complete game after allowing two runs on seven hits and four walks over six innings. He struck out one.
De La Rosa (2-3) surrendered six runs on three hits in three innings, walking four and fanning four.
Josh Jackson is a contributor to MiLB.com. This story was not subject to the approval of the National Association of Professional Baseball Leagues or its clubs.
View More