Pries hurls six shutout frames for Rainiers
Righty Mariners prospect shines in third Pacific Coast League start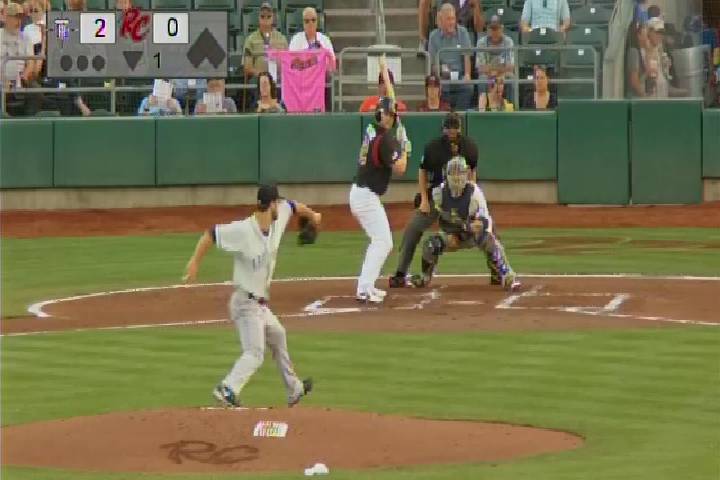 By Josh Jackson / MiLB.com | May 1, 2014 2:04 AM ET
Jordan Pries may have been pitching on the road Wednesday night, but he felt right at home.
In front of his parents, his sister and other family members at a ballpark he'd been to as a fan, the right-handed Mariners prospect took a no-hitter into the fifth inning.
"It was really special to share [that start] with my family," he said. "You could definitely hear them cheering whenever something good happened for us, which probably the [home] fans didn't like."
Pries scattered two singles and three walks while striking out six over six frames in Triple-A Tacoma's 8-0 shutout at Sacramento.
"I just go out and stick with myself and what I'm good at," said the native of Alameda, California. "I don't focus on who's in the box, because if I do, I can psych myself out. When I keep the ball down and throw strikes and stay with my gameplan, it's good for me."
The 24-year-old righty opened the season at Double-A Jackson, but jumped to the Pacific Coast League after two starts.
"It's awesome [to be in the PCL]. When you move up a level, it's more exciting the higher you go. It was unexpected, it was surprising and I'm definitely happy to be here," he said. "But you can't get comfortable. You've got to keep pushing yourself to get that ultimate goal. No one has a dream of being a Triple-A pitcher."
The Stanford product experienced a little deja vu in Wednesday's start, which was his second against the River Cats. In those games, he's combined to throw 12 shutout innings and allow a total of three hits. In the first, he took a no-hit bid into the sixth.
"It was kind of like, 'Here we go again,'" he said.
After a two-out walk in the first inning, Pries (1-1) retired 12 in a row.
"You hear about the flow of the game," said the 2011 30th-rounder, "and there definitely is a certain pace when you're doing well and executing pitches."
The River Cats' Kent Matthes broke up the no-hitter with a two-out line single in the fifth, and Andy Parrino followed with a walk. Pries got a ground ball off Ryan Ortiz's bat to end the inning.
"I'd walked a guy before, so the stretch wasn't totally foreign to me," he said. "I was able to come back and keep executing pitches."
In the sixth, he walked Tyler Ladendorf and Nate Freiman hit a two-out single, but once more Pries danced out of danger. This time, he punched out Michael Taylor to put an exclamation mark on his start.
"I have a tendency to work too fast and get a little too excited in exciting moments. That's something I've been working on with our pitching coach, Jaime Navarro," Pries said. "Being able to recognize those times is a big part of working through them. I thought about that, and realized my best chance to have success was going to be able to get ahead."
Logan Kensing limited Sacramento to two hits and three walks over three innings to pick up his second PCL save of the season.
Jesus Montero and James Jones both homered and eighth-ranked Mariners prospect Chris Taylor went 2-for-5 with two runs scored.
Josh Jackson is a contributor to MiLB.com. This story was not subject to the approval of the National Association of Professional Baseball Leagues or its clubs.
View More