Prospect Q&A: Berry overcomes long odds
Orioles' No. 7 prospect was originally a 50th-round draft pick in '09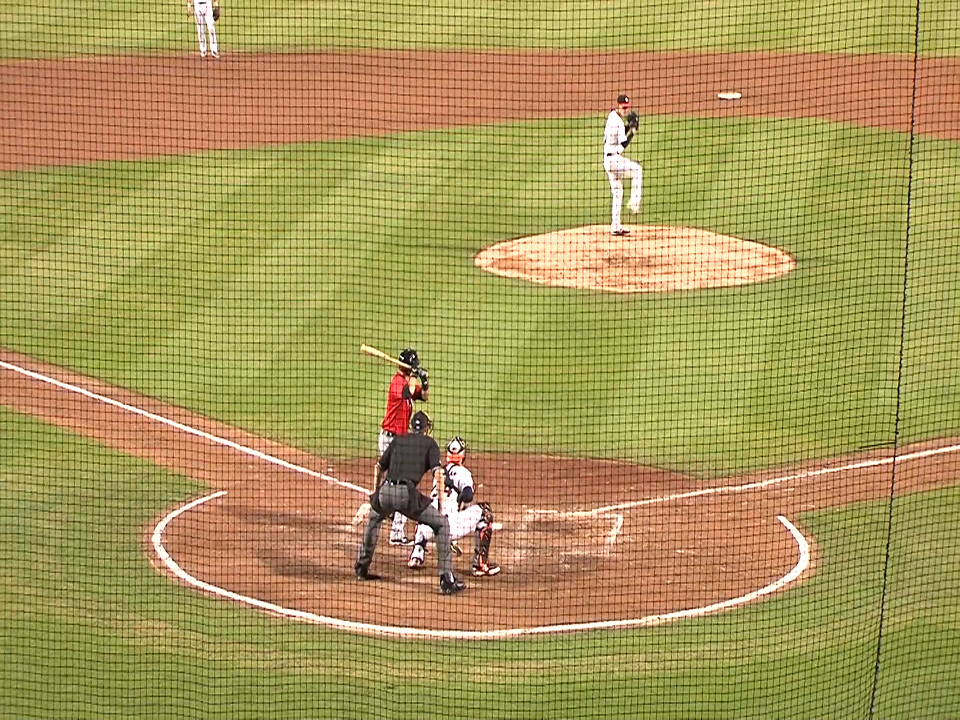 By Robert Emrich / MiLB.com | January 22, 2015 10:00 AM
Han Solo may have coined the phrase "Never tell me the odds!" but the sentiment easily could have been expressed by Tim Berry.
A potential early-round Draft pick in June 2009, Berry fell to the 50th round, thanks to a torn ulnar collateral ligament. Finally, after 1,495 players had been taken, the California native was selected by the Orioles. Offered a $125,000 bonus, he signed with the club.
Since then, Berry has made steady progress, going from a little-known left-hander to playing in the Arizona Fall League Rising Stars Game in 2013 to Eastern League All-Star last year. In the process, the 23-year-old has climbed to the No. 6 slot in MLB.com's list of top Orioles prospects.
Berry took time out of his offseason to talk to MiLB.com about his 2014 campaign, his rise and more.
MiLB.com: Looking back on your season, what do you think of it?
Tim Berry: I was happy with it; it was a big step forward for me. A lot of progress was made, physically with my pitches as well as with the mental game. A little disappointed I couldn't finish the season out, just a little inflammation in the shoulder, but I'm past that now. Good year, good stepping stone.
MiLB.com: What progress do you feel you made?
Berry: All of my pitches -- all three of my pitches -- made progress. My fastball command improved, my changeup got better and, really, what I was focusing on before the year started was having better command of my breaking ball. A lot of times in years past, I would flash a really good breaking ball once in a while, but it wasn't as consistent as it could have been. That was my focus going into the season and I'd say that I accomplished that. It got a lot more consistent and I was able to use it in different scenarios -- I could throw it for a strike and I could make it appear to be a strike out of my hand and then drop out of the zone. Everything is still a work in progress, but I felt like all three pitches got better.
MiLB.com: Tell me about your repertoire. What does your fastball hit? What's the speed difference between your fastball and changeup?
Berry: I think usually I would say in the low 90s, maybe 91-93 mph, maybe touching 94-95 every once in a while. The changeup is about 80-83, I believe. That's about 10 (mph) difference. It's different day to day. If I feel good, I might be able to take a little more speed off of it. You could move the ball up and down and in and out and forward and back with speed. I'm looking more to keep my arm speed and take velocity off the ball and locate it than what kind of drop I'm getting on the ball.
MiLB.com: This was your first full year at Double-A. What was your impression of the challenges of the level?
Berry: Each level, the hitters are a little bit better in that they are more disciplined, they have a better plan, they're more experienced. I didn't really see it as a huge thing, a huge step between High-A and Double-A. I think my progress feels more rapid than the competition. If I can keep getting better and keep progressing on my own terms, I think things will fall into place.
MiLB.com: I know it was a small sample, but what was the difference in the second half for you when you had a 2.15 ERA in five starts?
Berry: I don't really know the split numbers, but there was no light switch that was hit. More that probably I had a couple of games in the first half that got away from me. I think it was two games that snowballed and I ended up giving up a lot of runs. I feel like I pitched well the whole year. It's just a matter of when you're not feeling right out there and things are taking a turn down, you have to be able to control that and at least keep the pace of the game, be able to control the momentum and limit the damage and keep your team in the game.
MiLB.com: You were a 50th-rounder in 2009, and five years later you're considered one of the Orioles' top prospects. How does that feel?
Berry: It feels good. I love to pitch. I love it more and more as I do it more. It becomes more of an art form and less of a formula. My main drive is to become as good as I can be at pitching. The fact that I'm a prospect or considered a prospect or I'm at Double-A or this close to the Major Leagues is kind of secondary -- at least I try to make it secondary. I focus on enjoying what I do and making improvements every day.
MiLB.com: That's an interesting perspective on pitching. Where does it come from?
Berry: The way I think naturally, I tend to be more concrete and formulaic and try to look for, if you do this and do this, then this will happen. A plus B equals C, but that's not how it works in pitching. There are so many variables and so many things that can happen that are out of your control, that if you focus on the process and focus on it as more of an art and less about results and black and white: This is a good outing, this is a bad outing; this is a good pitch, this is a bad pitch. You could look at it like that, but it doesn't help you in the long run. If you're focused on the process of it, it becomes a little bit easier to go through the highs and lows and actually make progress than if you're just focusing on the results. That kind of mind-set is useless as a pitcher.
MiLB.com: Did you consider going to college rather than signing with the Orioles?
Berry: It wasn't an easy decision. I did want to go to college, I enjoy learning, I like school. I was signed to go to the University of Oregon -- I thought it would be a great fit for me. What it came down to was the health aspect. I tore my UCL my senior year and the Orioles said, "If you sign, we'll give you whatever surgeon you want" -- I went to [Dr. Lewis] Yocum -- "and we'll give you our rehab and this is the best way to move forward." I think they were right. I was able to go to Yocum and have Dave Walker rehab me in Florida and it worked out great. That was really the motivation.
MiLB.com: If and when you reach the big leagues, you could be the last 50th-rounder to do so [since 2012, the Draft ends after round 40]. How does it feel to potentially be the answer to a trivia question?
Berry: That would be very cool. I'm sure there are some other 50th-rounders still out there. It's a cool thing that it was the very last round and just the way it worked out. It's cool, but I don't really think about it. It's pretty far in my past.
MiLB.com: What have you spent the offseason doing?
Berry: At the beginning I didn't do anything. They didn't even want me to do exercises for my shoulders, they wanted me to rest until November, and then I started hitting the rehab/prehab kind of exercises with the small muscles in the shoulder, building that up so that I have a strong base that maybe I didn't have as much last year, and that's why it wore down on me. That's what I've been doing since November. I started lifting in December and I'm meeting with our strength coach, Ryan Driscoll, at UC-Irvine a few times a week and we're starting to do Olympic lifting, which I've never down before. I feel great, really strong and really athletic. I'm interested in getting it going this year.
MiLB.com: What exactly is Olympic lifting?
Berry: Like clean, front squat, back squat, snatches, I haven't been through all of the exercises. We're really just working on the form. Previously, I felt uncomfortable physically doing it, but I think it was a form issue. When my form is corrected, it feels great -- my body loves it.
MiLB.com: This will be your second big league Spring Training. What are you looking to do there?
Berry: I'm looking to go there and show what I've got. I feel like I've made a lot of progress in the last two years; I've grown physically and I've grown mentally and I feel like I'm ready to pitch at the highest level, hopefully, if the opportunity comes. I'm just going to go out there and pitch how I pitch and wherever they stick me, they stick me. And if they move me, they move me. I want to just focus on what I can do and not get outside of that because it's the big league camp or because I want to impress somebody. I'm just going to stay within myself, hopefully learn from the people around me, listen and get a good start into the year.
Robert Emrich is a contributor to MiLB.com. Follow him on Twitter @RobertEmrich. This story was not subject to the approval of the National Association of Professional Baseball Leagues or its clubs.
View More