Prospect Q&A: Dozier ignores skeptics
Royals top pick impressed across two levels in pro debut last season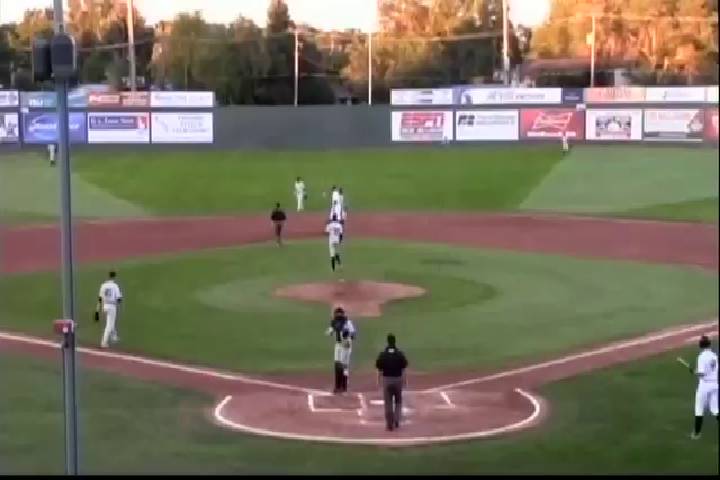 By Robert Emrich / MiLB.com | March 11, 2014 10:00 AM ET
It's not unusual for a first-round pick to get his career off to a strong start. Hunter Dozier's post-Draft play proved the point: he's looking good so far.
Coming out of Stephen F. Austin State University in Nacogdoches, Texas, Dozier was expected to go in the middle or end of the opening round last year. So it came as a surprise when the Royals grabbed him with the eighth overall pick. Former general manager Jim Bowden, working as a radio commentator, called the selection "the worst so far."
The Texas native went out and batted .303 with seven homers and 43 RBIs in 54 games for Rookie-level Idaho Falls while drawing 35 walks against 32 strikeouts. The Royals promoted Dozier to Class A Lexington for the South Atlantic League playoff push where he hit .327 in 15 games. All the while, he was moving from the position he played in college -- shortstop -- to third base.
For good measure, Dozier returned to Idaho Falls and batted .375 with four runs scored to help the Chukars capture the Pioneer League championship. Now, the 22-year-old talks about his Draft day experience, his freshman season and his first Spring Training.
MiLB.com: What was Draft day like?
Hunter Dozier: It was a great experience. I was at my house with family and a couple of friends and we just made it into a family party, just sitting around watching the Draft. Once I got drafted, we celebrated and had a good time. It was a very good moment for me and my family. It was unbelievable. I never could have actually pictured it happening. It was always a dream to get drafted and then for it to actually happen and it to be the eighth overall, it was something amazing -- hard to describe it in words. I was very blessed.
MiLB.com: There was a lot of talk when you were drafted that the Royals took you too early. Is that stuff tough to hear before you've even played a pro game?
Dozier: I honestly didn't pay too much attention to that. I was just so excited and very thankful to the Royals. I was eager to get going and start playing and represent the Royals. I didn't put much thought into that -- I just wanted to go out there, play my game and have fun.
MiLB.com: How do you feel like your season went?
Dozier: It went pretty well. It started out a little shaky, just getting used to pro ball. Once I got used to the routine and found my own routine, things started working out. By the end of the year, we won a championship in Idaho, so I couldn't ask for a better first year. I did get to move up to Lexington, so I got to see how A-ball was. I thought overall it was a pretty good year.
MiLB.com: It's got to be pretty crazy, winning a championship in your first pro season. Was that something you thought was a possibility?
Dozier: I didn't even know any of the guys on the team. I knew a couple from playing against each other in college. When we all came here in Arizona for mini-camp and broke into teams, I found out pretty quickly we had a good team. We had great players all-around and I figured if we could continue to play well the season could end up well for us.
MiLB.com: Was it exciting to get moved up to Lexington?
Dozier: It was fun. Got moved up kind of late, but I was very excited to get moved up and help them try to make it into the playoffs, which, unfortunately, they didn't. The atmosphere was so much better, the guys on the team were great -- there's a lot of prospects on the team. I felt like I played better in Lexington being around those guys, and the competition was better. It helped me elevate my game a little bit.
MiLB.com: What are you looking forward to this year?
Dozier: I'm excited to experience this whole thing with Spring Training and breaking to a full-season team. Staying on one team, maybe, and playing 142 games. I've never done that and I'm looking forward to that -- just being able to work every day and hopefully get better.
MiLB.com: What's your first Spring Training been like?
Dozier: It's been good. We've been working hard; we haven't played any games yet, just a lot of practices. It's been good just to meet all the guys in our organization that I haven't met yet. Just seeing all the coaching staff and being around everyone that is in the Kansas City organization is pretty cool.
MiLB.com: After playing shortstop most of your life, what was the transition to third base like?
Dozier: It took me a little while to get used to it, the ball comes at you a little quicker at third. I worked a lot with infield coaches and got a lot of reps at third over the summer and instructs. I'm feeling really comfortable over there, and hopefully, I can learn more and more and one day become a good third baseman and stay there.
---
"When the game gets on the line, I would love to have the ball in my hands, but honestly, I'm glad I'm a position player. Those guys on the mound are way better than I am -- I'll let them do that."

-- Hunter Dozier on giving up pitching since turning pro
---
MiLB.com: What's the biggest difference between shortstop and third base?
Dozier: At short, you have more time to react to the ball, which can kind of hurt you in a way because you can start thinking. At third, it's more of reacting -- the ball is on you so quick, it's all reaction time. You have to get used to how fast that ball gets on you. Once you get used to that, I find third a little easier than short, in my opinion.
MiLB.com: I know you pitched some in college. Do you miss it at all?
Dozier: I do sometimes. When the game gets on the line, I would love to have the ball in my hands, but honestly, I'm glad I'm a position player. Those guys on the mound are way better than I am -- I'll let them do that.
MiLB.com: You were a quarterback in high school -- do you miss playing football?
Dozier: I do miss football a lot. I played it in high school all four years. I do miss it. I had a choice to play baseball or football in college, and I chose baseball and I'm excited for my decision. I haven't looked back.
MiLB.com: What's your approach at the plate?
Dozier: Just depends on the situation. Most of the time, I'm trying to be as relaxed as possible, slow down the game and look for the pitch I think I'm going to get and sit on that. My approach is more up the middle of the field. My main thing is try and be relaxed and clear my mind and feel as good as possible at the plate.
MiLB.com: Do you have any goals for 2014?
Dozier: Just try to have as many quality at-bats as I can. Learn how to approach this full season that I'm about to approach. Just keep getting better at third base and at the plate. Hopefully just get better.
Robert Emrich is a contributor to MiLB.com. Follow him on Twitter @RobertEmrich. This story was not subject to the approval of the National Association of Professional Baseball Leagues or its clubs.
View More